Scottish indie rock artist Kyle Falconer will make a solo debut in Bangkok this October. The show is part of his debut album No Thank you.
Don't miss Live in Pictures: Liam Gallagher and his unfinished business in Bangkok
Good news, Bangkokians! The View frontman Kyle Falconer will arrive in Bangkok on Saturday, October 6 with a live performance. The show will be at the city's homey bar and restaurant with a high-quality sound system Play Yard by Studio Bar.
On the night, Falconer will delight the crowd with his solo debut record, titled by Liam Gallagher, No Thank you. The show marks Falconer first full solo performance in Thailand and possibly be his only stop in Southeast Asia.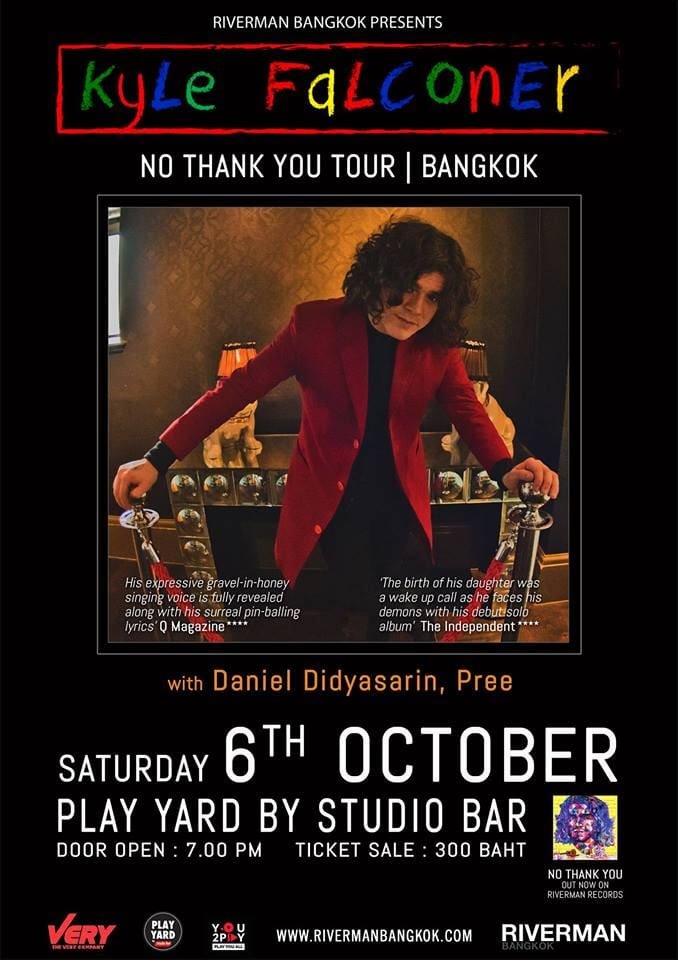 Tickets, priced at THB300, available through Play Yard by Studio Bar and at the door.
Aside from being the vocalist of a Scottish 4-piece indie rock band The View, Kyle Falconer, this year, has also debuted a solo album No Thank You in July. The album itself, indeed, has earned positive reviews from the press. The names include Independent UK, Daily Star UK, Q Magazine and The Scotsman. Moreover, in late last year, the Dundee singer was scheduled to play open for Liam Gallager's sold-out tour in UK.
Currently, Kyle Falconer is touring across the globe on his own with his first solo effort named by Liam Gallagher. Soonish, he'll be in Bangkok for a night with 'No Thank You Tour'.
See also: (Confirmed): More destinations are added to Franz Ferdinand's Asia tour
As we're counting down to his show, let's enjoy the latest taste of Kyle Falconer's "Family Tree":
Have something to add? Tell us!