Besides their Singapore show, the post-punk revival vanguards Franz Ferdinand have just recently added shows for Indonesia. The show will be happening in the late of this year.
See also: Karpos Live 'Mix 3' confirms Cigarettes After Sex, Bruno Major, The Royal Concept and more
Recently confirmed, the Scottish 5-piece rock group will take their tour to Bali and Jakarta. The shows are part of their Asia Tour to promote their current album Always Ascending.
Jakarta fans can catch Franz Ferdinand live on stage on Friday, November 30. The band will be taking the stage at Tennis Outdoor.
Then, the post-punk revival group will head over to Bali for one last show in Indonesia. Fans in Bali can prepare to sing their old hits and new pieces from their fifth studio effort at Potato Head Beach Club. The band are slated to take the stage on Sunday, December 2.
Aside from Indonesia, the 5-piece rockers will perform their new record live on stage in Singapore, Hong Kong, Seoul, Tokyo and Osaka in late November.
Tickets for both shows are now going on sale via Loket.
For Jarkata show pass, early birds are only available for Grey and Green zone at IDR 295,000 (Green: Free Seating) / 590,000 (Grey: Standing). Meanwhile, tickets for Red zone (Standing) are IDR1,062,000 and tickets for Black zone are IDR1,298,000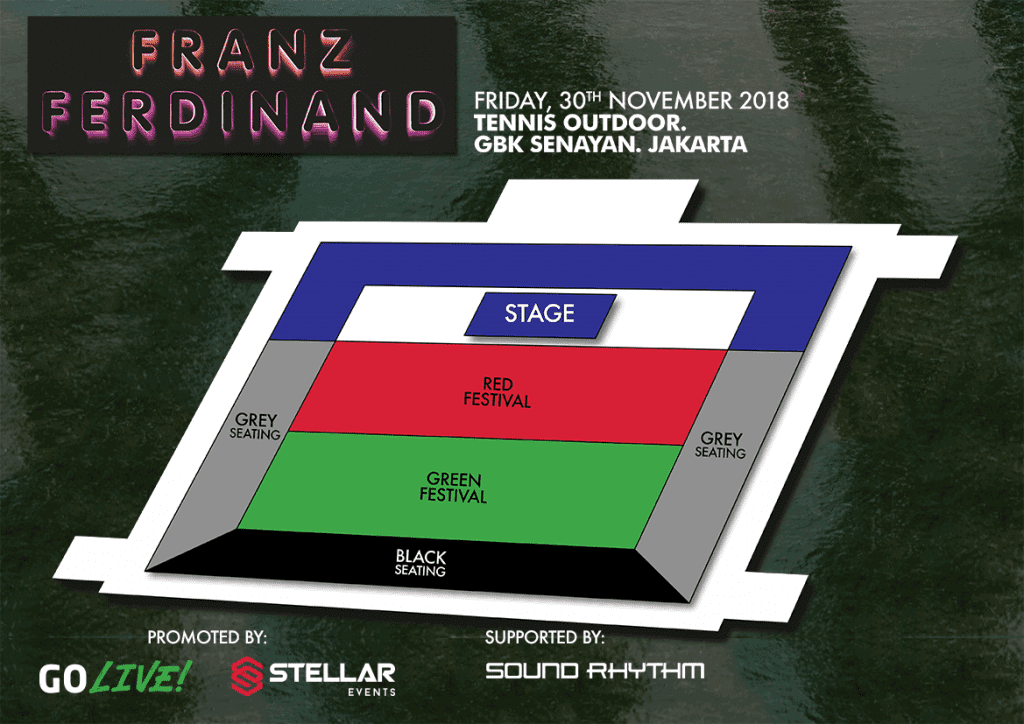 For Bali show pass, tickets are going on sale at IDR866,250 (Standing) / 1,732,500 (Standing).
Formed in 2002, Scottish rock heads are known as the post-punk revival vanguards. The five-piece is consisted of Alex Kapranos (vocal/guitar/keyboard), Bob Hardy (bass), Paul Thomson (drums), Julian Corrie (keyboard, synthesiser, guitar) and Dino Bardot (guitar). The band rose to prominence with the multi-chart topping singles like "Darts of Pleasure", "Take Me Out", "Do You Want To" and "Always Ascending". Besides the singles, the band also received critical acclaims from music critics and won two Brit Awards back in 2005.
See also: British indie foursome PREP are returning to Singapore and Indonesia
Currently, Franz Ferdinand are touring to promote their fifth studio album "Always Ascending".
Have something to add? Tell us!