(4.5 / 5)
American rock band PVRIS gave Singapore a magical hour with chill-inducing, spine bending concert at Hard Rock Cafe on Tuesday, Jun 26.
PVRIS brought some real enjoyment to their vehement fans standing before them at Hard Rock Cafe. Throughout one-hour show, the fronwoman of the band Lyn Gunn stole the audience's hearts with her grungy Adriana Grande-like voice. It was exceptional to hear her roar going harmoniously with melodic choruses. My ears went "Hallelujah" to this. Appreciating them like this I can't stop wondering why PVRIS has not yet blown up the region.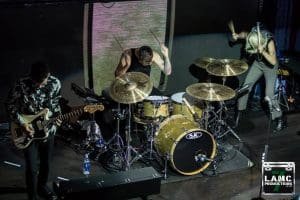 Anyhow, tonight, the three-piece rock heads proved this packed cozy room already why they deserve spots in international arenas. Throughout the show, PVRIS got people to strut out their stuff with the band's spirit of gusto. The room were painted with real delight.
Even though, personally, I believed that the venue was a bit too little to contain this such entertainment, however, it was great still to get to experience this such full stadium-like quality performance. The trio rockers were never holding back their energy at all. Plucking their guitars and drumming in acrimony, the presence of heavy reverb, steady vocal and instrumental sound persuaded the crowd to go crazy. All show elements brought me already an imagination of seeing them conquering all big stadiums around the world.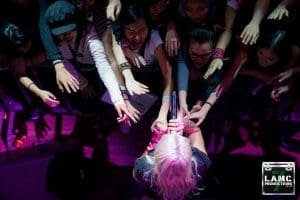 It would be a major crime if one was standing still as everybody in the room was so busy strutting their stuff. Couches were full with bare-feet fans jumping whereas the floor was occupied by headbanging fans. These actions were common routines of the night. Adding to the routines is people singing their lungs out without dipping in energy or admiration.
I would like to compliment the band for discovering their unique way of building up toward a running chorus before cutting down to mellow verses. Moreover, PVRIS also did a good job in trotting people to stick with them through transition. Judging from the show I evidenced I could say that this Massachusetts-based rockers know exactly how to get their audience drown in emotions.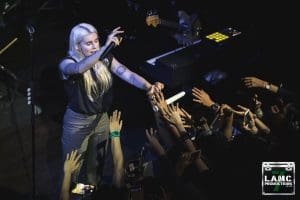 Meanwhile, their setlist encapsulated an emotional journey through four-minute melodies and jarring instruments. The atmosphere was dynamic, empowering and almost spiritual. Especially when the steady roar of vocal prowess as Lynn Gunn complimented the resonant voices of fans singing back in the room.
The performance reached its final minute with fans shrilling over the encore. Before leaving the stage, PVRIS showered their fans with guitar picks giveaway. Hard Rock Cafe almost exploded with intensity and excitement of the crowd.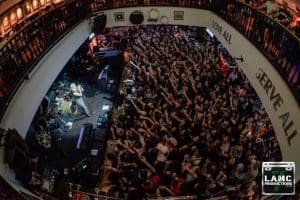 The crowd was so reminiscent of the reasons why I was into music. This experience was, indeed, reignite my passion towards music creation. I thank PVRIS for bringing me to heaven.
For more reviews from AsiaLive356, click here.
Have something to add? Tell us!