American diva Mariah Carey will swing by Bangkok along her #1's  Southeast Asia's tour route in November.
See also: Sam Smith is bringing The Thrill Of It All Tour to Asia
Local promoter Teddy Time quietly confirmed Mariah Carey's Bangkok show through its  instagram account with the collage photos of American dive's tour poster. On the night of  Sunday, November 9, Carey will be conquering the stage at BITEC Bangna with her nostalgia hits from the 90's along with her nowadays' chart topping pieces.
This show confirmation will mark the diva the fifth announcement in the region along her tour destinations in Manila, the Indonesian city of Magelang, Kuala Lumpur and Singapore.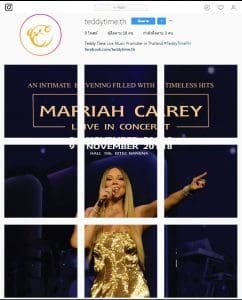 For tickets, the promoter promised that the details soon will be released through Thaiticketmajor. Therefore, stay tunes with us for further updates!
See also: Calum Scott is bringing his world tour to Asia
The #1's Tour is an international extension of Mariah Carey's concert residency supporting her 2015 compilation album, #1 To Infinity, a re-release of 1998's #1's with an updated list of subsequent chart-toppers, from the "Heartbreakers"-era and beyond. Her live residency took place at the Caesars Palace in Las Vegas from May 2015 to last July.
The American diva last performed in the region in 2014 on The Elusive Chanteuse Show Tour, which brought her to Kuala Lumpur, Singapore, Manila and Bangkok among others.
Have something to add? Tell us!