The ticket in your hand no loner serves any Purpose, Beliebers. Justin Bieber has abruptly cancelled the remaining dates of his world tour, including Asia.
"Due to unforeseen circumstances, Justin Bieber will cancel the remainder of the Purpose World Tour concerts," a representative said in a statement. "Justin loves his fans and hates to disappoint them. He thanks his fans for the incredible experience of the Purpose World Tour over last 18 months."
See also: Bruno Mars bringing 24K Magic World Tour to Asia?
"He is grateful and honored to have shared that experience with his cast and crew for over 150 successful shows across 6 continents during this run. However, after careful consideration he has decided he will not be performing any further dates."
While the wording remains vague, the Canadian pop star suggested to TMZ hours after the statement was issued that he was worn out, "I've been on tour for two years."
"Everything's fine," he assured, adding that he looks forward to "just resting, getting some relaxation. We're gonna ride some bikes."
The "Company" singer was scheduled to perform in Manila and Singapore on September 30 and October 7, respectively. Other confirmed shows were Hong Kong and Tokyo.
See also: Ariana Grande confirms Dangerous Woman Tour in Southeast Asia
Tickets will be refunded at point of purchase. Updates will be added available. For now you can contact SM Tickets and Sports Hub Tix for inquiry.
Last week, Beijing Municipal Bureau of Culture released a statement barring Bieber from performing in China due his "bad behavior".
"Justin Bieber is a gifted singer, but he is also a controversial young foreign singer," said the bureau, adding, "We hope that as Justin Bieber matures, he can continue to improve his own words and actions, and truly become a singer beloved by the public."
---
Update (Jul 25, 12.00pm): Ticket refund information is as follows.
Manila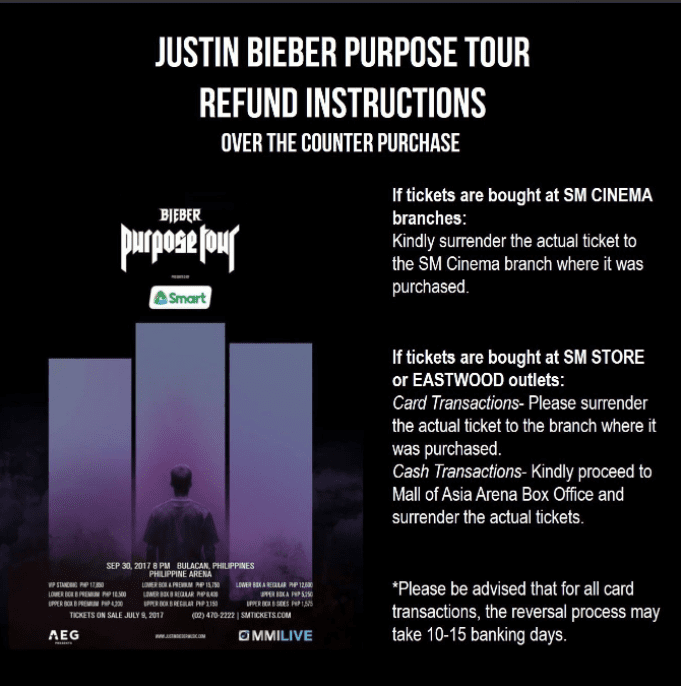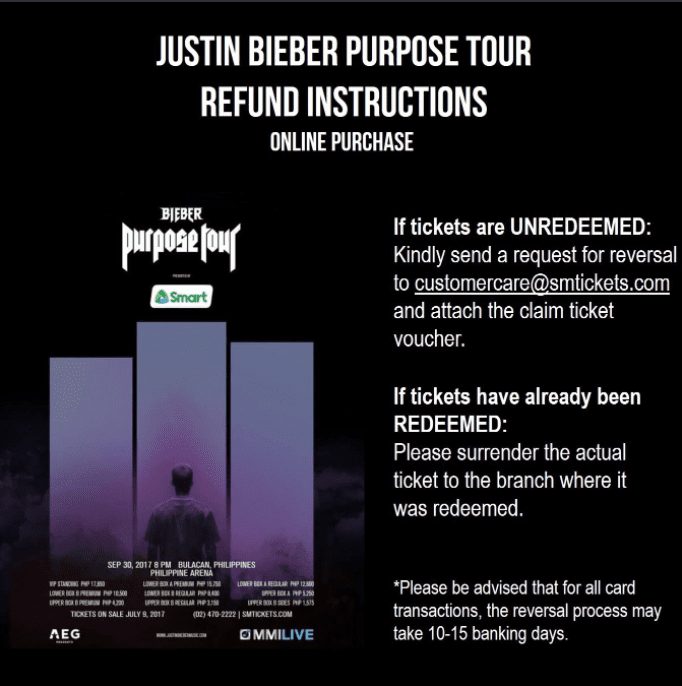 Singapore
Ticket refunds will start from Tuesday, August 1, 2017 – Monday, August 14, 2017.
All purchased tickets will receive full refund. Refunds are through original mode of payment via the following methods:
1) Payment by credit card – refund will be automatically credited to the same credit card used for the transaction. It will take 14 business days, from Aug 1, for the credit card refund to be processed.
2) Purchases by cash or NETS – customers are to proceed to Sports Hub Tix with their tickets and photo ID at the address below between Tuesday, Aug 1, 2017 to Monday, Aug 14, 2017 for cash refund: Sports Hub Tix, 2 Stadium Walk, Singapore Indoor Stadium,Singapore 397691
Refund Hours: Monday to Saturday: 10:00 AM-8:00 PM
Sunday and Public Holidays: 12:00 PM-8:00 PM
For more information on refunds, please visit www.sportshubtix.sg or call +65 3158 7888 or email [email protected] UnUsUaL Entertainment, TEM and AEG Presents sincerely apologise for the inconvenience caused.
---
Update (Aug 7): Bieber gave an honest explanation for cancelling the remainder of his tour on a personal Instagram account, saying "Me taking this time right now is me saying I want to be SUSTAINABLE.. I want my career to be sustainable, but I also want my mind, heart and soul to be sustainable."
Read the full post below.
Have something to add? Tell us!