*Updated details for SEA Tour below
---
An American indie pop band LANY will be heading to Asia with their forthcoming world tour. The trio will swing by the continent in July and August.
Don't miss: Indie pop invasion: Boy Pablo is taking his tour to Asia
The world tour announcement made by the trio themselves. Throughout July and August, LANY will be travelling around Asia with their 2019 World Tour. The tour is to promote their sophomore album Malibu Nights. 
As part of their headlining Asia tour, aside from Osaka, Tokyo and Seoul, the indie-pop trio will be stopping by 5 cities in Southeast Asia.
Fans in Manila, Kuala Lumpur, Bangkok, Singapore and Jakarta can catch the band play Malibu Nights live on stage on Jul 24, Jul 27, Jul 30, Aug 10 and Aug 13 respectively.
More details on venues and tickets TBA. Stay tuned!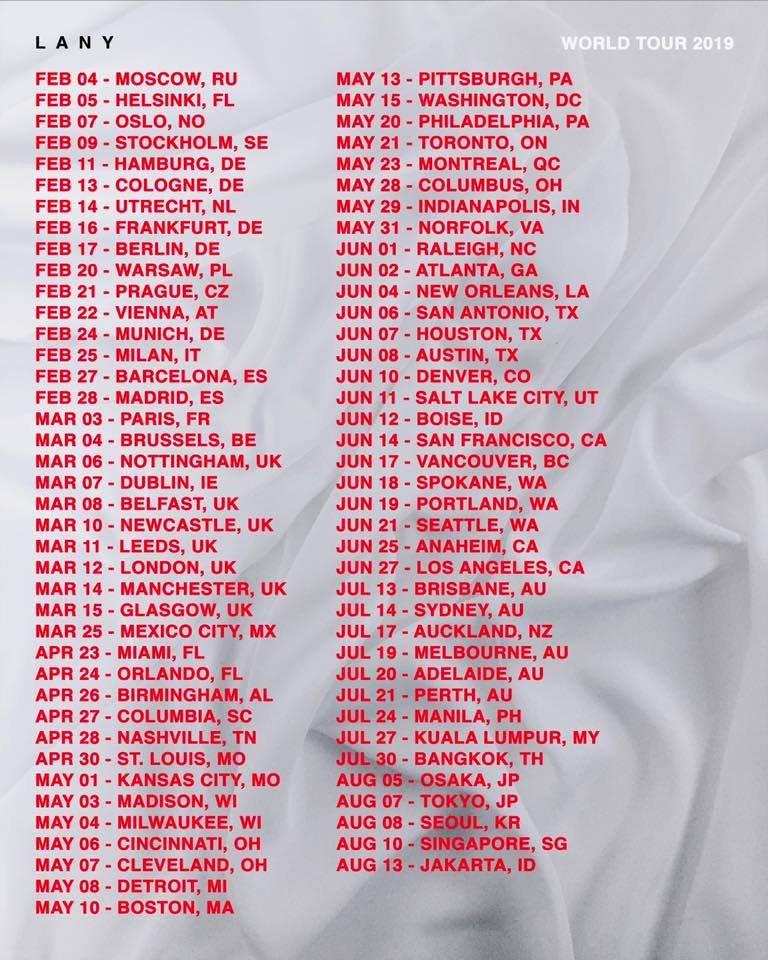 LANY are a LA-based indie-pop band, comprised of Paul Jason Klein, Les Priest and Jake Goss. The band earned international success through the releases of lead singles from their self-titled debut album like "Super Far", "ILYSB", "pink skies". The album, later on, granted the band the international tours.
This year, LANY return with their sophomore studio effort Malibu Nights that is featured with the chart-topping songs "Thru These Tears" and "Malibu Nights". And now they are planning to take over the world again with their 2019 World Tour.
Don't miss: The wait is over! The 90's Irish trio ASH are taking their tour to Bangkok
Watch LANY's latest music video "Malibu Nights" below.
---
Update (Feb 14): Indie pop trio reveal more information on venues and ticket sale for fans in Manila, Singapore and Bangkok.
As annouced earlier, LANY will be stopping by five cities in SEA as part of their Malibu Nights Asia Tour 2019. The destinations include Manila (Jul 24), Kuala Lumpur (Jul 27), Bangkok (Jul 30), Singapore (Aug 10) and Jakarta (Aug 13).
Here, just today, further details on venues of the shows and tickets are revealed. See below
Jul 24 – Mall of Asia, Manila
Tickets available at PHP1,250 / 1,680 / 2,280 / 3,480 / 3,680 / 4,280 / 4,980 / 5180 / 5,550 through SMTickets, starting Thursday, February 21 from 12nn onwards.
Jul 27 – TBA, Kuala Lumpur
Tickets TBA
Jul 30 – GMM Live House, Bangkok
Tickets available on Saturday, March 2 through Thai Ticket Major. Price TBA.
Aug 10 – [email protected], Singapore
Public sale starts on Tuesday, Feb 19 at 10AM onwards through Livenation SG. Presale available for 1 day and for members only on Monday, February 18, starting from 10AM onwards. Price is SGD180.
Aug 13 – TBA, Jakarta
Tickets TBA.
Have something to add? Tell us!