*Tickets updates below
---
The Norwegian bedroom pop artist Boy Pablo will be bringing his lo-fi guitar sound to Asia and will be stopping by four cities in Southeast Asia this November.
See also: London multi-instrumentalist Tom Misch is heading to Bangkok
The indie pop talent from Norway Boy Pablo will be swinging by Singapore, Indonesia, Bangkok and Manila for his Asia Tour. Starting with Singapore, Pablo will be taking the stage at Pavilion on Thursday, November 22 and followed by a show in Jakarta on Friday, November 23. Fans in Indonesia can catch him live at Kuningun City Ballroom.
For Bangkok fans, Boy Pablo will be taking the stage at Moonstar Studio on Saturday, November 24. He'll be pleasing his lo-fi guitar sound alongside a rising artist Phum Viphurit. Meanwhile on Sunday, November 25, the bedroom pop talent will be finishing his Asia visit at 19 East(TBC) in Manila.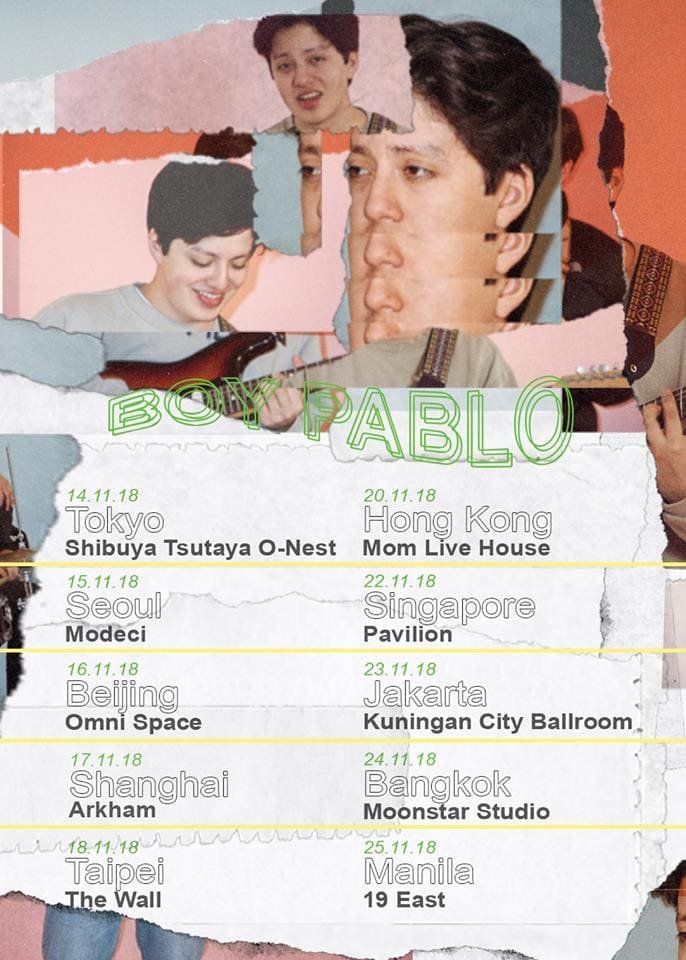 Alongside these four cities, Boy Pablo will also be making his stops first in Tokyo (Nov 14), Beijing (Nov 16), Shanghai(Nov 17), Taipei (Nov 18) and followed by a show in Hong Kong (Nov 20).
All tickets details are soon to be announced. Stay tunes for further update with us!
See also: Franz Ferdinand add Singapore to their Asia tour
Boy Pablo is a musical project of Norwegian artist Nicolas Pablo Muñoz. The singer-songwriter reached public attention across the globe with his music video released on YouTube "Everytime". He's basically known as one of the top bedroom pop artist of the era with his chill and Mac DeMarco-like lo-fi guitar sound. Now, Boy Pablo is ready to invade Asia with his indie pop sound.
Before Boy Pablo arrives in Asia, here's the taste of his latest track "Sick Feeling":
---
Update (Jul 4): Bangkok show's tickets for Boy Pablo concert featuring with international-recognised homegrown artist Phum Viphurit will go on-sale on Saturday, July 14.
Nov 24 – Bangkok, Moonstar Studio 8.
Tickets: THB1,500 (early-bird) / 1,800 (regular) available through Ticket Melon starting on Saturday, July 14 at 10am onwards.
---
Update (Jul 6): Tickets for Boy Pablo Live in Singapore are now available with limited tickets left.
Nov 22 – Singapore, Pavillion
Tickets: SGD60 (General Admission) are going on-sale through iGo.
Have something to add? Tell us!