The 4-piece indie rock heads Hundredth confirmed their first Southeast Asia tour in Jakarta, Kuala Lumpur, Singapore and Manila in August. The tour is part of their latest EP's promotion Ultarrare EP.
See also: 90's Irish rock band ASH to make only stop in Southeast Asia
Hundredth will kick start their Southeast Asia visit with a show Rossi Musik in Jakarta on Thursday, August 16. The show will be followed by a performance in Malaysia on the Friday, August 17. On the night, the band will be taking the stage at Live Fact with their new smooth teen angst-like sound.
Adding to their busy schedule are Singapore and the Philippines. The band will fly to Singapore for a show on Saturday, August 18. The venue is yet to be announced. Meanwhile, on Sunday, August 19, the band and will finish their Southeast Asia tour in Manila at Kalawakan Spacetime, Quezon City.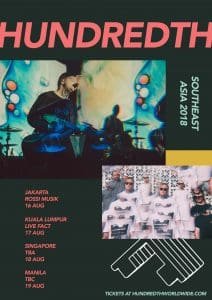 Only tickets for Manila's show are now available on Hundredth. All tickets will be soon on-sale on the band's official website as well. You can check out all the available tickets prices below.
Aug 16 – Jakarta, Rossi Musik
Tickets: TBA
Aug 17 – Kuala Lumpur, Live Fact
Tickets: TBA
Aug 18 – Singapore, TBA
Tickets: TBA
Aug 19 – Manila, Kalawakan Spacetime
Tickets: PHP500 / PHP600 (door prices)
Don't miss: (Live Review) Suuns slays Bangkok with their aggressively aesthetic krautrock music
Formed in South Carolina in 2008, Hundredth is consisted of Chadwick Johnson (vocal/guitar), Alex Blackwell IV (guitar), Andrew Minervini (bass) and Lee Hutchison (drums). The 4-piece actually caught the public recognition and critical acclaims through the release of their fourth album Rare. The album was known for the bold change in the band's music style–from melodic hardcore to dreamy and shoegazing sounds. Currently, Hundredth are touring to promote their latest extended play Ultrarare EP.
Here's the taste of their latest single from Ultrarare EP: "Neurotic"
Have something to add? Tell us!