This October, multi-platinum selling/pop-opera collective Il Divo will arrive in Singapore with their 15th-anniversary celebration tour  'Timeless'.
See also: Sam Smith announces a second show in Singapore
Thanks to Hype Records, the pop-opera icon Il Divo will embark on the island on Saturday, October 13. The pop-opera group will take the stage at The Star Theatre with their 'Il Divo "Timeless" Live in Singapore'. The show is part of their 15th-anniversary celebration tour.
Throughout the night, the quartet will play the classical crossover pieces from their latest record Timeless. Those include their version of Robbie Williams' "Angels", Elvis Presley's "Love Me Tender", the adapted version of Adele's "Hello"- "Hola" and more.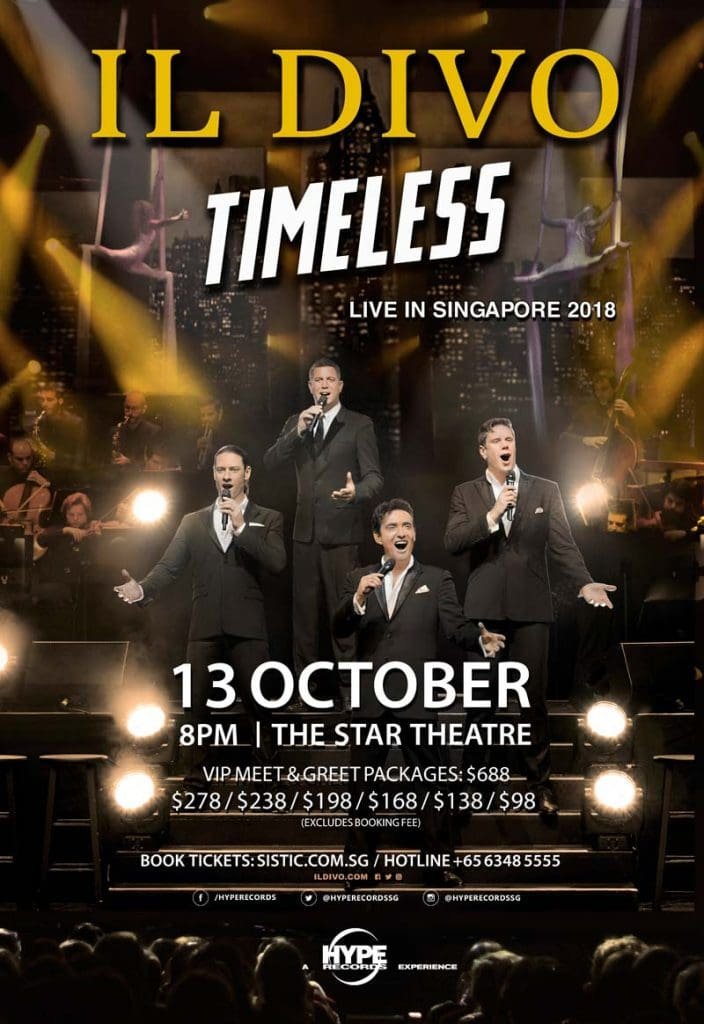 Tickets are SGD98 / 138 / 168 / 198 / 238 / 278, going on sale through SISTIC.
Formed in 2004, Il Divo are a classical crossover vocal collective. The band consist of multi-national member—  Urs Bühler (Switzerland), Carlos Marín (Spain), David Miller (USA), and Sébastien Izambard (France). The quartet achieves their international success through their impeccable and harmonious arrangement in turning nowadays pop songs to be something more elegant and classier to the ears. The band now have nine albums under their belt with multi-platinum certification.
See also: Michael Learns To Rock are returning to Singapore this November
Currently, Il Divo are touring around Asia. And Singapore will be their final destination for Asia Tour this year.
Before leaving, let's enjoy Il Divo's version of Adele's "Hello" called "Hola", below.

Have something to add? Tell us!