Good news! One of the biggest pop-rock bands in the 90's, The Moffatts, will be taking their 'The Reunion Tour 2018' to Indonesia, The Philippines and Singapore, starting in November.
See also: Michael Learns To Rock are returning to Singapore this November
The 90's popular rock band from Canada, The Moffatts, will soon reunite in Southeast Asia with full live performances. The shows are part of the band's tour 'The Reunion Tour 2018'. So far, the band have confirmed their shows in Jakarta, Cebu, Manila and Singapore in  November and the beginning of December.
For their Southeast Asia visit, the four-piece rock group will embark firstly on Jakarta on Saturday, November 10. Tickets and venue TBA.
Meanwhile, the band will continue their tour with their second show in the region in Cebu on Friday, November 23. Tickets and venue TBA.
Then, On Friday, November 30, The Moffatts will take the stage at KIA Theatre in Manila with their reunion tour. The show is brought to you by Midas Promotions.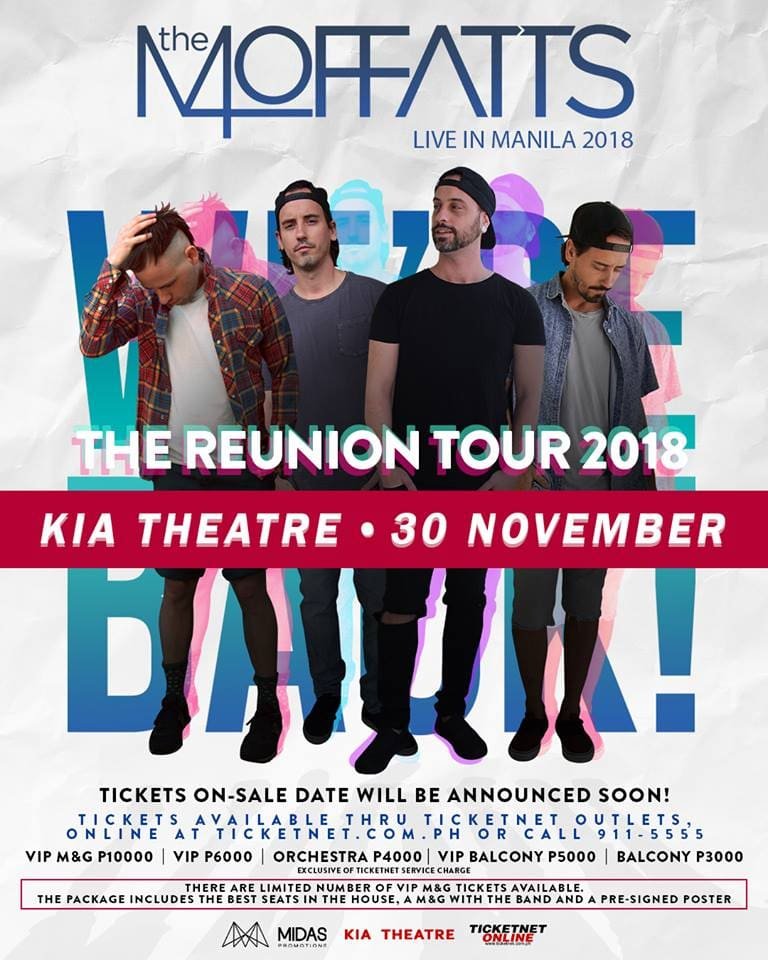 Tickets will go on sale through all TicketNet outlets, starting this Saturday (September 29) from 10am onwards. Prices are PHP3,000 / 5,000 (VIP: Balcony) / 4,000 (Orchestra) / 6,000 (VIP) / 10,000 (VIP with Meet & Greet).
And to finish off their Southeast Asia visit, the band will make a stop in Singapore for a night on Saturday, December 1. Tickets and venue TBA.
Emerged during the 90's, The Moffatts are a Canadian pop-rock band, composed of four brothers— Scott, Bob, Clint and Dave Moffatt. They are the youngest band ever to be signed to a record label, Polydor Records. The band had explored and switched music genres through their first three albums—from country to pop and to alternative rock.
Unfortunately, in 2000, the band broke up after the release of their fourth album Submodalities. However, in 2012, the band decided to reunite for a special Christmas show. And five years after that, they all came back on stage with a Farewell Tour that included Singapore, Manila and Indonesia on the schedule.
Currently, The Moffatts are back together again for their 'The Reunion Tour 2018' and will soon swing by Southeast Asia.
Stay tuned with us for further updates!
See also: (UPDATE): Maroon 5 confirm new details on 'Red Pill Blues' Asia Tour
In the meantime, let's enjoy the latest taste of The Moffatts's "Like I Love You" below.
Have something to add? Tell us!