(3.5 / 5)
Since hitting the music scene over a decade ago, British singer-songwriter Devonté "Dev" Hynes has under gone several musical transformations. His first outing was as part of short-lived dance-punk trio Test Icicles, before going solo under his Lightspeed Champion alias.
It's as the latter that I first became acquainted with Hynes, a poetic but neurotic lyricist with a catchy folk-meets-indie sound. Prominent some eight years ago, it's natural to assume that Hynes has evolved since then, and his latest guise – Blood Orange – marks a significant shift from his dream-like days under this previous pseudonym.
It was with this latest project that Hynes performed at Bangkok's Voice Space on Friday night (Nov 25). Although familiar with Blood Orange, the last time I had seen the London-born musician perform was back in 2008, hot off the success of Lightspeed's Falling off the Lavender Bridge album. It was a moody, shoe-gazing Hynes I saw then, a much different performer to the 80's pop-funk enthusiast who took to the stage this past weekend.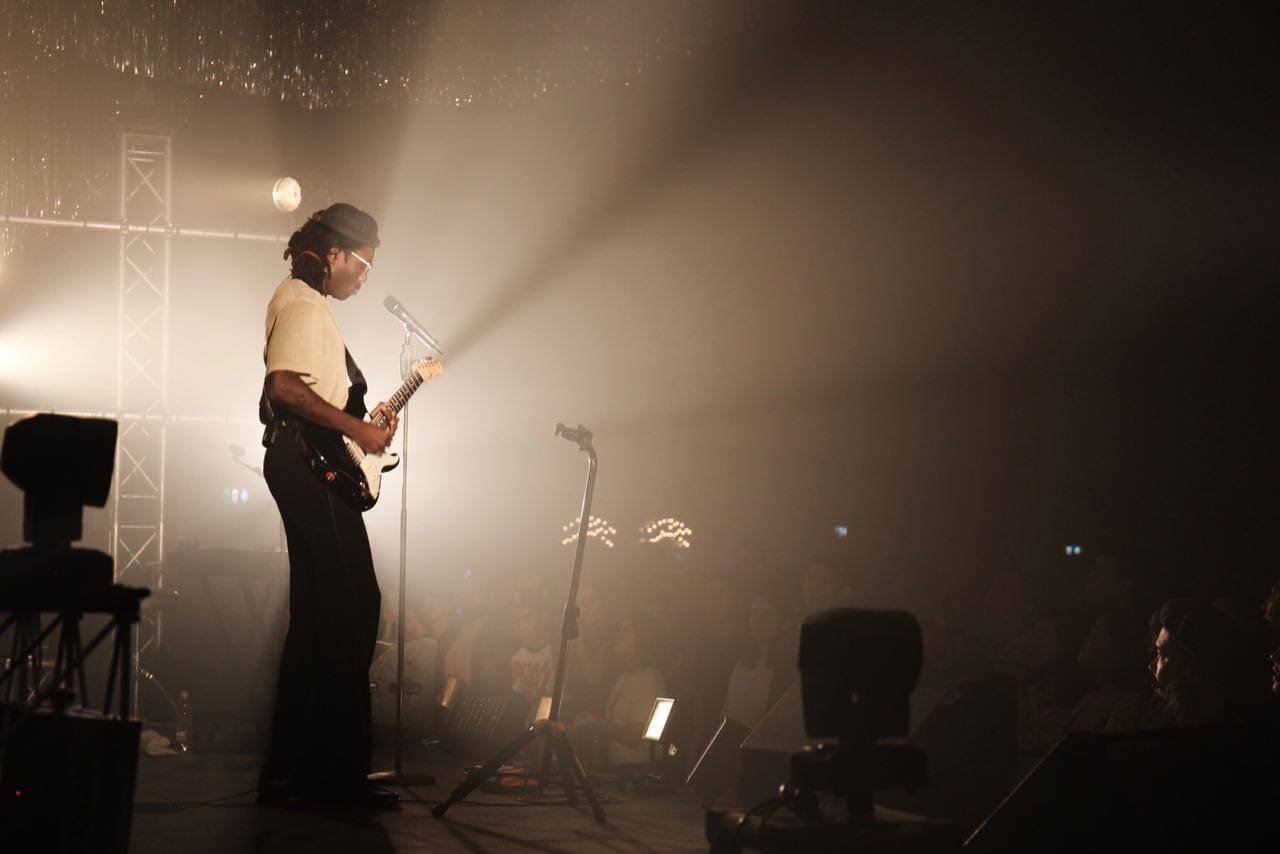 Although things start off subdued but soulful with a brief musical interlude from backing singer Eva Tolkin, Dev soon kicks into action with "Augustine", the first track to be released from his second studio album under the Blood Orange moniker – Freetown Sound.
He's drawn an impressive crowd tonight. Each as achingly cool as the next, the audience is either appreciating mellow tracks such as "Champagne Coast", with closed eyes or dancing with the same wild abandon as our flair-wearing frontman to "Better Than Me" (unfortunately sans Carly Rae Jepsen).
But then it's hard not to move to the retro, synth-heavy sounds that fill the warehouse as Dev and his band rock the keys and the bass to every 80's infused beat. By "Best to You", the crowd are singing along to every line as Dev takes up position by the keyboard.
After the short break from his feet, Hynes is bursting with energy, bounding back to centre stage for the next track, "E.V.P."
In fact, the flamboyant frontman spends most of the one hour set throwing major shapes, seemingly too big for the venue's small stage. While the intimacy of the gig is wonderful, it's clear that his outlandish personality belongs in a larger arena, and I can't help but wonder why his following hasn't amassed larger numbers over the years.
After all, with collaborations alongside the likes of Florence and the Machine, FKA Twigs and, more recently, Solange, he's certainly had the exposure. As he pirouettes across the stage, I muse that perhaps he's just too experimental for the mainstream – the masses simply aren't ready for Dev. Odd really, when that's exactly why his fans love him.
There's minimal interaction with the crowd but with such a short set, there's no time for pleasantries. It comes too soon for the adoring audience, but our mysterious musician is soon paying homage to the late Nina Simone with a cover of "Nobody's Fault But Mine" before finishing the night on a funky instrumental.
Special thanks to HAVE YOU HEARD?
For more reviews from AsiaLive365, click here.
Have something to add? Tell us!