(4 / 5)
"La Vie En Rose", "If I Ain't Got You", and "Creep" – these are just some of the YouTube covers with which a Canadian singer-songwriter by the name of Daniela Andrade caught the world's attention.
The moment a friend of mine knew that Daniela Andrade would perform a show here in Manila, he convinced me to listen to her songs on Spotify. The first one I listened to was her rendition of Louis Armstrong's classic "La Vie En Rose", and I already liked the innocence and sweetness of her voice. There's no question that I was thrilled to be able to see her perform live despite my scarce background knowledge of her career.
It was the day of her sold-out show, Saturday, October 22, and I arrived at the Music Museum for the first time. It looked more of a theatre than a concert hall, with the lighting and the lack of standing area, unlike any other venues I've been to before.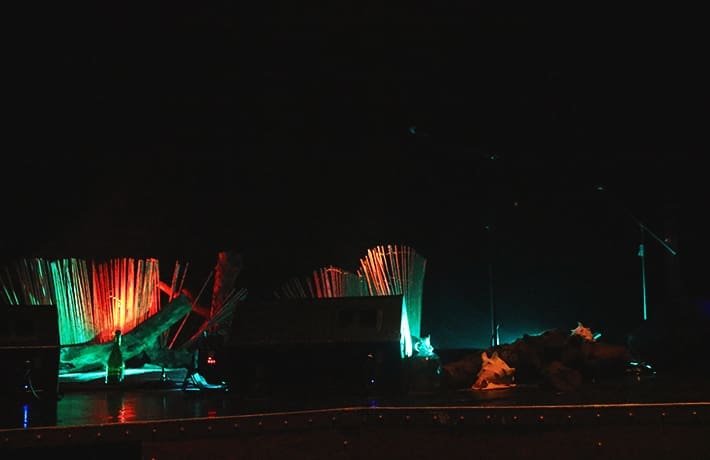 It was past five in the afternoon, less than an hour left before the start of the show, when the crowd were let in. The stage was arranged with sands to make it look like a shoreline, fittingly inspired by Andrade's latest EP Shore. The lights began to dim and the crowd cheered as I made my way to my front row seat.
Filipino singer-songwriter Gio Levy kicked off the night with his version of "Part of that World" from Disney's The Little Mermaid. Keiko Necessario, another local talent, shared the stage with Levy for some duets. Hip-hop duo sKarm and Curtismith then delivered a follow-up to the mellow guitars of their precursors of with an upbeat performance.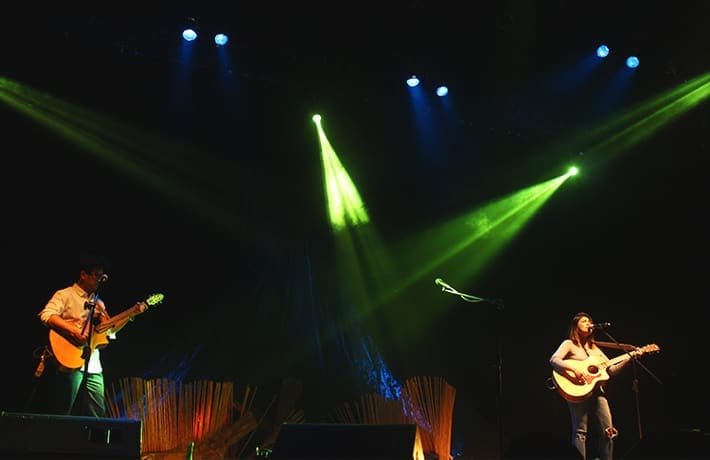 After the opening acts the audience got a five minute break before the lights began to dim once again. Daniela Andrade, in an all-black outfit, took to the stage performing a lead single from her visual EP, "Digital Age". She transitioned to "Sound", "Things We've Said", and "Bright Blue" and some of the cover songs, including Alicia Keys's "Unthinkable", Drake's "Hold On, We're Going Home", and Beyoncé's "Crazy In Love". An electric and an guitars were played alternately.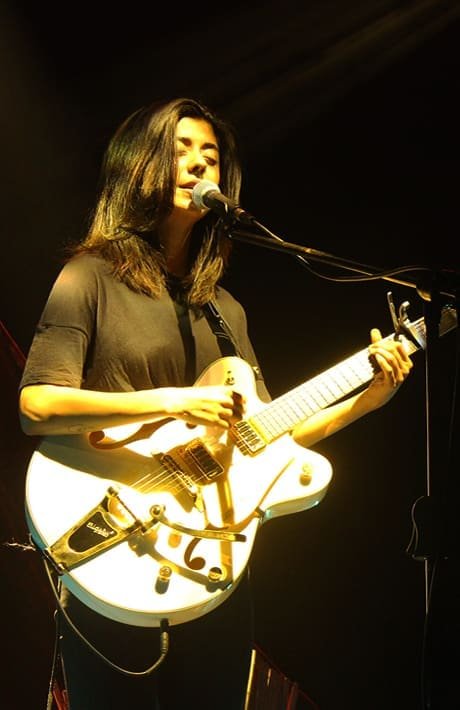 Her performances of "Sound" and "Hold On, We're Going Home", particularly, gave me goosebumps from the first note to the last. Her beauty radiated as a single spotlight made her face glow, making her all the more look and sound like an angel.
Every time Andrade finished a song the crowd would go crazy and applauded, while she would responded with her sweet thanks. Obligatory expressions such as "Kamusta?" ("How are you?") and "Mahal ko kayo" ("I love you all") were not forgotten on the singer's part. There were also a lot of exchanges of "I love you" and "I love you, too" between her and the avid fans. And much to the latter's surprise-cum-delight, Andrade also performed two unreleased songs titled "Sugar" and "Badly Programmed".
After the cover of Gorillaz's "Feel Good Inc." and "Shore", the title track of her EP, Andrade got off the stage, leaving the crowd roar for more. The songstress returned for the encore and sang three more songs, including her most viewed cover of Radiohead's "Creep". If my camera battery hadn't completely drained, I could have captured this moment for you to see, the moment when the crowd switched on the flashlight on their phones as she started playing Pixies' "Where Is My Mind?" as her final song. It was a beautiful conclusion to the 14-song set.
"Thank you guys for making my dream come true", Andrade said before giving a shoutout to the sponsors and her support acts, and leaving the stage for the last time.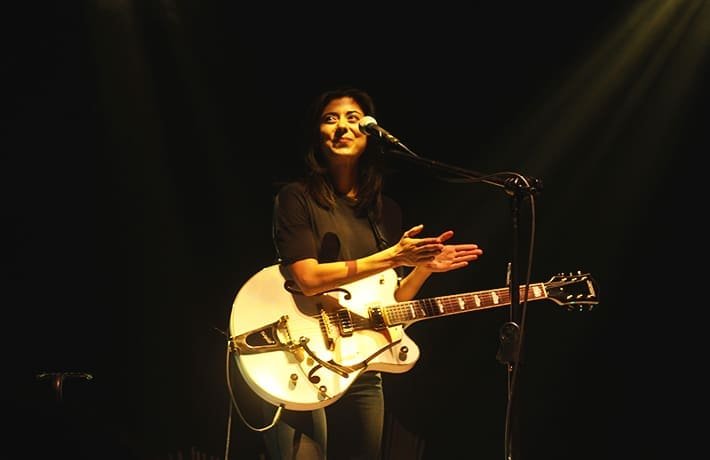 After the show, some lucky fans got to meet the Canadian talent at a coffee shop, an exclusive tête-à-tête arranged by the concert organiser, Stages Sessions.
This was the first time I attended a show without a concert buddy or a friend with me, and it will remain one of the most unforgettable concerts I've been to, all thanks to the soulfulness and authenticity in Andrade's voice. It wasn't a typical screaming-fans-losing-their-senses type of concert (or maybe it was for the three girls whose names Andrade asked after they'd professed their love to her) but rather a more orderly, warm and intimate show, wherein you could feel the meaning of the songs performed before you and relate to those prophetic words as if for the first time.
Special thanks to Stages Sessions
For more reviews from AsiaLive365, click here.
Have something to add? Tell us!