In 2016 Ed Sheeran famously sold out three nights at Wembley while making history as the first solo artist to perform at the largest stadium in the UK without a backing band.
He also famously named his concert film based on those three shows Jumpers For Goalposts, because, like the unreliable goal markers, his goals were always moving, getting bigger and taller all through the game.
When we met the "Perfect" singer at a roundtable interview in Bangkok last month, however, he suggested the ever-pliant goalposts might not exist anymore, despite his being far from reaching the endgame (he has a 15-album plan). Read on as he tells us why and shares about an essential food item on tour, a boyband he's forming and more.
What is your first impression of Thailand?
It's really, really nice. Very welcoming, warm and friendly. I walk anywhere and people are like (imitates the wai). I feel very welcome. I didn't realise how many fans I had here.
You only play one night in Bangkok and there are a lot of fans that didn't make it fast enough to get tickets. Do you have a message for them?
I'll definitely come back. The thing with coming to a country for the first time is that you have to see whether people want to come to your show, so this is like us seeing if we have fans in Thailand. Next time we come back, we'll definitely do a bigger gig. It's a big risk to come to somewhere you haven't been to before and just put on a massive show.
If you had a chance to come here as a traveller, not a performer, what would you like to do?
I think I'll go see the beaches and the islands. There's so much beauty here. My friend had a wedding here that I didn't end up making it but the pictures look amazing. I'd do all the touristy things first then do all the non-tourist things.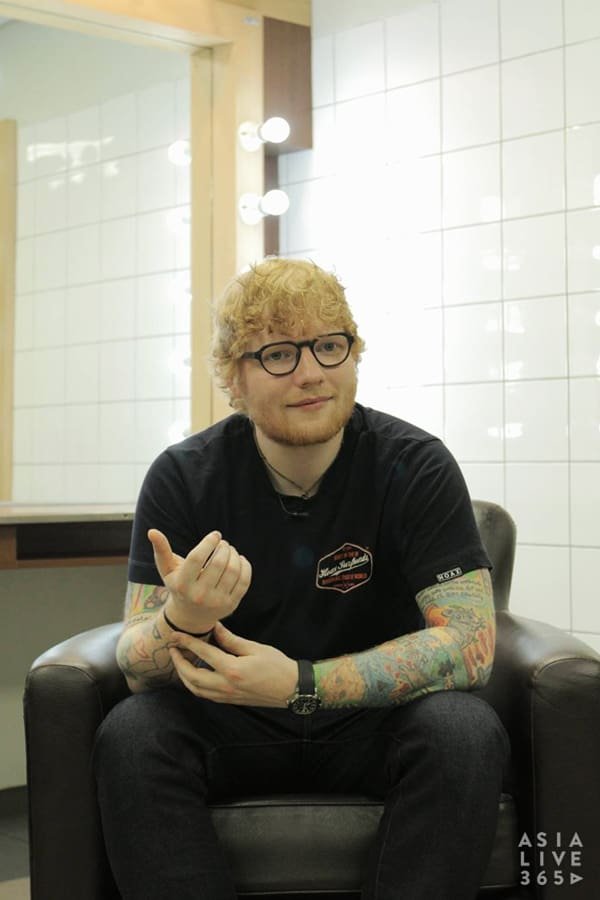 What item do you always have on tour with you?
I reckon Dairy Milk Chocolate. English chocolate. Because there's nothing really like European chocolate. You can't really find that good a chocolate anywhere else.
How do you to recharge yourself on tour?
Food. Good food. Going out and finding a good place to eat.
What is your favourite song to sing in the shower?
Britney Spears. Anything Britney Spears.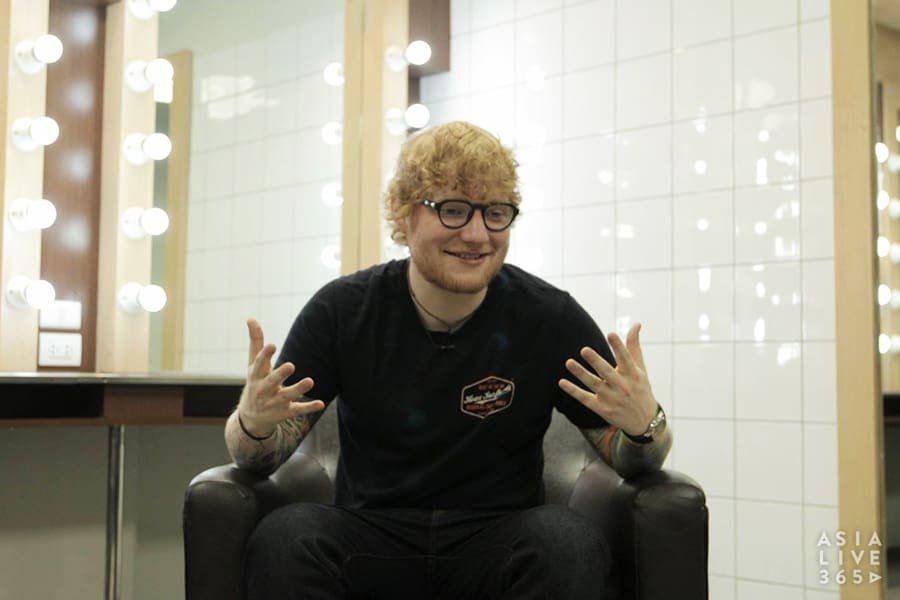 What song always gets you dancing in the club?
George Benson's "Give Me The Night".
You had a cameo on Bridget Jones's Baby and Game on Thrones. What's next for Ed Sheeran the actor?
I think I want to do one film. But if I were to do it, I'd choose the director and the role. I think I'd make the film myself. I'm not an actor so I don't really want to do loads of films but I'll do one.
What is the weirdest thing you've ever written a song about, released or otherwise?
A dead chicken. It's in "Little Bird", a bonus track on the first album (+). It's about a chicken that died.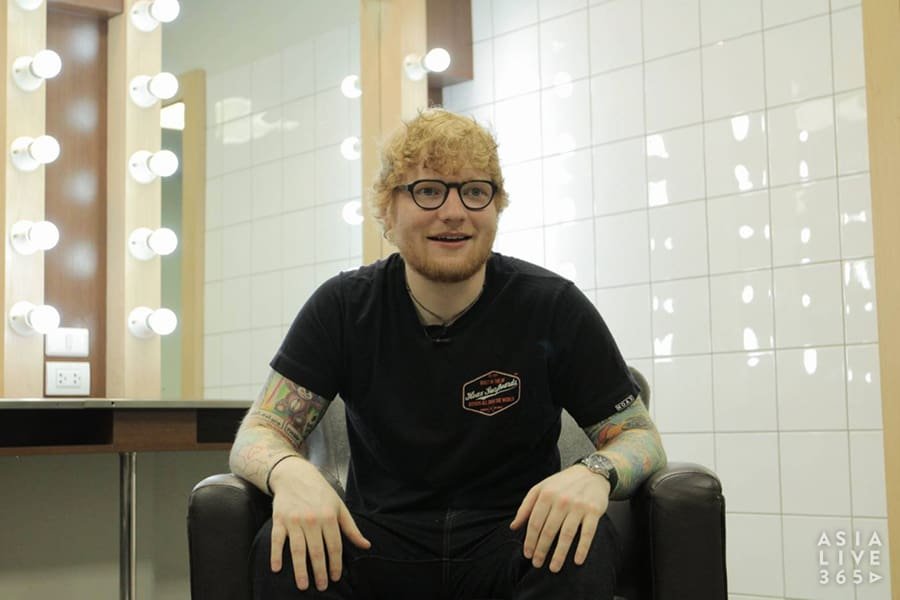 You've mentioned on James Corden's Carpool Karaoke that you feel "naked" without your guitar. Can you describe that connection between you and the guitar?
I just grew up playing it and I always had it with me. I would never just do karaoke. If I was going go up and sing somewhere I would always bring my guitar otherwise it'd just feel weird without it. There's like a couple of songs on stage where I just sing but my guitar is still on me. So I just feel weird without it.
You chose football-related phrase "jumpers for goalposts" for the title for your debut concert movie because your goals are always moving, always getting bigger, taller and wider. As of today, where are the goalposts?
They're probably in different countries at the moment. I feel like everything's achievable now. If you aim for something, you can achieve it. The goalposts are very wide now, so much so that I don't know if they exist anymore.
With some of your biggest hits being "Perfect" and "Thinking Out Loud", it's safe to say that you're a romantic person. What may have contributed to that?
My girlfriends' parents have been together for 30 years and mine 35 years. I think when you're brought up with that, it's what you look up to. It makes you romantic in a sense that love is for life. I think that's definitely hardwired in me.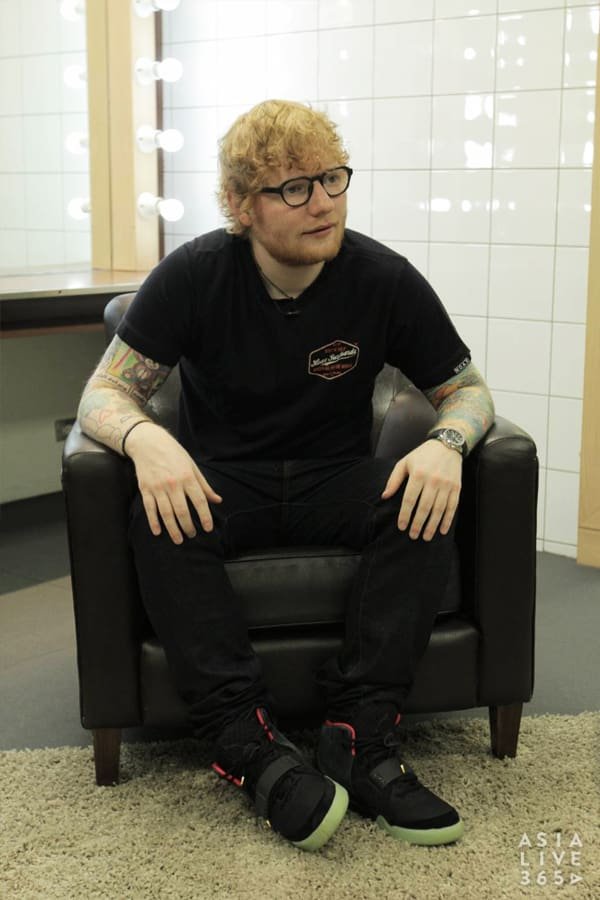 You've written songs for many artists. When they went on to top the charts, did you ever think, "Why didn't I sing them myself"?
No, I think, with songs, you can always write another one. I never really felt too "precious" with songs because they come and go so easily. You can write a good song that goes, a bad song that goes, a good song that you use, a bad song that you use. I'm constantly writing songs so I don't really mind whether they go to someone.
Your songs on ÷ are influenced by different cultures and the places you've visited, like "Barcelona" and "Babia Be Ye Ye". Did your extensive travels in Japan last year inspired you to write?
I don't know if they did in that sense, but they definitely relaxed me. As you can see, coming to Bangkok, I'm spending two days here and I've kind of seen the city a little bit but I don't see Thailand as a whole. And there's so much here to see. I went back to Japan because I'd never really been there for more than two or three days at a time so to be able to spend six weeks there and see a whole country was good.
You have your own label, Gingerbread Man, which has signed Jamie Lawson and Foy Vance. Who should we be looking forward to seeing next?
I've put together a boyband. I've written a song for them and I'm taking them on tour. They should be ready by the US stadium tour next August.
Special thanks for Warner Music Thailand for inviting us.
Have something to add? Tell us!