(4 / 5)
The British singer-songwriter and former member of global pop phenom One Direction took on Bangkok's Impact Arena Monday night (Apr 7) on his solo world tour with cheek, charm and full frontman confidence.
But before Harry met his Sally's, Warpaint took the stage at 8.20pm. The LA four-piece have been supporting Styles on the Asia leg of the tour, which concludes in Tokyo this weekend.
Obviously, Warpaint could play their own gig here any day, without propelling their following to pay up to 5,040 baht for a brief opening set (yes, we spotted some of them). But if there's one thing the show was about that night, whether the headliner himself intended it through his musical transition, it's the coming together of things. The intersection of those who shrieked as 1D's "Olivia" came on the speakers and those who could appreciate the selection of The Kinks, Shania Twain and Pink Floyd may be teeny, but it's there, and it's too refreshing not to give it time. In that same frame of thought, moody indie zealots could go home knowing they honestly got their money's worth while art rock could find its place on Directioners' Spotify playlist.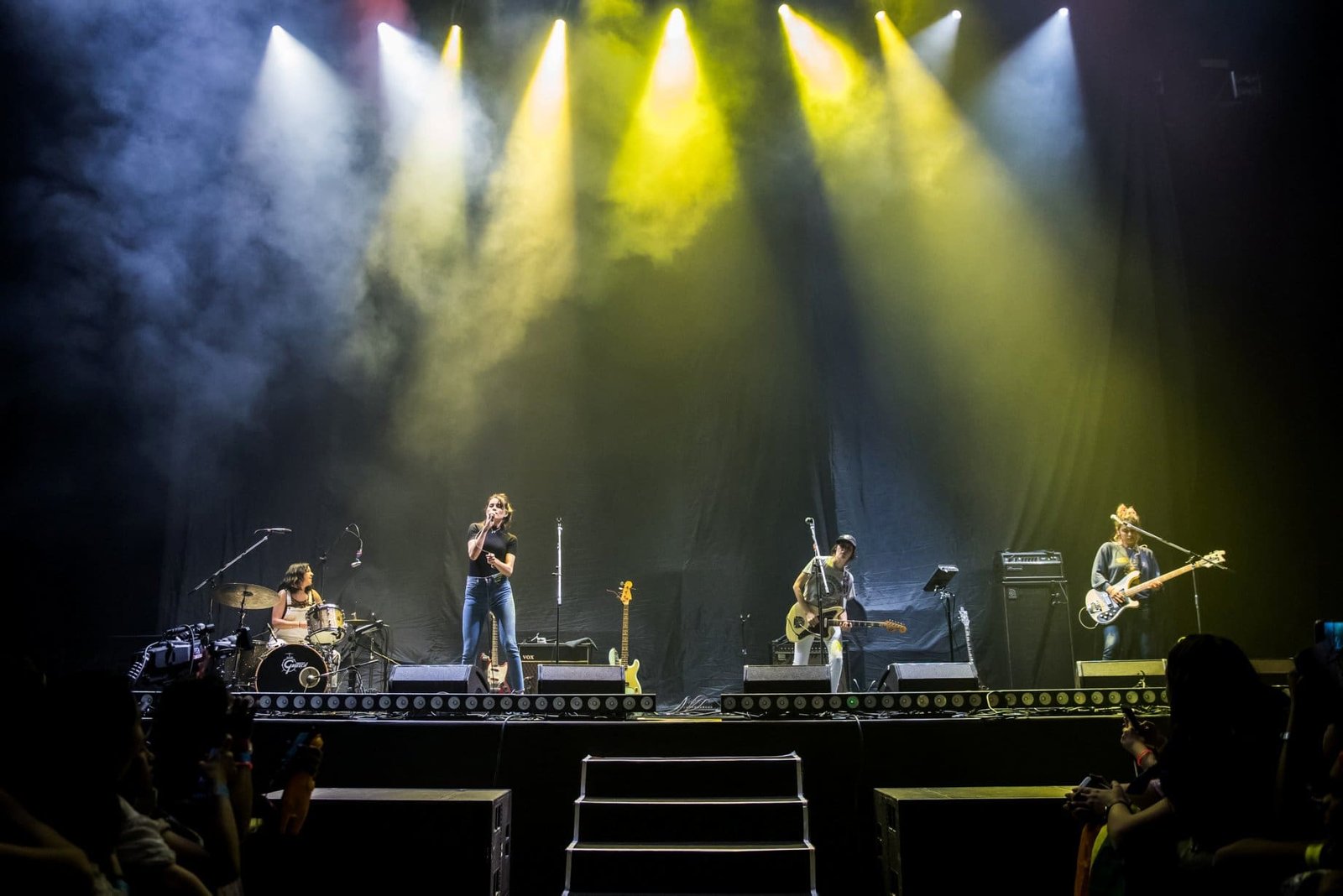 Clad in casual varsity tops and jeans, Warpaint delivered a spell of "Bee", "Elephant", "Undertow" and "So Good". Not without singer-guitarist Emily Kokal's weird and wonderful moves reminiscent of traditional Thai dance. "These moves are inspired by your culture. We love it," she said, adding the crowd should get off their feet and let loose to warm up for Harry Styles.
Between "Love Is To Die" and "New Song", Kokal said her goodbye and left an empowering message for the predominantly young and female crowd, "I highly encourage you to do creative things with your fellow women. It's an empowering experience, although challenging. Get involved an support each other."
It was another 30 minutes of 70's rock on the wire and an animated video of Styles solving a rubik before the celestial intro of "Only Angel" came on and the singer followed his band on stage in a glittery candy floss-pink bespoke Gucci suit.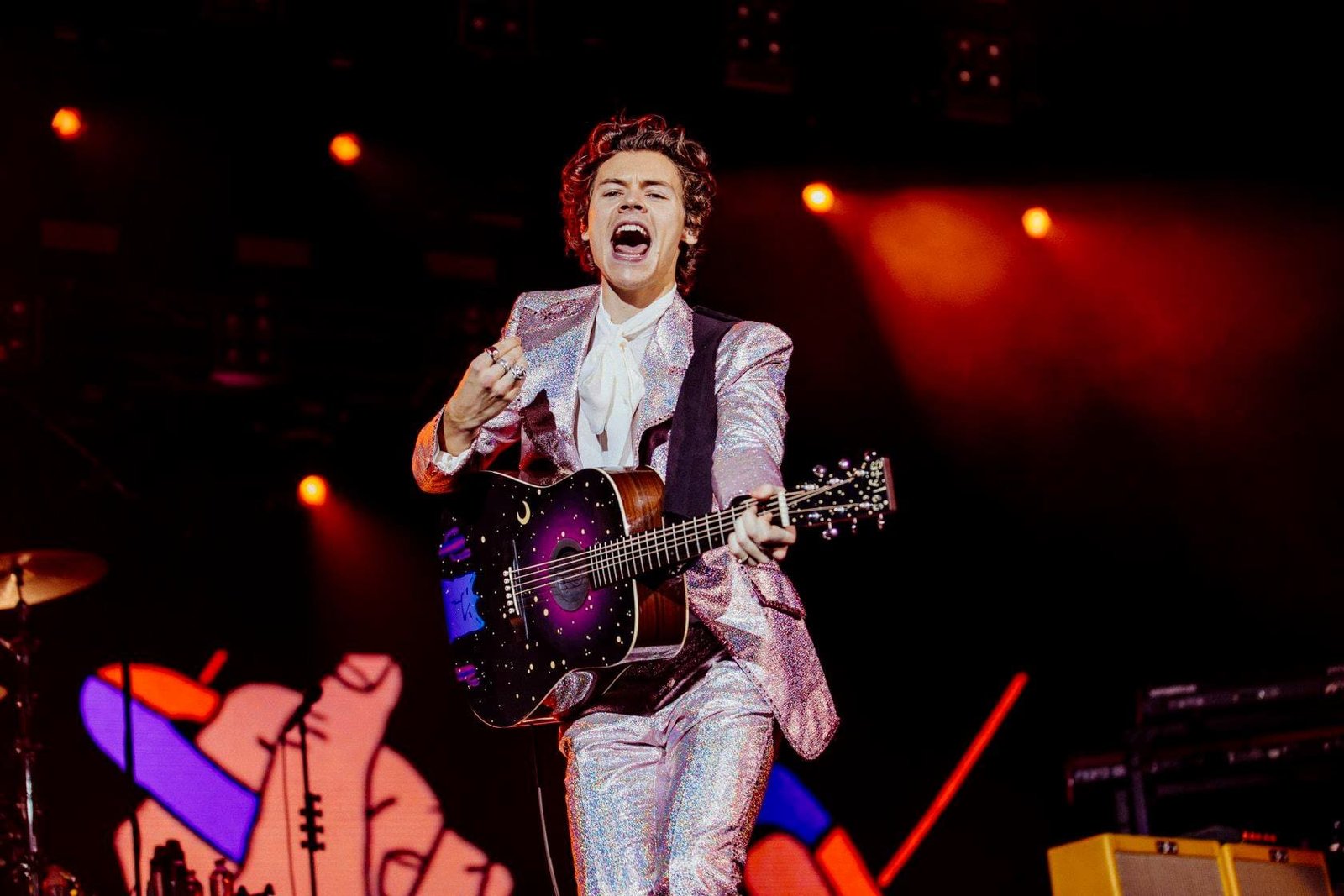 "I have one job tonight and that is entertain you," he opened a conversation after "Woman". "Please feel free to be whatever it is you want to be in this room. Your job is to have the best possible time you can."
That we certainly did. From the first second to the last, Styles was full of energy and eagerness to please. Fan service was enough to go around for everyone. With ease, the boyband graduate engaged with the crowd about birthdays and anniversaries; played with rubber toys and LGBT pride flags flung on stage without a rockstar's jadedness; or ran all smiles across the arena to Stage B for a quick chat with the back before playfully gyrating to "Sweet Creature".
The fun wasn't limited to knickknacks-throwing and Styles's jest. The fans had organised an arena-wide project where they would wave phone flashlights during "If I Could Fly" and use small piece of post-its to make them pink for "Sign of the Times".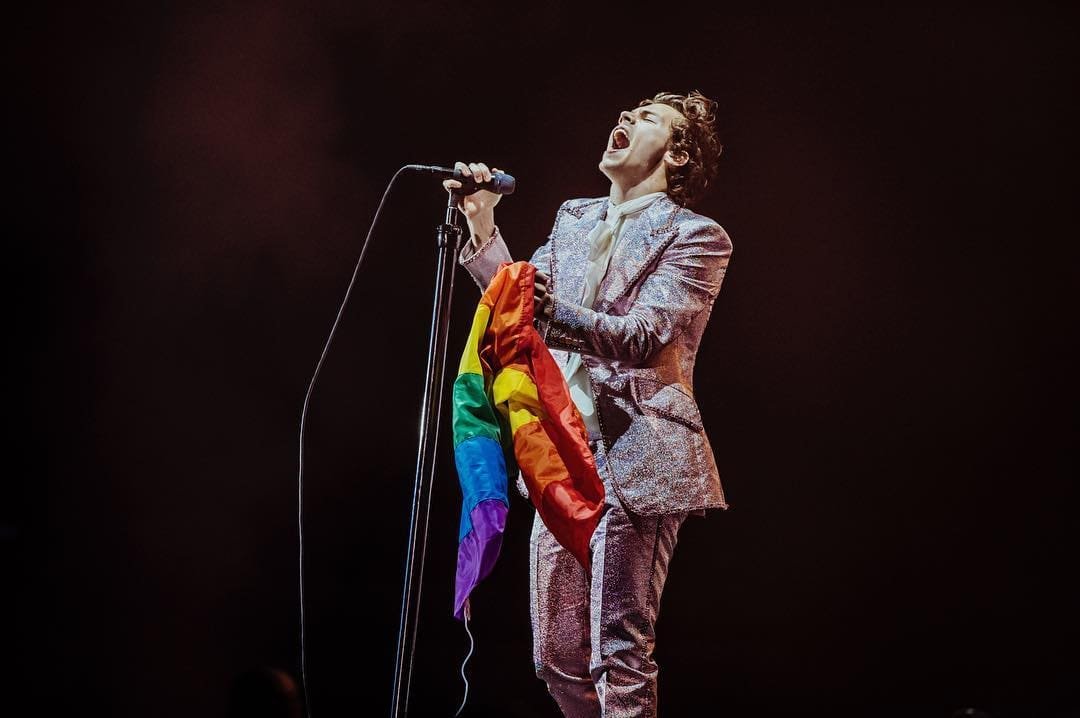 Not to undercut from the performance itself. It's easy to imagine being in this band – comprising Mitch Rowland (guitar), Clare Uchima (keyboard), Adam Prendergast (bass) and Sarah Jones (drums) – was all Styles has ever done. Powerful and unflagging, his voice shone through both slow jams like "Ever Since New York" and "Two Ghosts" and amped-up, could-stifle riffs of "Carolina" and "Kiwi".
We were surprised how good his Thai pronunciation and usage is, from the customary "phom rak khun" (I love you) and "khop khan khrap" (Thank you) to, upon learning one dad in the audience had moved here from Edinburgh for 20 years, "Everyone's moving to Bangkok including me, if you song siang noiiiii!" (Screammmm!).
Styles noted it meant a lot that everyone came even though he's only released one album of ten songs. He supplied it with tracks didn't make it to his album ("Medicine", "Anna"), covers of songs he co-wrote (1D's "Stockholm Syndrome", Ariana Grande's "Just A Little Bit of Your Heart") and one that impressed the dads (Fleetwood Mac's "The Chain"). He didn't forget to bring back the one that started it all, "What Makes You Beautiful", but with heavier and groovier guitar that compliments his solo effort.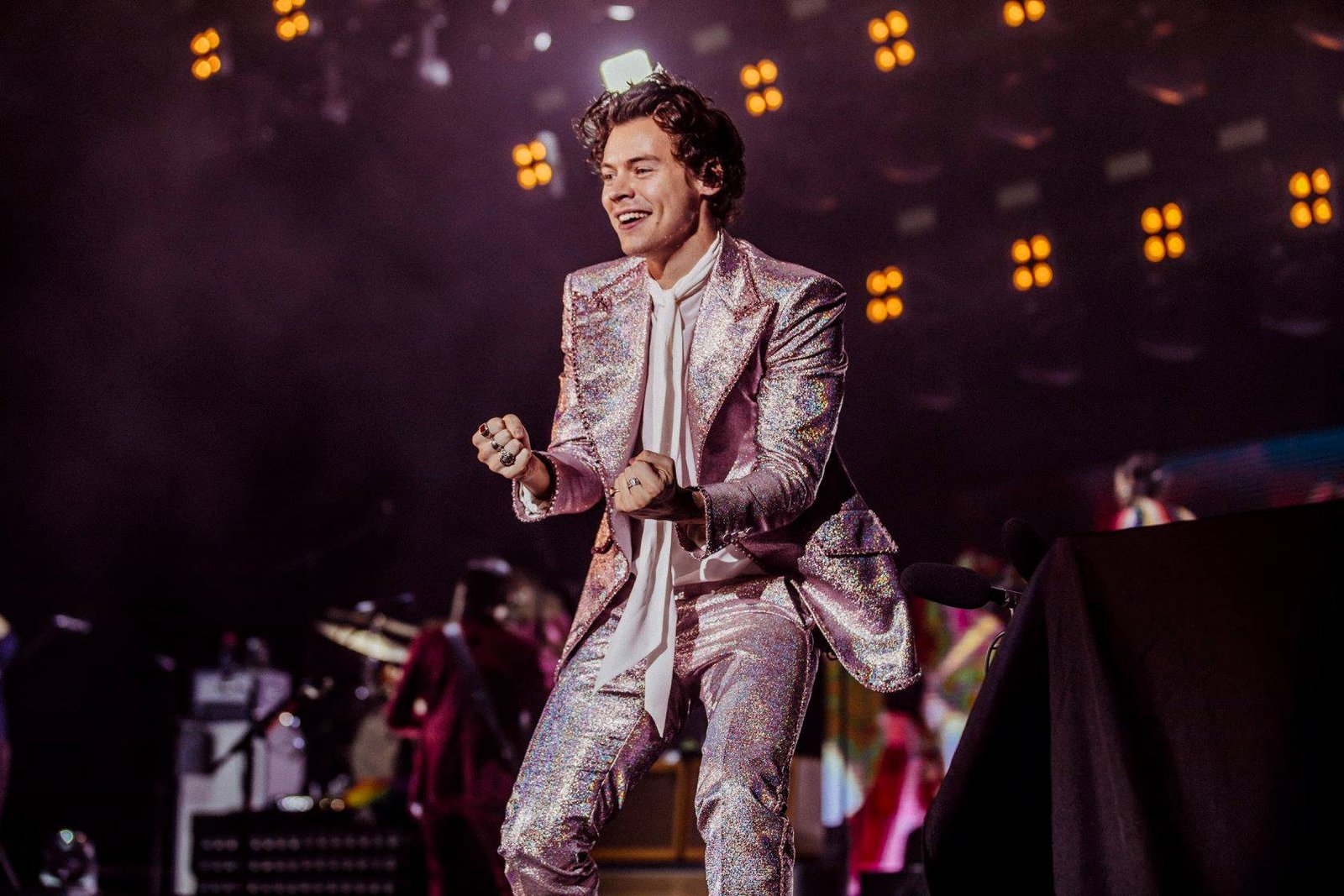 It's a little over three years since Styles was last here with 1D (including then-member Zayn Malik) and it's rewarding to see how things shaped out to be for the Cheshire native. How far he's come, but at the same time not really. Styles has long been the "rockstar one" above the clichéd taxonomies from the press. The hair, the outfits, the increasing rock references in 1D's later discography in which he has a writing credit. He works his band and crowd like a frontman twice his age and dances like a certain Mick Jagger. While his natural progression of a career move didn't yet attract a full arena in Bangkok – "Sign of the Times" isn't quite the taste of the time like Bruno Mars who played a double night days prior – Styles has set an example of what a modern-day rock show can aspire to be: a collaboration between the performer and the audience, and an inclusive space, beyond age, gender and cool/"lame" labels.
Special thanks to BEC-Tero.
For more reviews and coverage from AsiaLive365, click here.
Have something to add? Tell us!