On this very chill-out Sunday, October 14, electro-pop siblings from Canada arrived in Thailand with a full live concert. The show marked the duo second time in Bangkok since their last gig here last year. Of course, the two brought this city some fresh rearrangement compiling thrilling electronic sounds that, once again, proved their intriguing creativity.
Once again, Conflakes (Cuco, Tennyson) together with Blaq Lyte (Jay Prince, Darius and Kartell) had surprised Bangkok with another mouth-watering lineup of the blood duo Tennyson. Back in March 2017, the electro-pop duo visited and blessed us with their debut Disney-beautiful-innocent-yet-cool kind of show.
This time, however, the crew were back and instead of playing at a live house, the artistic siblings decided to rock the second-floor-live-house-like-area residing in a music school— Rockademy. And I'd say, it's a good call of them.
Tennyson's tunes to my ears were a blend of glitch-pop and sprinkles of laidback beats. Most of them were bright and quite cheery. Also, there's a tint of dark lingering subconsciously but you won't notice until you've analyzed the lyrics.
Watching them live at this particular venue made me feel like I was back at school. The night gave me the vibe of prom night where the room would be crowded by the teenagers dressing in one particular theme and then, there'd be a band playing and people would just either dance or enjoy themselves along the music.
Throughout the night, an undeniable sense of nostalgia not only shone from their music but also the clothes everyone donned tonight. All were leaning to vintage. It's like everyone was trying to dress up as their own five-year-old self again.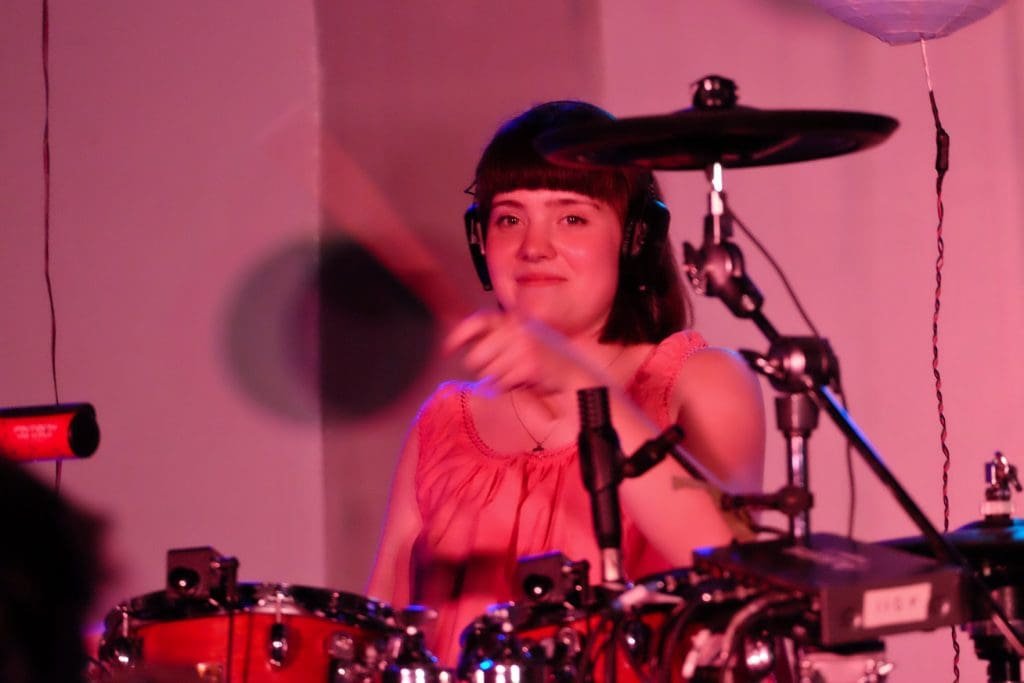 For our performers, the two siblings— Tess and Luke Pretty, their characters were far from being shy, especially, when it came to trying new things, both on stage and studio.
They played tunes from their most recent EP "Uh Oh". This particular extended play presented their growing maturity in the studio. Both beats and lyrics proved how undeniably intimate and more mature they have now become, in terms of bringing us "closer" to their music and presumably more insight into their stories/personal lives.
Evidently, on stage, they were not afraid to change from an electronic drum set (mostly cymbals) to a physical one on their halfway through the show.
There was hardly anything I'd change about this show but if I had to pick one it would be the sound systems. I'd say that it was acceptable in some ways but as an audience, I'd prefer more of the solid sound systems that could cover the whole room. So everyone in the room could enjoy the music more properly and equally with less technical annoyance.
To be more specific, throughout the show, in certain areas, it's an absolute eargasm and in areas such as the back or near the glass door it's more like a bass-fest. However, I could feel everyone dancing or shaking their bodies along the songs enjoyingly still.
What I brought back home from this show was a sense that this kind of music is not to be found anywhere else. I cannot wait to see which other grounds they will explore next and I hope they will remain just as exotic as ever. Tennyson had managed to voice in the world and we are looking forward to seeing them again.
For more reviews and coverage from AsiaLive365, click 

here

.
Have something to add? Tell us!