Manila's ultimate #throwback festival brand, Playback, is to return on Sunday, October 28, with a pocket full of fun nostalgia and a special and spooky twist. The party, once again, promises the crowd with oldies but goodies playlist and the full live performance from an American R&B singer-songwriter INOJ.
See also: Calum Scott is bringing his world tour to Asia
This Sunday (Oct 28) at Cove Manila Beach Club, Playback Music Festival returns with its latest theme— Back in Time. And aside from celebrating the Halloween by taking the crowd on the memory lane with another round of #throwback anthems and greatest hits from the 80s to 00s, the party will be welcoming R&B artist INOJ. (Listen to the singer's 1997's track "Love You Down" below).
Plus, in the spirit of Halloween, the best-dressed fans will get the chance to win cash prizes at the event.
Hurry and get your tickets now before they run out!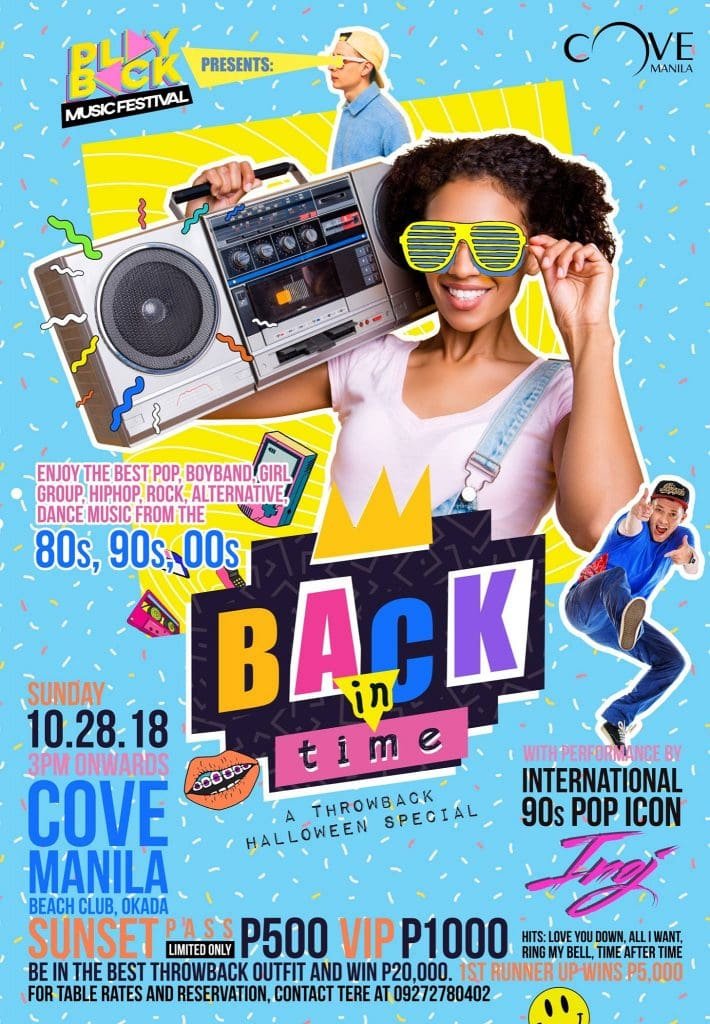 The tickets are going on sale via Cove Manila. Prices are PHP500 (Sunset) / 1,000 (VIP). For Sunset pass holders, you'll have to be present at the event before 5.30pm.
Debuted earlier this year, the party brand, Playback Music Festival, successfully received the public recognition through its vintage vibe in February. The show impressed the fans with Vertical Horizon, Leigh Nash of Sixpence, Blue, Stephen Speaks, and local artists Moonstar 99, Rivermaya and MYMP.
See also: Aaron Carter adds Manila to 'Love Tour'
Follow them at Playback Music Festival or Instagram (@playbackmusicfest) for more details.
Have something to add? Tell us!