Macklemore and Ryan Lewis are making their Singapore debut this September 20, performing at The Star Theatre.
The Grammy-award winning hip hop duo will visit the Southeast Asian city following their top-biller appearance at Jakarta's We The Fest in August.
2016 Music Festival Directory (June – December)
Tickets are priced at SGD68, 108, 118, 138, 148, and 168, now available at Sistic.com and through all Sistic channels.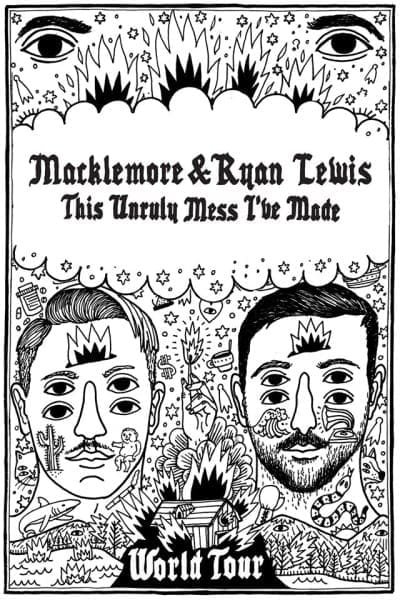 The visit is part of the Macklemore and Ryan Lewis's This Unruly Mess I've Made World Tour which kicks off today (Jun 3) at Salt Lake City, Utah. The artists will continue touring in the US until June 21, before commencing the UK leg. They will work their way to Australia and New Zealand at the end of July, and will be concluding their tour in Asia in Singapore and the Philippines. See all their tour dates here.
Singer-songwriter Macklemore, real name Ben Haggerty, and DJ/Producer Ryan Lewis broke the music scene in 2012 with their hip hop number "Thrift Shop", the first single to their The Heist album. Their music explores controversial issues of drugs, racism, and marriage equality.
Hallelujah: Panic! At The Disco set for Singapore this August
The two released their second album This Unruly Mess I've Made in February, featuring collaborations with Ed Sheeran and Leon Bridges. In their website, Macklemore describes his unconventional recording process for the album, stating, "I had to figure out how to use my voice again. So, we went ghost. The Irish Goodbye, into the woods, in the dead of winter. We bought a 1985 Suburban, loaded up some equipment and left town."
While you're waiting, check out their latest single off This Unruly Mess I've Made, "Dance Off" featuring Idris Elba(!).
Have something to add? Tell us!