This year's highly anticipated electronic dance music festival Neverland Manila has been postponed, organiser announced Thursday night.
The second instalment of the festival was set to take place at the SM Mall Asia Concert Grounds from December 9-10, with DJ Snake, Martin Garrix, Laidback Luke and 14 more international DJs scheduled to perform.
See also: Oh no! Armin Only Embrace Tour in Manila has been cancelled
In media statements, the promoter cites the Philippines' political tension and "shaky" electronic music scene as the reason behind the postponement:
"It has been a trying year for the industry, especially given the changes in the political climate and the recent tragedy. The year has also seen many surprising events occur, against all odds and expectations, at home and overseas."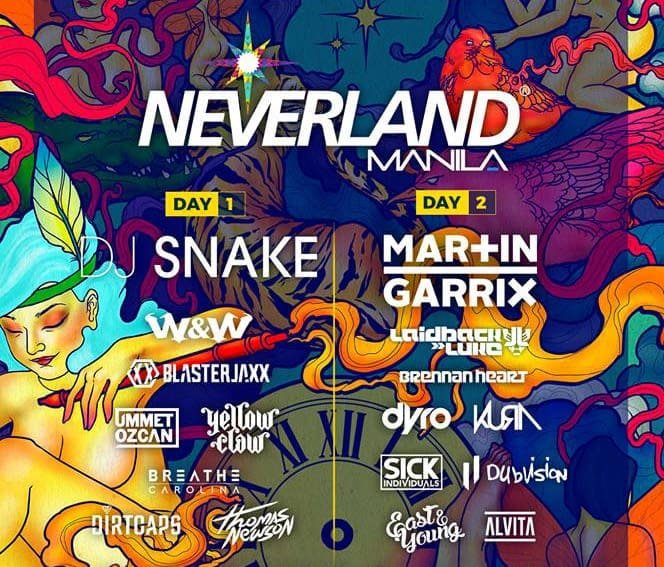 "We've been working round the clock to make the event work, but sadly, we cannot control the market here at this point. The EDM scene in the country is shaky."
"Due to these unfortunate circumstances beyond our control, it is with a heavy heart that we announce the postponement of Neverland Manila 2016 to next year."
See also: ZoukOut 2016's complete lineup is here and it's a sight to see
All existing tickets will be honoured on the new dates, which will be confirmed in the coming weeks. Refunds are available. See below for details:
– Tickets purchased in our campus/bar tours: please claim your refunds at the Neverland Manila office.
– Unredeemed tickets from SM Tickets: Kindly send a request for reversal to [email protected] and attach the claim ticket voucher.
– Redeemed tickets: Please surrender the actual ticket to the branch where it was redeemed.
– Over-the counter transactions at SM Cinemas: Kindly surrender the actual ticket to the SM Cinema branch where it was purchased.
– Over-the counter transactions at SM Stores/Eastwood:
– Card transactions: Please surrender the actual ticket to the branch where it was purchased.
– Cash transactions: Kindly proceed to Mall of Asia Arena Box Office and surrender the actual tickets.
*Please be advised that for all card transactions, the reversal process may take 10-15 banking days.
Neverland Manila is the second major dance event announcing its rescheduling and cancellation in the last 48 hours. Armin Only Embrace Tour, a headlining show by Dutch DJ Armin van Buuren, set to happen on November 25 has been called off due to "unforeseen circumstances".
Have something to add? Tell us!