Industrial rock icons Nine Inch Nails are geared up to perform in Bangkok on their first tour in three years.
Promoter VIJI Corp teased their second international concert of 2018 on Facebook last night with a picture of the Cleveland band's logo, adding a full announcement would be made on April 17.
See also: Canadian experimental rockers Suuns to perform in Bangkok in June
As of this morning, the post has already reaped over 1,200 likes, 795 shares and comments ranging from "I'll pay even if it costs me ten grand" to "MY ANUS IS EXPLODING JUST TO KNOW IM GONNA WITNESS THIS IN REALITY".
Big reactions are to be expected, especially when you recall Nine Inch Nails were supposed to visit Thailand in 2014 to headline the hapless Silverlake Music Festival in Pattaya. The festival, which also billed Foals and The Used, was cancelled due to local political unrest.
See also: Nothing But Thieves add Bangkok to Broken Machine Tour
The anticipated show is likely scheduled in August as the Grammy-winning rockers are confirmed to play Summer Sonic Tokyo and Osaka on the 17th and 19th, the only Asia dates we know of so far.
Formed in 1988 by Trent Reznor, Nine Inch Nails are credited for popularising the industrial rock genre and dubbed one of the 100 Greatest Artists of All Time by Rolling Stone. They have released eight studio albums, including two of the 90's biggest, The Downward Spiral and The Fragile.
---
Update (Apr 18): Presented by Singha, the Nine Inch Nails concert in Bangkok is happening on Tuesday, August 14 at Moonstar Studio.
Tickets are THB3,000 and will go on sale May 5 through Ticketmelon.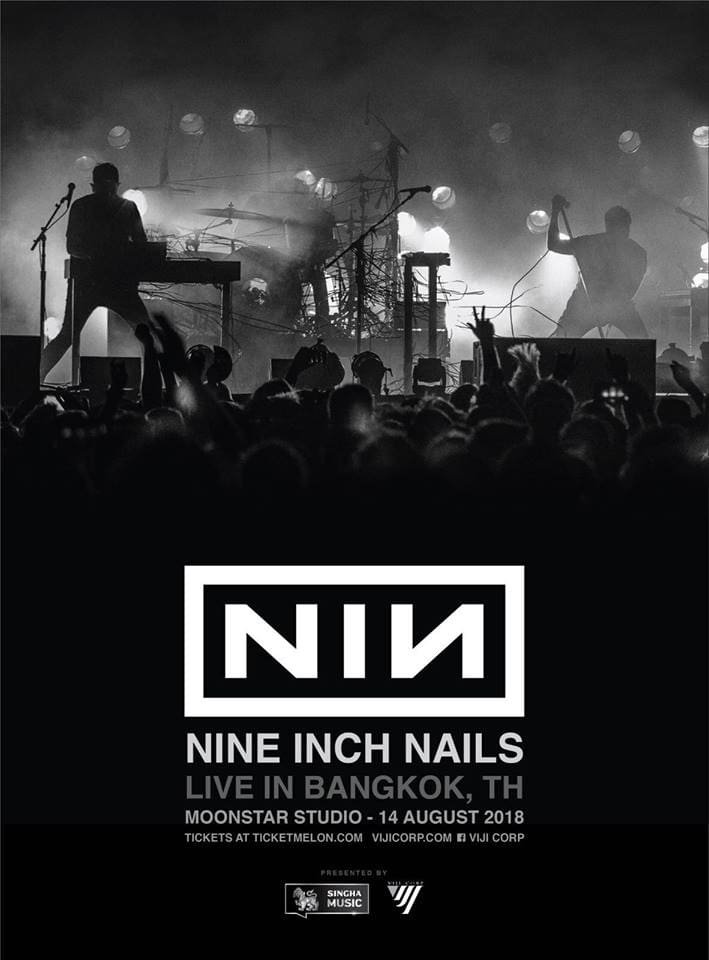 Have something to add? Tell us!