The annual music and lifestyle One Love Asia Festival has been postponed to October 16-17, 2021 at Singapore's Bayfront Event Space.
Festival organiser Romell Song, Group COO of IMC Group Asia, says,
"While we see positive trends in the fight against COVID-19, we assess that holding an event of such scale this year is unwise. The health and safety of our artistes and fans are of paramount importance to us and so, to this end, we will be postponing One Love Asia Festival to 16 & 17 October 2021 at Bayfront Event Space."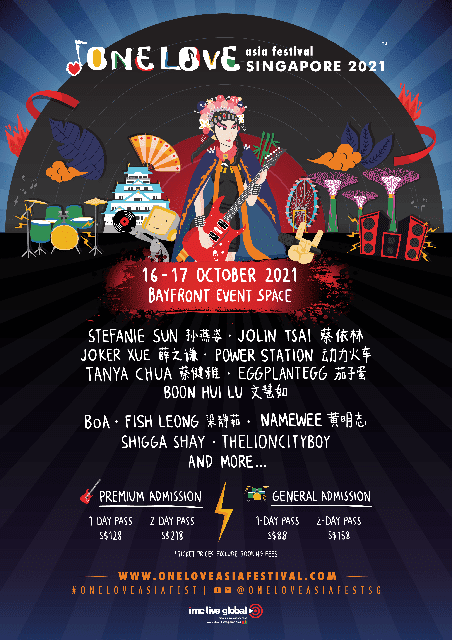 The lineup for the 2021 edition of One Love Asia Festival will now feature an all-Asian roster of artists performing exclusive live sets. The event promises fans will enjoy over 15 hours of live entertainment over two days.
Artists include Fish Leong, Power Station, Namewee, Boon Hui Lu with more to be announced at a later date. THey will be joined by this year's Asian roster including Stefanie Sun, Jolin Tsai, BoA, Joker Xue, Tanya Chua, EggPlantEgg, ShiGGa Shay, and THELIONCITYBOY.
The new lineup replaces Hebe Tien, Greyson Chance, Show Lo, Naoto Inti Raymi, Potato, KLEAR, and most notably, American rockers Goo Goo Dolls.
A new 'Curated Village' will be featured at next year's festivities offering food and activities to festival attendees. More details will be released via the festival's social media channels in the days leading up to the event.
Limited Day 1 tickets will be released on October 12, 2020. Tickets for Day 2 are already sold out, and no additional tickets until further notice.
Current ticket holders are advised to hold on to them in order to secure their places at the festival. As a sign of patience and loyalty, the festival will reward them with S$30 F&B voucher to spend at the festival,, 15% discount voucher for merchandise, and entry for a lucky draw to win tickets to IMC Live Global's upcoming shows.
EVENT DETAILS
Event Title: ONE LOVE ASIA FESTIVAL SINGAPORE 2021
Event Date: Friday & Saturday, 16 & 17 October 2021
Venue: Bayfront Event Space
Artiste Line-up:
DAY ONE (16 OCT):
BoA, Fish Leong (梁静茹), Namewee (黄明志), ShiGGa Shay, THELIONCITYBOY (and more to come)
DAY TWO (17 OCT):
Stefanie Sun (孙燕姿), Jolin Tsai (蔡依林), Joker Xue (薛之谦), Power Station (动力火车), Tanya Chua (蔡健雅), EggPlantEgg (茄子蛋), Boon Hui Lu (文慧如)
Ticket Sale: (For Day 1 tickets only) 12 October 2020, 11am onwards (GMT+8)
Ticket Price:
General Admission: S$88/day
Premium Admission: S$128/day
(Prices are before S$4 booking fee)
For more information on the artistes and festival collaborators, visit One Love Asia Festival and/or follow them on Facebook, Twitter, and Instagram.
Have something to add? Tell us!