Following a Ho Chi Minh City show announcement last month, Irish singer Shane Filan has set another date for his Love Always Tour: Yogyakarta, Indonesia.
The former Westlife frontman is confirmed a lineup performer at this year's Prambanan Jazz Festival which runs from August 18-20 at Candi Prambanan Yogyakarta. Filan will be putting on a special set on Hanoman Stage, featuring old and new hits, on Friday the 18.
See also: Ed Sheeran is bringing Divide Tour to Southeast Asia
This is Filan's second appearance in the region announced so far and is in support of his recently announced third album, Love Always. He was last seen in Indonesia last year, charming Jakarta's Colosseum crowd.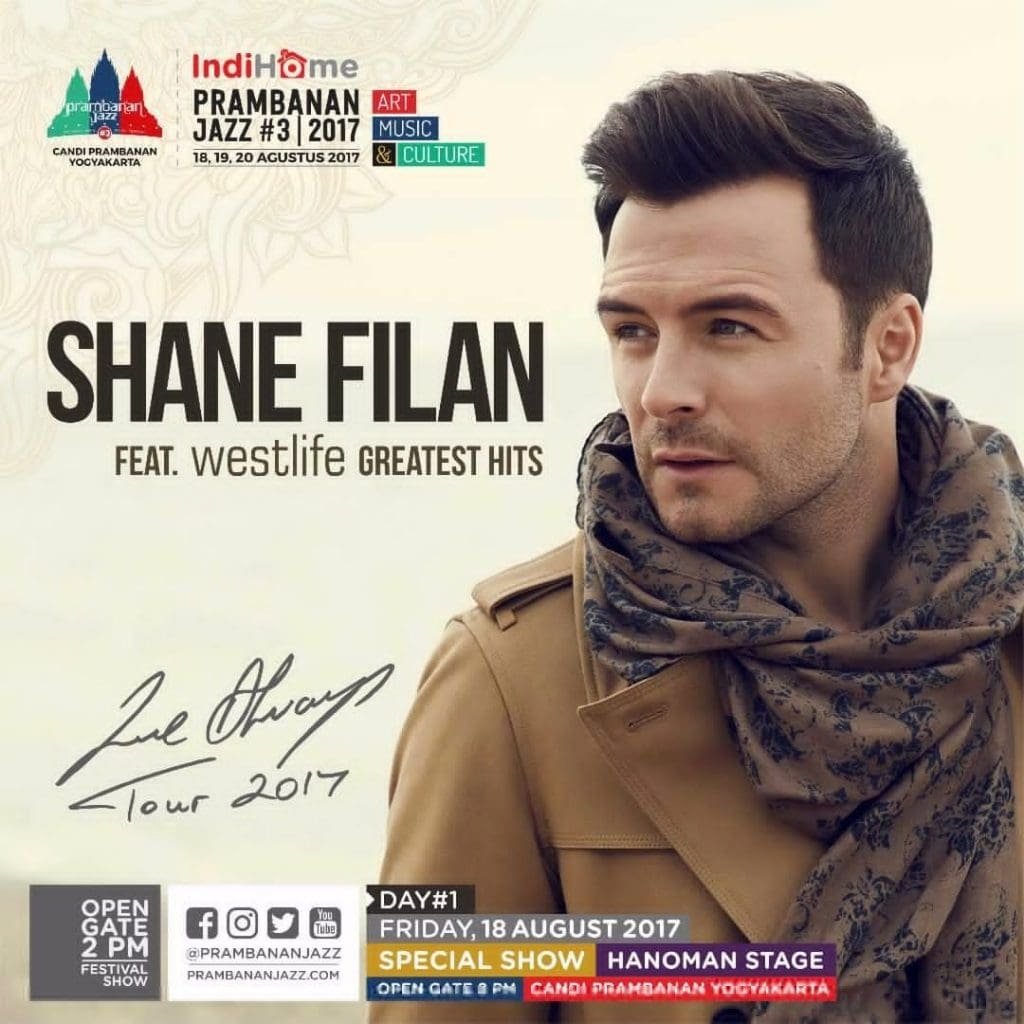 Single day festival tickets start from IDR250,000 but fans who are looking to catch Shane Filan must purchase Day One Special Show tickets which range from IDR300,000-1,200,000. They're available here. Saturday and Sunday ticket prices may vary.
Presented by IndiHome, Prambanan Jazz is an art, music and culture festival returning in its third installment this year. It promises special performances from 50 artists and 1,000 musicians, including West End actress and songstress Sarah Brightman and Brit jazz-funk ensemble Shakatak.
See also: Against The Current announce 2017 Southeast Asia dates
Following a remarkable journey with Westlife and its breakup in 2012, Shane Filan has cemented his status as one of the UK's most popular male artists. A followup to 2015's No. 1 album, Right Here, Love Always is "a collection of some of my favourite classic love songs," said Filan in a statement. "It's an album I've wanted to make for a long time," adding, "There's also a few original tracks on there, some that I've written myself. It's always amazing to get into the studio and see what we can create. I can't wait for my fans to hear the album. It has been a long time coming."
---
Update (Jun 26): Before fans enjoy Filan's special set in Yogyakart, the singer will be putting on a headlining show in Surabaya on Saturday, July 22 at Tunjungan Plaza.
This will be the first time Filan performs in Surabaya and third show announced for Southeast Asia. Tickets are now available through Beli Tiket, going at IDR600,000 / 850,000 and 1,350,000.
Have something to add? Tell us!