LAMC Productions announced today that legendary German band SCORPIONS and British band WHITESNAKE will be headlining the Singapore RockFest II on 4 March 2020!
Be prepared to relive the good ol' days for a rockin' night of classics as Scorpions and Whitesnake descend upon Fort Canning Park!
One night. Two iconic bands. We can't wait!
50 years have gone by since the days where the juvenile members of the Scorpions, Klaus Meine, Rudolf Schenker and Matthias Jabs wandered the streets of Hannover, which was just awakening from post-war paralysis, with a barrow carrying their instruments and amplifiers.
Since then, the band has become Germany's or rather Continental Europe's most successful rock band and an instantly recognisable name in the rock scene. Expressing a career like the one of the Scorpions in mere numbers is almost impossible. However, one number that should still be mentioned is more than 100 million records sold to date.
They have played thousands of concerts in all corners of the planet: from Rio de Janeiro, Tokyo, Moscow, Washington, Dubai, Paris to Berlin. In 1988, they were the first Western rock band to play sold‐out shows five days in a row in the then still Soviet Leningrad. They've swept the board big time in Brazil in 1985 at the legendary "Rock in Rio" festival which was then documented on the epochal live album "World Wide Live" – the band's final breakthrough in the US, cementing their reputation as one of the planet's hottest live bands.
And then there was the 1989 "Moscow Music Peace" festival, where the Scorpions ultimately conquered Russia, inspiring Klaus Meine to write the track that not much later became the theme song to the Iron Curtain's final fall: "Wind of Change". These are the moments, which have cemented the Scorpions' reputation as one of the rare bands rising far above the crowd.
Whitesnake is one of the most successful and enduring rock bands in the world. Formed in 1978 by former Deep Purple frontman David Coverdale, the band soon became one of Europe's most successful live acts before Coverdale decamped to America and relaunched the band in the late 80's with the multi-platinum success of their album '1987'. The album went top ten on both sides of the Atlantic within a week of its release and would go on to sell eight million copies in the U.S alone, giving them a number one single on the Billboard Hot 100 with "Here I Go Again" to boot.
Back in the UK, the band was nominated for a BRIT Award for Best British Group off the back of it but the album was a phenomenon in America, making them true Arena headliners for the first time in their career. Ever since then, the band has been one of the most respected acts in hard rock, with an envious back catalogue of bona-fide hits still able to bring an arena or a festival to its knees thirty years after their heyday. Coverdale is still a truly magnetic frontman, and the whole band still come highly recommended. In 2015 the band released The Purple Album, a reworking of classic songs from David's Deep Purple days. The subsequent world tour was one of the bands most successful, starting in America and finishing in the UK at the end of December.
Get ready for Scorpions and Whitesnake's stinging sound! Gear up for a legendary rock music experience.
Pre-sale tickets for LAMC subscribers and the artists' fan clubs go on 22 October 2019, 10am SGT.
Standard early-bird tickets go on sale on 23 October 2019, 10am SGT.
Tickets are available via the official ticketing agent  SISTIC Singapore

here

 
Early bird tickets are $158 (free-standing), and public sales start on 23 October 2019, 10am at all authorised SISTIC channels. Fans can choose to add on priority entry for an additional $30 and VIP Hospitality Suite packages for an additional $150.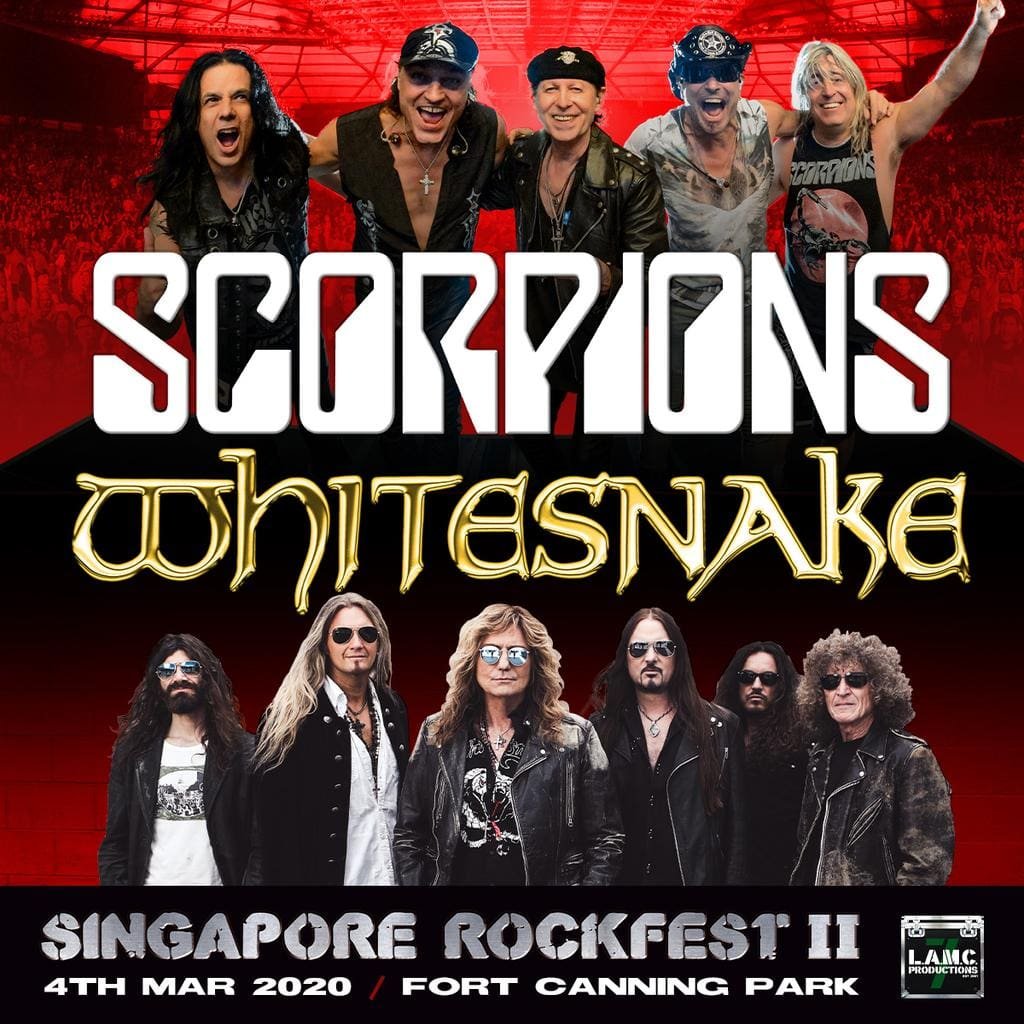 ---
[Updated]: LAMC Productions have announced a new date and new venue for Singapore Rockfest II: Scorpions and Whitesnake.
The performance, initially stated to happen on 4 March 2020 at Fort Canning Park, will now be moved to new date of 5 March 2020, and take place at the Star Theatre.
All tickets purchased for March 4 at Fort Canning will be valid on March 5 at The Star Theatre. Rest assured the Singapore Rockfest II is going on as planned. Scorpions and Whitesnake just kicked off the first leg of their tour in Australia and they can't wait to rock The Lion City again!
In addition, LAMC Productions have also announced that local-based band RockWeller will open for the two international rock bands.
Moulded from the ashes of rock gods themselves, RockWeller is one of the finest rock bands from Singapore. Clocking in over a 100 performances around the Lion City since 2014, the band is frequently heard and seen playing classic rock anthems and the likes, and their strong following prove them a worthy listen. Their influences include classic rock, hard rock, glam rock, heavy metal and punk. The lineup consists of vocalist Olga Osmanova, bassist Joseph Mark Goh, Benjamin Hwang on rhythm guitar, lead guitarist Joel Gan and Henry Tudor on drums. RockWeller is currently working on their follow up EP to 2019's Graceland, which features five songs about overcoming all odds, being inspired, falling in love, reflecting on life and finding your own faith.
Please note that this is a general admission show and doors will open at 6pm sharp with the first band at 6:30pm. Those who arrive early and those who purchase the priority entry tickets will have first choice of seats! 
Stage Times as follows:
RockWeller – 6.30pm
Whitesnake – 7.30pm
Scorpions – 9.30pm 
Have something to add? Tell us!