French 4-piece band Tahiti 80 confirm their Asia visits for 2018 Tour. The boys will embark on the continent with their upcoming album The Sunsh!ne Beat Vol. 1 this October.
See also: Canadian siblings Tennyson are heading back to Bangkok for Asia Tour
After kicking their 2018 Tour start on Friday, September, 28 in their hometown— Rouen, France, the band will head over to Asia immediately.
For their Asia schedules, the 4-piece will be taking their tour to Bangkok first on Friday, October 5. Fans will surely get to hear their new record The Sunsh!ne Beat Vol. 1 live at CentralWorld even before it's released!
Also, Bangkok show will mark Tahiti 80's only stop in Southeast Asia.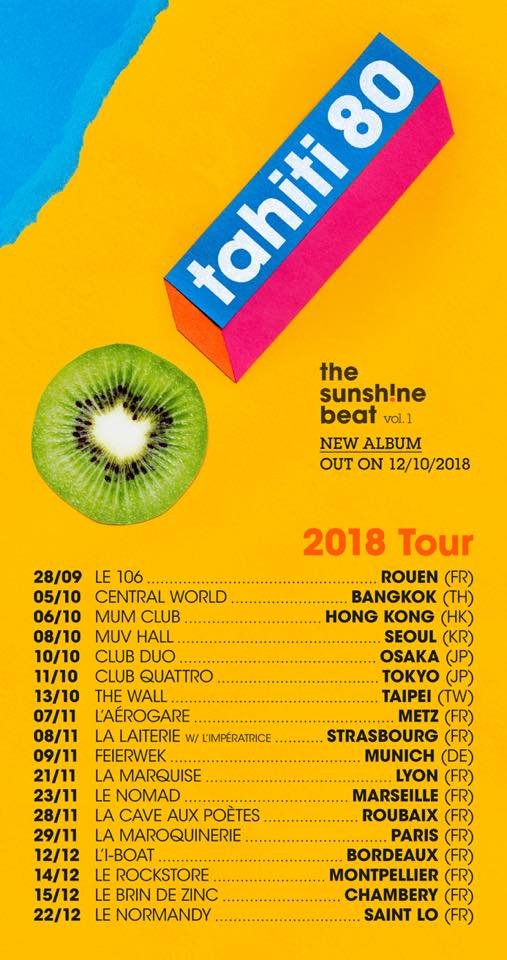 Then, the band will swing by Hong Kong (Oct 6) and Seoul (Oct 8) before moving on for 2 shows in Japan— Osaka (Oct 10) and Tokyo (Oct 11).
Later on, Tahiti will finish off their Asia visits with a performance in Taipei (Oct 13) before going back to their motherland.
All tickets details. We'll definitely keep you updated once we heard more news!
Formed in 1992, Tahiti 80 are a Rouen-based indie pop band. The band consist of 4 multi-instrumentalists— Xavier Boyer, Médéric Gontier, Sylvain Marchand and Pedro Resende. They rose to the prominence during the '90s. So far, their success has been guaranteed with sixth albums and countless singles and EPs under their belt. And their seventh full-length effort will soon to be out this October 12.
See also: Confirmed: Lindsey Jordan to set foot in Asia with her Snail Mail
Soon enough, we'll get to hear Tahiti 80's upcoming studio effort The Sunsh!ne Beat vol. 1 live on stage in Asia. (Try the taste of their latest single "Sound Museum" below.)
Have something to add? Tell us!