The Radio Dept. is set to perform in Bangkok again after eight years in "Singha Light Live Series Vol. 2: The Radio Dept." on July 4, at Voice Space, Samsennai.
The Swedish three-piece is the second band ever to be part of Singha's hotly launched live gig series. This visit is a way to prep fans for a followup album to 2010's Clinging To A Scheme, due for late 2016 release.
Two Door Cinema Club's Overdue Southeast Asia visit is finally happening
Advance tickets go on sale today (May 13) for THB1,300, or a discounted price of THB4,500 when buying four tickets. For purchase and more information, head to Ticket Melon or HAVE YOU HEARD?.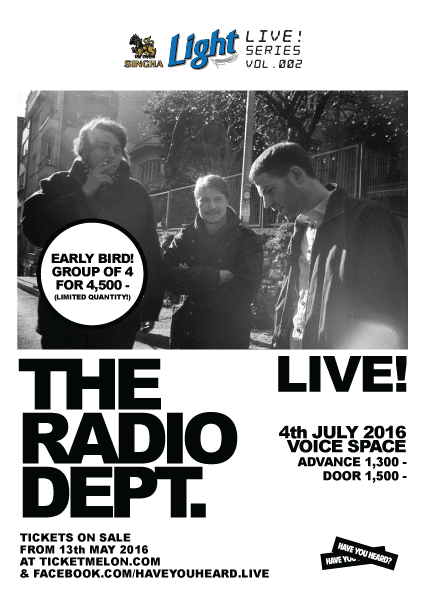 Formed in 2001 by schoolmates Elin Almered and Johan Duncanson, The Radio Dept. made a debut with 2003's Lesser Matters, which quickly became an underground success both in Sweden and internationally. The buzz that slowly grew to give the band worldwide recognition came with a little help from XL Recordings who later released the album in large parts of the world.
Hallelujah: Panic! At The Disco set for Singapore this August
In 2006, the band released sophomore album Pet Grief, showing a more dreamy, less noisy side of the band. Three tracks "Keen On Boys", "Pulling Our Weight" and "I Don't Like It Like This" were featured in Sofia Coppola's 2006 film Marie Antoinette. The record was followed by 2010's Clinging To A Scheme, on which the band has combined the most unequalled components from their previous output.
Have something to add? Tell us!