Tomorrowland's mysterious countdown, which appeared on the festival's website this past week, has been revealed to be a two-day, pay-per-view digital festival scheduled to take place on July 25-26, 2020.
It would seem at first that the People of Tomorrow would have to wait for next year's 2021 edition of Tomorrowland after the coronavirus outbreak have caused the major electronic music festival to postpone both of their major events this year. However, the world will UNITE once again this coming July.
Fans were in for a surprise this past week when the festival website was updated with a countdown. No details were revealed, save for some teaser posts from the festival's social media channels.
See also: The clock is ticking – Tomorrowland's website reveals mysterious countdown
Today, the countdown has revealed that Tomorrowland 2020 will be returning as a two-day, pay-per-view digital festival.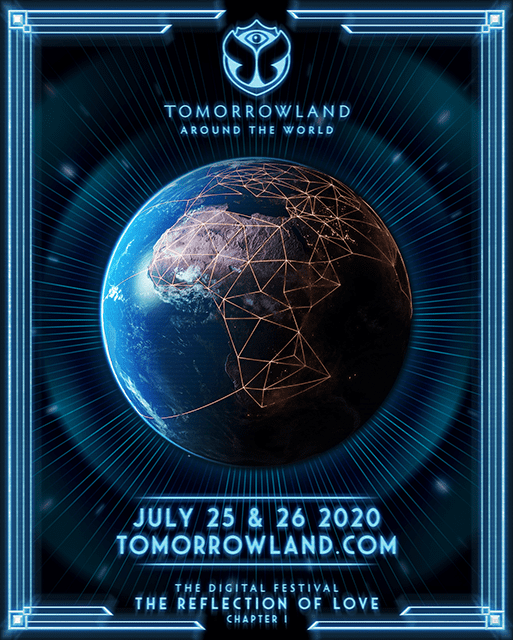 The digital festival, 'Tomorrowland 2020 – Around the World', will let visitors enjoy the Tomorrowland experience they've come to know and love. The festival will be centered around the theme 'Reflection of Love' for their Chapter 1 edition, and aims to provide an out-of-this world visual entertainment that break away from the traditional livestream events of DJs performing from their homes and/or studios that so many have done as of recent.
The two-day event will take place on July 25-26, the same dates of the second weekend of Tomorrowland 2020 before its eventual postponement.
In a statement released by the festival:
"After postponing Tomorrowland Winter and Tomorrowland Belgium because of the COVID-19 crisis, the People of Tomorrow are clearly looking for a new way to be connected. Through various channels, both this community and some of the world's greatest artists have asked Tomorrowland to take the initiative to launch a project that provides world-class entertainment and unites people from all over the world.
"Saturday 25th and Sunday 26th of July were chosen because they represent the effective dates of the second weekend of Tomorrowland Belgium this year. For the entire global community, which regards Tomorrowland in Belgium almost as a place of pilgrimage, this will be a momentous celebration of life together. It is an event that can be enjoyed alone, with friends, or even at a house party, so long as all social distancing rules are followed."
The festival will feature plenty of signature Tomorrowland stages – eight in total – including the Atmosphere, Core and Freedom stages as well as three new stages which have been specially created for this iteration. Each stage will feature music from the world's best dance and electronic music artists from all genres along with the spectacular display of fireworks and laser shows that Tomorrowland is best known for.
In addition to the music, expect numerous interactive experiences during the festival such as games, webinars, and workshops. Some of the experiences are said to take place all day long while others will occur at specific times. Tomorrowland 'Around The World' is schedule to begin at 3pm until 1am CEST. There will be a "time-zone-friendly" view option for visitors from Asia, North and South America.
There will also be a Relive platform where certain ticket holders (more details below) can enjoy all the performances again for one week after the festival (July 27 – August 2).
Tomorrowland Belgium & Winter 2020 ticket holders 
All Tomorrowland Belgium and Winter ticket holders will receive a discount code of €2.50 for every ticket they had bought. Discount codes will be sent to all ticket holders prior to the regular 'Around the World' ticket sales. Only one code can be used per order.
Ticket prices are as follows:
Day ticket: €12 for either Saturday, July 25 or Sunday, July 26
Weekend ticket: €20 for both days. Includes 1 access code to the Relive platform, where you can enjoy all the performances again for one week (available from July 27th – August 2nd).
Home Party ticket: €50 for both days. Gives 5 access codes to the Relive platform, where you and your friends can enjoy all the performances again for one week (available from July 27th – August 2nd).
Additionally, there are People of Tomorrow and Home Party packages available as well as B2B, Hospitality and Event packages. Packages include an assortment of Tomorrowland Around the World merchandise with your ticket and access codes to the Relive platform.
Tickets will go on sale on June 18.
More info regarding ticket prices can be found on the ticket price page.
The digital festival follows the recent trend of artists and DJs performing through digital channels as the world fell into quarantine amid the coronavirus outbreak. The pandemic has led to the cancellations and postponements of numerous concerts and festivals within the entertainment industry.
This included both of Tomorrowland's events set to take place this year – Tomorrowland Winter 2020 in Alpe D'Huez, France on March 14-21 and Tomorrowland 2020 in Boom, Belgium on July 17-20, 24-27.
See also: Tomorrowland Winter 2020 is cancelled due to coronavirus fears
See also: Tomorrowland 2020 is will not be taking place due to the COVID-19 situation
The festival recently provided entertainment for fans under lockdown with their weekly 'United Through Music' livestream sessions as well as their 24/7 'One World Radio'.
For more details, head on over to Tomorrowland's 'Around the World' Digital Festival page.
Have something to add? Tell us!