Returning this July, the world's Mecca of EDM Tomorrowland has launched its most ambitious and far-reaching buildup effort yet.
In the lead-up to Tomorrowland's 2017 return and sister festival UNITE with Tomorrowland Taiwan, the Belgian festival is partnering with regional media platforms to release special content produced and curated specifically for EDM faithfuls in Asia.
See also: Alesso rounds off UNITE with Tomorrowland 2017 Asia lineup
Throughout July, eight Tomorrowland specials will be up for streaming through LINE TV. Fans can look forward to Tomorrowland 2016 TV Special, a 48-minute-long, interview-packed coverage of last year's festival (available from June 30-July 2); an exclusive series of Tomorrowland aftermovies from 2012-2016 (July 7-9); Dimitri Vegas & Like Mike Live at Tomorrowland 2016 (July 14-16) and This Was Tomorrow, a feature-length documentary marking the festival's 10th anniversary (July 20, 8pm ICT).
LINE TV is currently accessible in Taiwan and Thailand, but enthusiasts can use VPN to unlock the application from anywhere.
Beside video content, Tomorrowland is teaming up with local English-language radio stations, Taiwan's ICRT 100.7 FM and Thailand's GET 102.5 FM, to broadcast UNITE with Tomorrowland Radio Show, an hour-long weekly program featuring exclusive mixes from UNITE with Tomorrowland Taiwan 2017 lineup artists.
Ticket holders and casual fans can tune in to catch Dannic, KSHMR, Florian Picasso and Shogun ahead of the July 29 event every Friday (midnight-1am) on GET 102.5 and Saturday (7-8pm) on ICRT 100.7 FM via their respective frequencies and websites.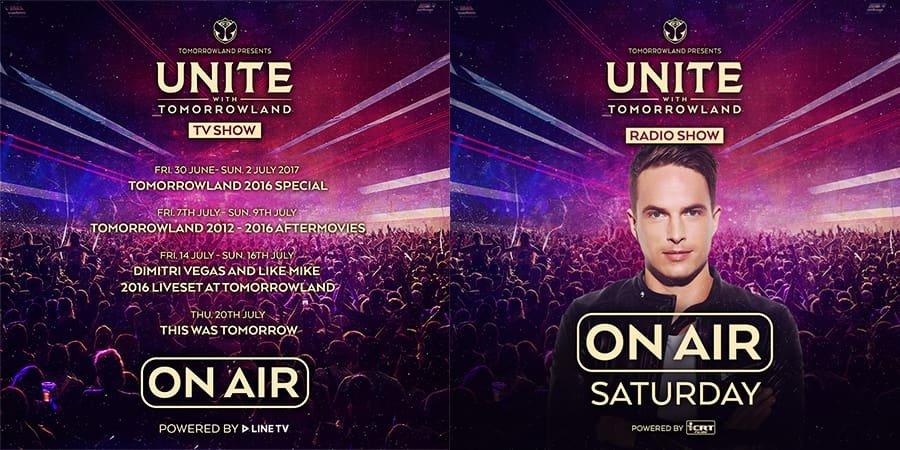 While Tomorrowland has expanded UNITE to Asia before in recent years, this level of buildup is unprecedented. "After weeks of preparation, we love the idea of a month-long warmup party," a UNITE with Tomorrowland representative told AsiaLive365. "This is the first time for Tomorrowland or any EDM festival to release tailored content every week before the actual event. Essentially, we're just trying to make every second as meaningful as possible."
See also: When it comes to live events, millennials look for more than just music
"Much like the instant messenger, LINE TV has a strong presence in Taiwan and Thailand," he said. "Through LINE TV, ICRT and GET radio, we'd like to reach out to as many audiences as we can and highlight how Tomorrowland isn't just a dance festival, what our values are and the first and foremost is to unite people."
UNITE with Tomorrowland Taiwan is happening on Saturday, July 29 at E-DA World Theme Park, Kaohsiung, featuring live sets from Showtek, Dannic, Florian Picasso and more. Taiwan will be "united" with the rest of the world through the performances of Armin van Buuren, Dimitri Vegas & Like Mike, KSHMR and Alesso, which will be livestreamed straight from the Belgian mothership, which takes place across two weekends (Jul 21-30).
Tickets are available through KKTIX (Taiwan), Ticketbox VN (Vietnam) and Ticketbox SG (International). AsiaLive365 reader can secure tickets through us. See here for more details.
Have something to add? Tell us!