American rock band Walk The Moon decided to call off their Singapore show a week before the show. Despite this alternation, their show in the Philippines is safe.
Slated to rock the stage with their latest effort What If Nothing on this Thursday (Aug 16), Walk The Moon crushed Singapore's fans' hearts with cancellation.
Music promoter P2M Live! shared the statement on their official fb page apologising for the cancellation. Posted on Friday, August 10, the promoter admitted this unfortunate incident was due to 'unforeseen circumstances'.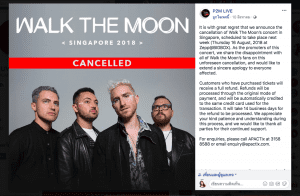 For tickets holders, your refund will be transferred back to you through your original purchasing channels. For credit cards purchasers, the process will take around 14 business days. For further questions, contact APACTiX at 3158 8588 or email [email protected]
Aside from this cancellation, RCA-signed rockers will still continue with their tour schedules for the Philippines. Thanks to MMI Live. Fans in Manila can catch the 4-piece rock heads live on stage at Market Market!, Activity Center this Tuesday (Aug 14).
For tickets, the gig-goers have to possess two of PHP250 Market! Market! Cinema Gift Cards to get a couple of passes at Cinema ticket booth. The gift card holders can present their receipt at the concierge during the mall hours from 11am to 6pm. The show date is counted.
Have something to add? Tell us!