Alfa Mist, Four Tet, Camion Bazar b2b La Mamie's, GO GRRRLS Crew to perform at Wonderfruit this year.
Wonderfruit announced its phase 2 line up last night and we couldn't be more ecstatic. Bringing an LGBT experience from talks to music and jazz prodigious all the way from London. See below for the forthcoming artists!
ALFA MIST
This year Wonderers can expect a hell lot of Jazz from pianist and producer Alfa Mist who's previously collaborated with

Jordan Rakei

and Kaya Thomas-Dyke. His most recent album Structuralism combines the inspiration of his upbringing and environment with live instrumentation and jazz composition.
Wonderers can expect a whole new London Jazz scene right in the midst of the sunny fields in Pattaya.
Camion Bazar b2b La Mamie's
All the way from France; double duos Camion Bazar b2b La Mamie's will be bringing a whole new groove to Wonderfruit this year. Camion Bazar established themselves when Benedetta and Romain held parties in cool and bold areas on their mobile truck from Bordeaux to Warsaw, through Berlin and Paris. While La Mamie's is a crew of DJ who shared a love for vinyl and free-minded parties. They began throwing parties in derelict properties just outside of Paris before moving to clubs in the capital and started setting up the Macki Festival.
GO GRRRLS
Being known for supporting the environment and plastic-free, this year Wonderfruit brings to Forbidden fruit a whole LGBT experience to support gay boys and girls with GO GRRRLS Crew taking over and throwing music from classic to contemporary sounds. Three regulars from GO GRRRLS including Note P, Mae Happyair, and Dookie will be part of "God Save The Queer" at Wonderfruit this year.
Four Tet
Kieran Hebden Aka Four Tet is back this year after having played at Siwilai City Club in 2018. Four Tet has remixed tracks by artists including Aphex, Bicep, Radiohead, Lana Del Rey and many more. This year, expect to see his 20 years worth of electronic experience right at the Solar Stage.
Don't miss your chance to explore the fields of endless experience at Wonderfruit this year.
Phase 2 is now available for 6,900 THB for a Full Pass and 5,900 THB for the Weekend Pass. Grab yours

here

!
See below for full line up.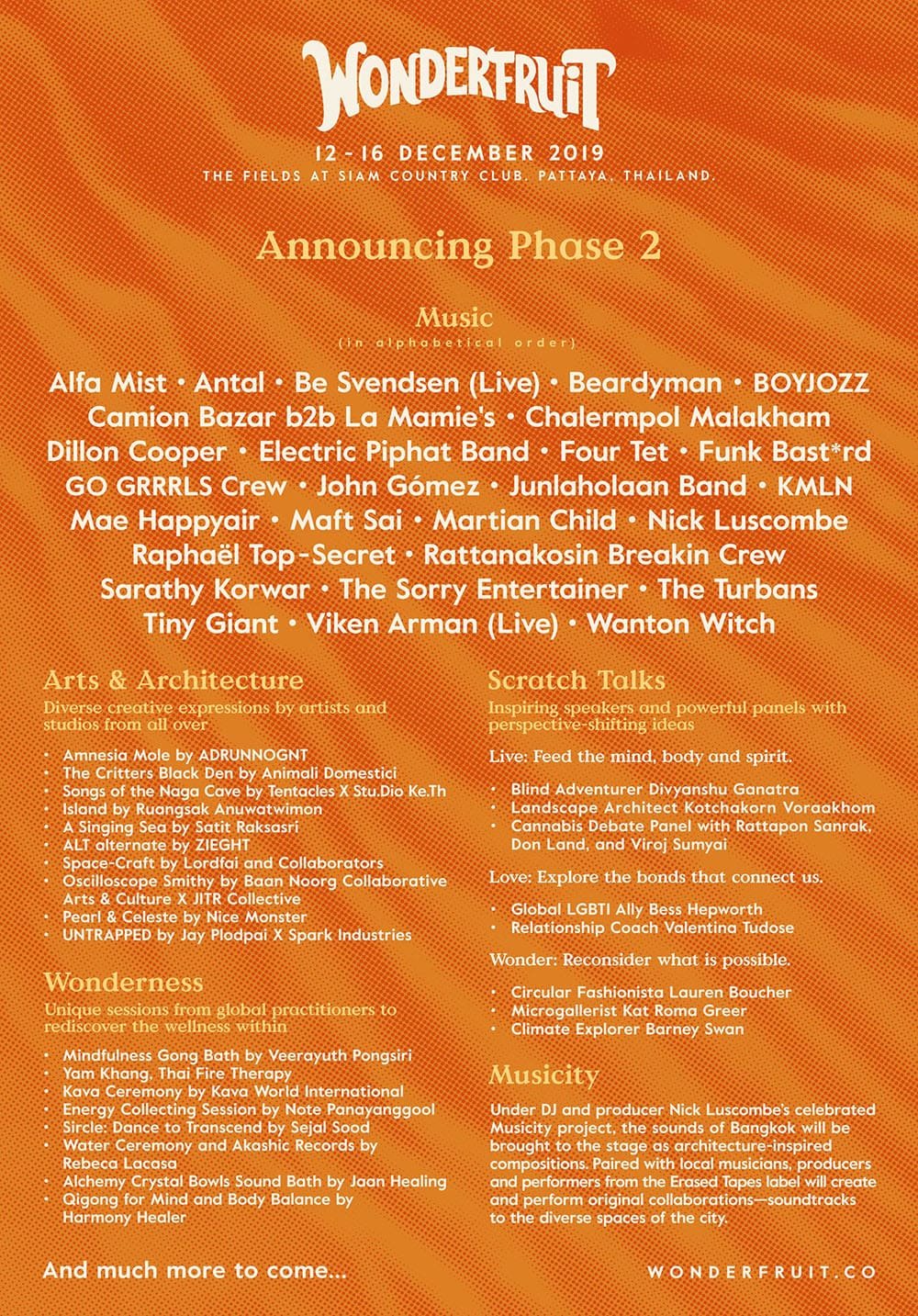 ---
Update (Nov 8): Wonderfruit invites all the Wonderers to take on a journey of leading electronic music ft. Chromeo (DJ SET), Peak & Swift, Sabi Sabi Soundsystem, Photay and many more.
Wonderfruit phase 3 lineup has added extremely exceptional acts this year with electro-funk duo Chromeo (DJ SET), Peak & Swift, Sabi Sabi Soundsystem from Bangkok, multi-instrumentalist Photay and many more.
Aside from the fresh tunes, Wonderfruit is ready to take Wonderers to embark on the world's innovative Art Installation, engaging workshops and immersive entertainments for the youngsters.
See below for what Wonderfruit has to offer.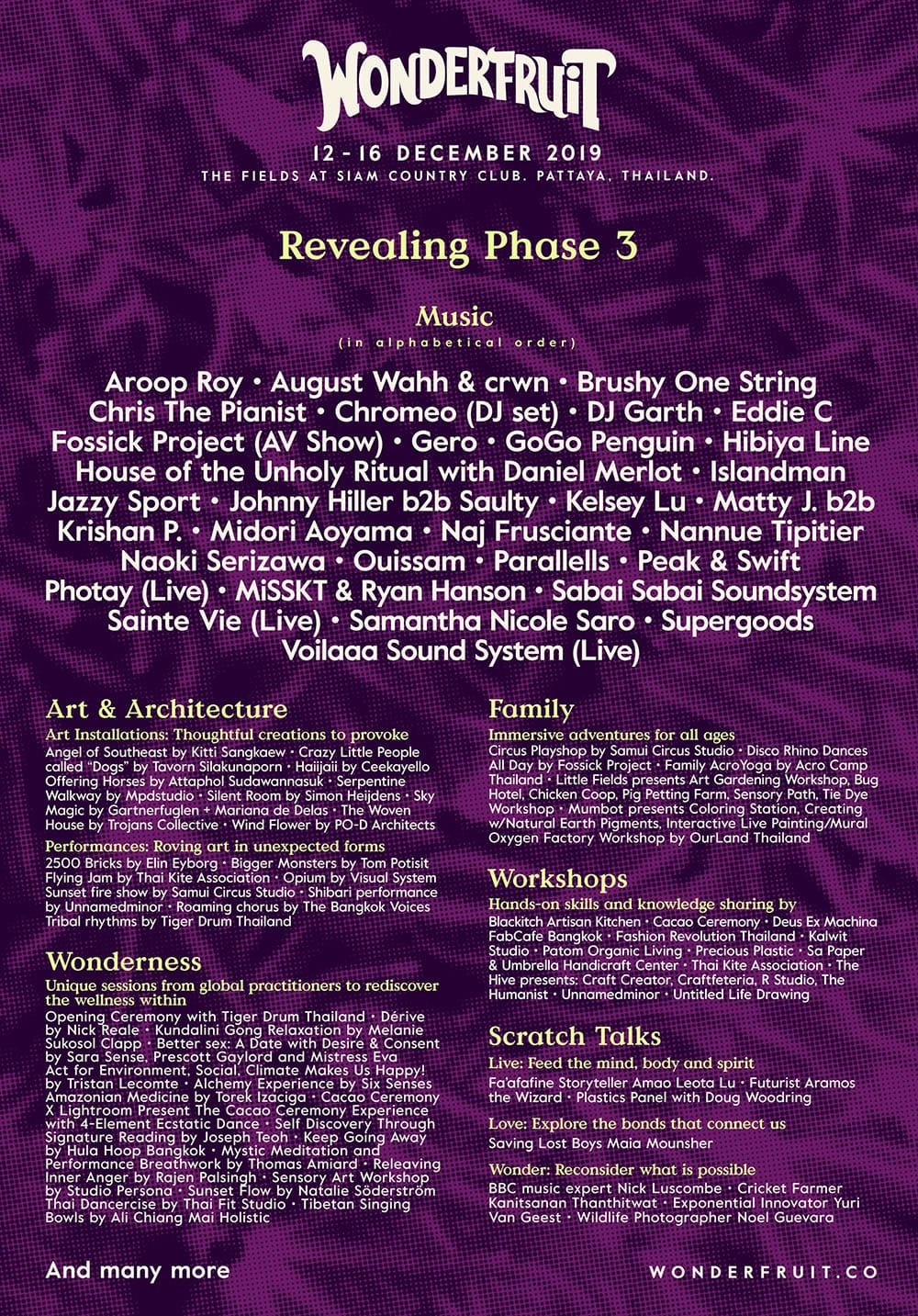 ---
Update (11 Nov): Wonderfruit's 2019 stage revealed!
Wonderfruit unveil its setlist and stages this year, take a look at what Wonderfruit has to offer for Wonderers this year.

Nick Luscombe is handpicking international portion of Muscity lineup at Wonderfruit. Erased Tapes producers and local performers will hit Theatre Stage to give Wonderers original sounds from the interpretation of Bangkok's landmark!

SOT is a raucous expression of diversity showcasing food, music, art and culture of the big city.


Under the 24-hour lofty bamboo Pavillion. Wonderers can expect everything from live bands and DJs, late nights or lazy morning cocktails crafted from independent spirits!

A tasty new space is being added to your pallete of musical choices. This year featuring both local and international DJs to serve you some of the top pick beats.

Unleash your soul while you're dancing and romancing beneath the beautiful boudoir built from bamboos. This year bringing Wonderers an LGBTQ experience where freedom, expression and love is the soundtrack!
Have something to add? Tell us!