BigCityBeats WORLD CLUB DOME's Escalator Edition, the finale to their Rooftop Sessions livestream, will be taking place this Saturday, July 4 at the MyZeil Frankfurt Shopping Centre – home
to the longest self-supporting escalator in Europe.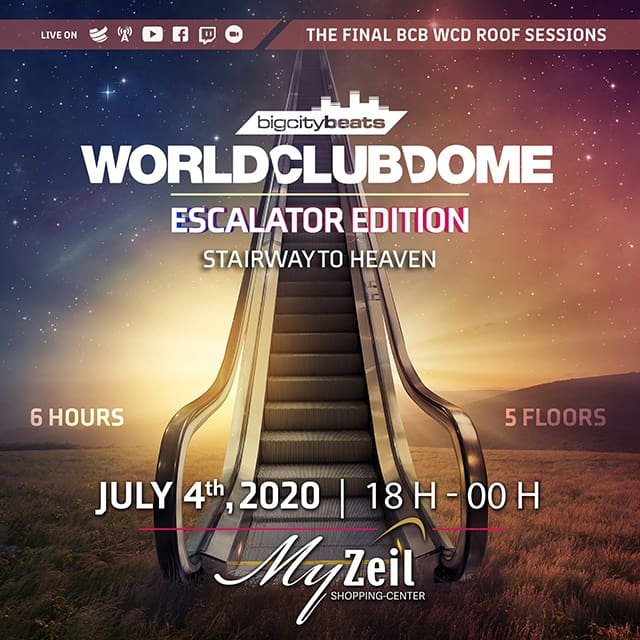 The epic closing livestream show for BigCityBeats's Rooftop Sessions will see DJs performing on the 42-metre long escalator of the huge Frankfurt shopping centre. The escalator, known as 'The Expressway', connects the ground floor with the 'Foodtopia' fourth floor.
See also: A list of current and upcoming livestreams to tune in during lockdown
With the Escalator Edition, the team at BigCityBeats are building a club that is five floors high where each headlining DJ are transported across each floor during their performance. Lucky selected guests will get the chance to listen and watch from individual floors while following current health and safety hygiene regulations.
WORLD CLUB DOME Escalator Edition

The creativity should never stop, not even through these times! Do you want to be a part of it? Follow our event on Saturday via live stream or, WITH A LITTLE BIT OF LUCK, IN REAL LIFE. Pre-register now: www.worldclubdome.com/escalator-edition.#WCDEscalatorEdition #WCDRoofSessions #WorldClubDome #BigCityBeats

Posted by WORLD CLUB DOME on Monday, 29 June 2020
The event will first begin with music at the shopping centre's roof terrace of Fitness First between 6pm – 10pm at a height of nearly 40-metres, offering a sensational view of the Frankfurt Main metropolis skyline. At 9pm, BigCityBeats CEO Bernd Breiter will be hosting a conference in the newly opened MyZeil Foodtopia clinary and gastro experience before the concluding sets of the inaugural Roof Sessions on 'The Expressway' escalator kick off between 10pm-12am.
Pre-register now and get the chance to be one of the few guests to experience this once in a lifetime event.
Programme Lineup
6pm-10pm – Rooftop (via live stream across all social media platforms)
9pm – Press Conference with Bernd Breiter at FOODTOPIA
10pm-12am – Escalator Premiere
DJ LINEUP
Live from Rooftop
6pm-7pm: Carla Casanova
7pm-8pm: Paul Lomax feat. Marisha (live)
8pm-9pm: Felix Kröcher
9pm-10pm: Moguai
Live from Escalator
10pm-11pm: Vize
11pm-12am: Le Shuuk
Have something to add? Tell us!