As returning in July, Jakarta's famous international music festival— We The Fest, finally gave out their phase one lineup, featuring Alvvays, Cigarettes After Sex, Daniel Ceasar, Yaeji, Dean, Rae Sremmurd, 6Lack, Rad Museum and many more.
Don't miss: Honne, The Kooks, Prep, Adoy and many more are added to Wanderland 2019
Howdy, our beloved festival trotters! Indonesia's biggest international music festival will soon return for its sixth time at Jiexpo Kemayoran in Jakarta in July.
After earning the continuous success for five years, We The Fest has finally marked its return for its sixth edition, starting from Friday-Sunday, July 19-21. And here we present you the internationally-recognised and the region's up-and-coming names from various genres, ranging from hip hop, soulful to some indie sounds that will be performing for you there.
Highlights of this year include the promising names from hip hop culture like 6Lack, Rae Sremmurd and an Asian top talent; Dean. Joining them are contemporary R&B musicmakers like Daniel Caesar, Sabrina Claudio, Rad Museum and Jess Connelly.
Meanwhile, electronic music lovers will get to experience the show from New Zealander electro-pop artist Baynk and house and trap music from Yaeji alongside DJ sets from Anna Lunoe and San Holo.
And for all indie and alternative music heads, Canadian indie pop group Alvvays and American Ambient pop Cigarettes After Sex are also added to the top-notch acts.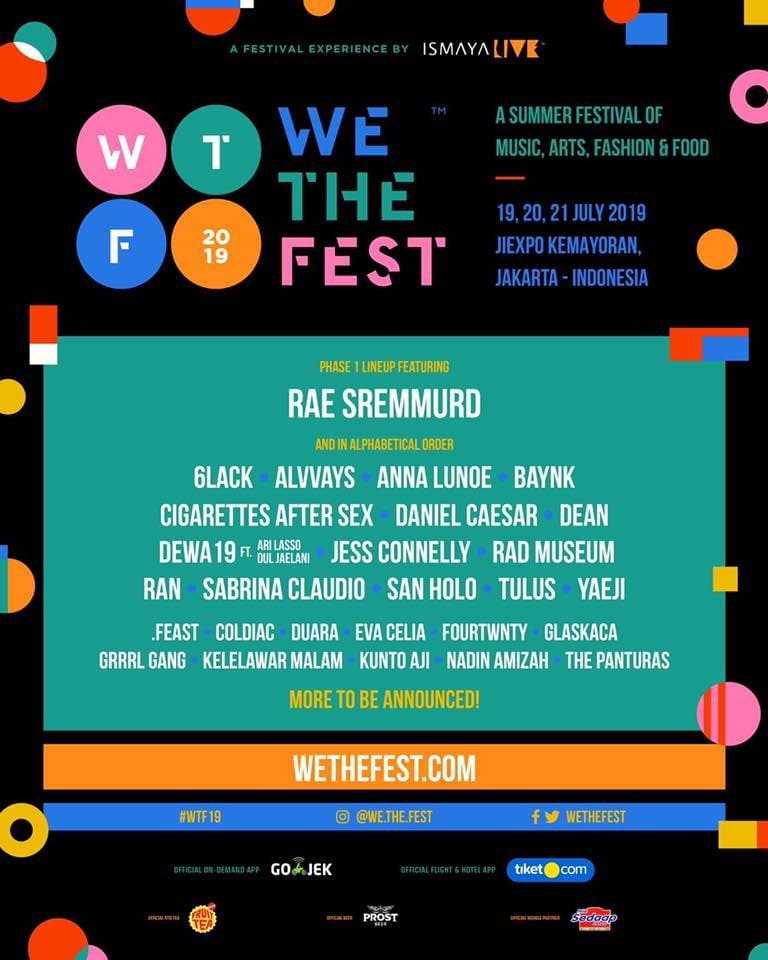 Moreover, We The Fest 2019 is very delighted to bring the region's very own talent to the stage as well. Audiences will get to experience the live performances from Dewa19 Ft. Ari Lasso & Dul Jaelani, .Feast, Ran, Tulus, Coldiac, Duara, Eva Celia, FOURTWNTY, Glaskaca, Grrrl Gang, Kelelawar Malam, Kunto Aji, Nadin Amizah and The Panturas.
Excited already?
Grab your tickets here. The full weekend pass is now IDR1,600,000 while the early entry pass at IDR1,375,000. A VIB (Very Important Banana) option is also available at IDR3,500,000.
Group package is also available with 'Buy 5 Get 6' promotion. The price is IDR8,750,000.
*All shown prices are tax included.
See also: Thailand to give birth to brand new international music festival "Pink Cloud" ft. Dune Rats, Turnover, and more
Before leaving, let's check out the recap of #WTF2018:
Have something to add? Tell us!