An Irish boy band Boyzone announced their return to Asia for the year of 2019 with their final tour 'Thank You & Goodnight Farewell Tour'. And the first confirmed destination is Bangkok.
See also: One Ok Rock to join Ed Sheeran's Stadium Tour in Asia
We are not sure whether we should be sad or happy to see these four lovely gentlemen getting together on stage again as this will be their last tour as Boyzone.
Still, congratulations Thailand! And thank you, The Godzillionaire Group. The Irish boy group, Boyzone, will finally be back in your capital city, the City of Angels, once again. The night of Thursday, March 28 will be filled with emotional and memorable moments as Ronan Keating together with Keith Duffy, Mikey Graham and Shane Lynch will take the stage for their fans in Thailand one last time. The concert will be at Thunder Dome.
This will be the gentlemen's first and final return in Bangkok in 4 years, after their 'BZ20 The Anniversary Tour' in 2015.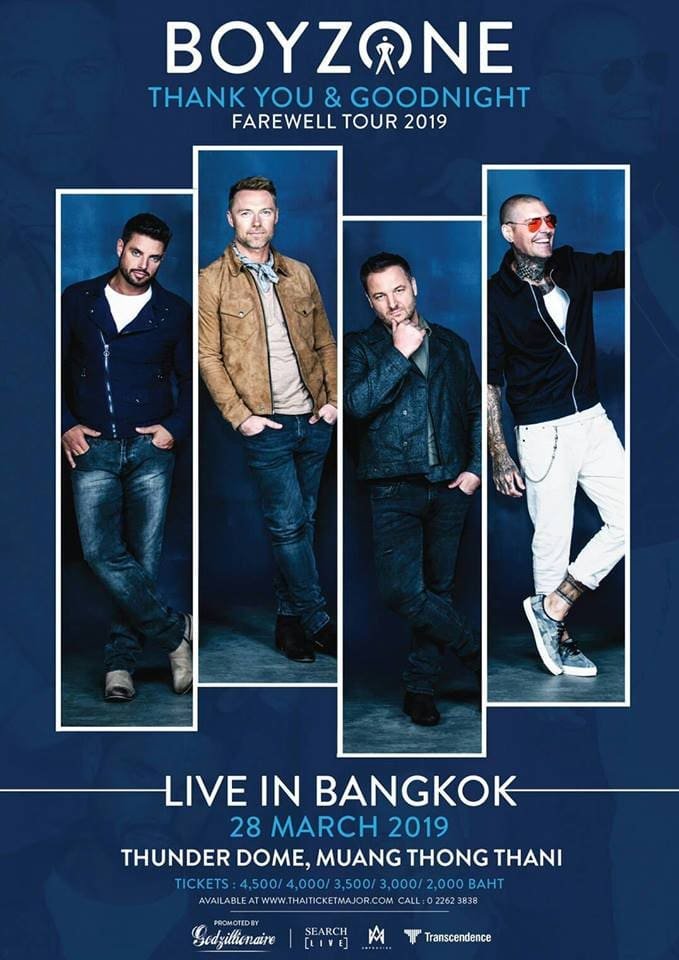 Tickets will go on sale on Monday, February 25 via Thai Ticket Major. Prices are THB2,000 / 3,000 / 3,500 / 4,000 / 4,500.
So far Bangkok is only the officially announced destination for Boyzone's final tour. We expect to see more announcement coming out soon.
See also: Years & Years delete Singapore, Hong Kong, Bangkok and Manila from 'Palo Santo Tour'
Hmm…Where should it be? Singapore? Malaysia?
Have something to add? Tell us!