Water wars may be happening on the streets of Bangkok this Songkran (Apr 13-15) but let's be honest, as mental as we are at parties, there's a proper time and place for parties – not the middle of, you know, Sala Daeng intersection where one drives past on one's way to work. Besides, soakers and splashes are so 2015. With Thailand's facing its driest summer yet, it's all about partying with a conscience. That's why, to recommend, we have five indoor and semi-outdoor parties you can get it going while helping save tons of water.
Wild & Wet Songkran Festival at Superflow
Date: April 12-15, 2PM-2AM
Where: Superflow Beach Club Bangkok, Khaosan Road
What Will Go Down: Is it Bangkok? Is it Ibiza? Get ready for the a Songkran party like no other at Bangkok's first ever city beach club, a fusion of fashionable Ibiza-style hot spot, cocktail lounge and open-air bar. The 4-day celebration of Wild & Wet Songkran Festival features special production and as many as eighteen local and international DJs. including DJ Dowager (Singapore), Fully Charged (UK), DJ Admin (the Netherlands) and DJ Big Daddy (Norway).
Entry fee (at-door): THB250 (plus one drink)
Smirnoff Midnight 100 presents 95.5 Virgin Hitz Summer Party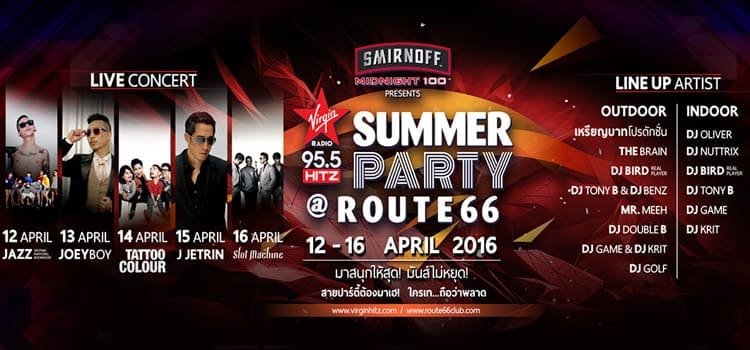 Date: April 12-16, 6PM-2AM
Where: Route 66 Club, RCA, Rama 9
What Will Go Down: Route 66 Club RCA, Virgin Hitz Radio and Smirnoff Midnight 100 join force for this 5-day summer celebration. The event will be held both indoor and outdoor, featuring music across various genres. EDM lovers can expect quality live sets from the likes of DJ Oliver, DJ Nuttrix, DJ Bird, DJ Tony B, The Brain. While rock scensters will enjoy night's special guests/top-billers: Jazz Sputnix Papiyong Kookkook (Apr 12), Tattoo Colour (14 April) and Slot Machine (16 April). Joey Boy and J Jetrin are expected to join these local bands.
Entry fee (at-door): THB500 (plus one McDonald's burger and a Smirnoff Midnight)
S2O Songkran Music Festival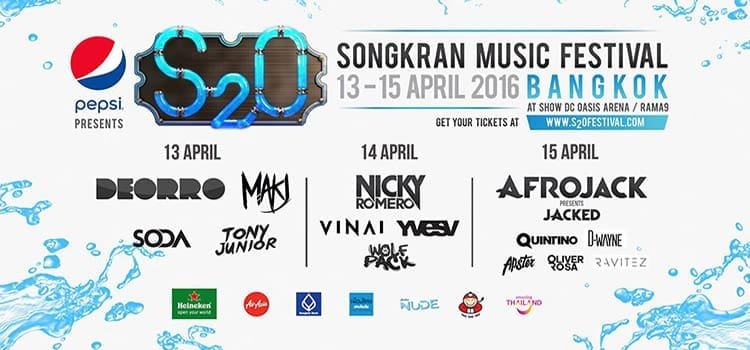 Date: April 13-15
Where: Show DC Arena, Rama 9
What Will Go Down: S2O Songkran Festival breaks the tradition of Songkran celebration and lifts the standard of Thailand's water party to another level. Beside possibly the biggest bill of performers this Songkran, which includes Afrojack, Nicky Romero, Makj, Deorro, and Quintino, there is a special production of 360-degree water effects that gets everybody soaking wet to cool down April's burning heat. Stunning EDM sets, world-class sounds, lights, and specially designed stages and effects are all in store for you.
Tickets: THB1,800 day passes are currently available via EventPop.
H2O Splash Free Songkran Festival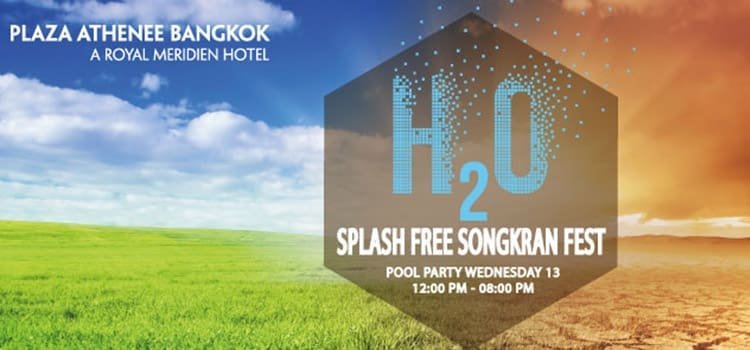 Date: April 13, 12-8PM
Where: Plaza Athénée Bangkok, A Royal Méridien, Wireless Road
What Will Go Down: It's a Songkran party by the pool but that doesn't mean you'll get splashed and soaked against your will. Rise Productions and ABSOLUT's collab is all about preserving the fun and water in the face of Thailand's current record drought. Performers include Bangkok's hottest DJs Sunju Hargun, Boris Rubin, Dan Buri (Midnight Underground Circus), Australian nudisco-funk expert George Patsan, and British DJ Neil Thorpe.
Entry fee (at-door): THB300 (plus one drink)
Second Annual Songkran Festival by CRAFT Bangkok
Date: April 13-15, 2PM till late
Where: CRAFT, Sukhumvit 23
What Will Go Down: If you're looking for a wholesome, not-too-wet, not-too-wild day/night-out, this is for you. Perfect for a get-together with friends or family, CRAFT's second edition of water-free Thai New Year celebration promises plenty of fine wine, craft beer, whiskies and a food galore. Live music and electronic sets will be provided by local and international acts like DJ Monsieur Markus, DJ Pattie, The Vintagers, Keith Nolans' Love Gone Wrong band and Fab Four.
Entry fee (at-door): THB350 (plus one beer, cocktail or soda and a CRAFT tee shirt)
7 Music Festivals and Parties in Thailand to Go Beat the Heat This Summer
If you're headed out of town this long public holidays, particularly to the North, why not check out "Chang Music Connection presents North Fest"? The four-day EDM fiesta is happening on April 13-16 at Chiang Mai International Exhibition and Convention Centre. Headliners include Italian brothers Vinai, WolfPack (DJ Mag's #52 DJ), Antwerp-based duo Jetfire, Dutch breakout producer Julian Jordan, and DJ Soda from South Korea. A full pass is only THB500. Get it here.
Have something to add? Tell us!