New York noise rock band A Place To Bury Strangers today announced a new Asia tour which will bring them to Manila, Singapore, Kuala Lumpur, and Jakarta.
The tour begins in Tokyo in December before arriving in Southeast Asia. See location and ticket details below:
See also: American screamo outfit The Saddest Landscape announce Southeast Asia visit
December 19 – Manila, Mow's (with Panzerschreck, We Ride Dynamite, Tradecraft, Sinkk, Sound Architect)
Tickets: PHP600 via here
December 20 – Singapore, Decline (with Subsonic Eye)
Tickets: SGD25 (early bird) / 35 (advance) / 45 (at door) via Ticketbox
December 21 – Kuala Lumpur, Playspace Live (with Elmu Hisab and Zip Zieller)
Tickets: RM88 (advance) / 110 (at door) / 350 (group of five) via Peatix
December 22 – Jakarta, Rossi Musik (with Flukeminimix and Pelteras)
Tickets: IDR150,000 via here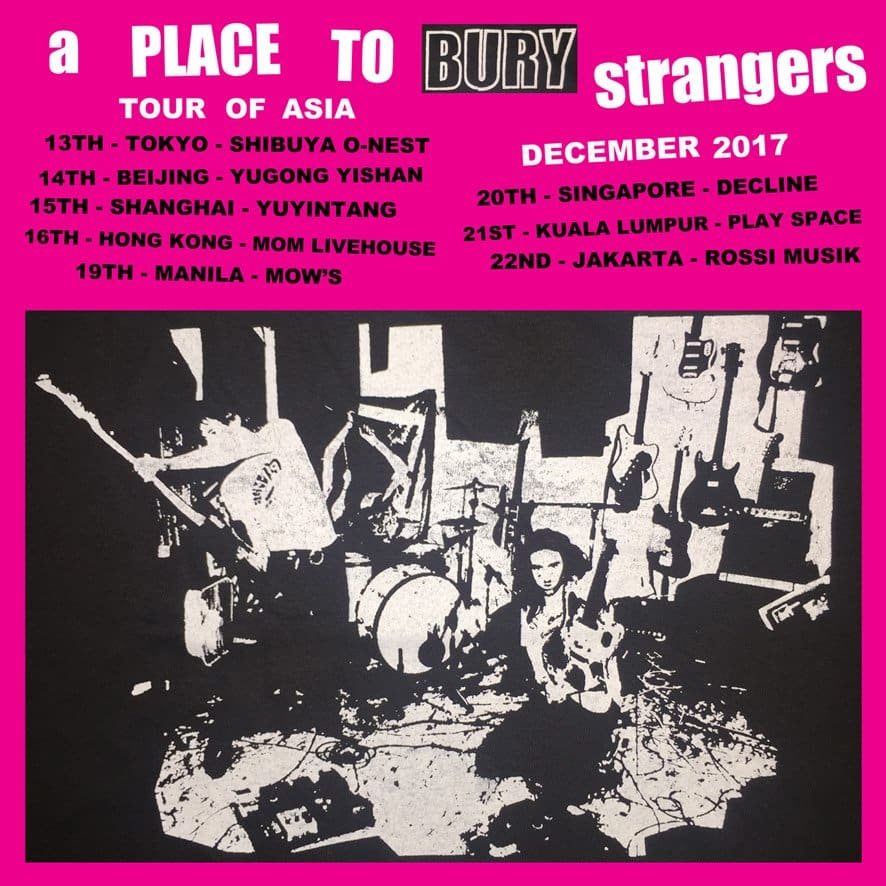 Formed in 2002, A Place To Bury Strangers, also commonly known as APTBS, consist of Oliver Ackermann (vocals, guitar), Dion Lunadon (bass, guitar) and Lia Simone Braswell (drums). Their music is often described as heavy, dense wall of sound-influenced instrumental rock. Their self-titled debut album earned them international media attention and an opening slot for Nine Inch Nails and MGMT.
See also: Foster The People plot big Asia tour including Manila, Singapore and Bangkok
The band has since release numerous EPs and three full-length records, the latest being 2015's Transfixiation. Here's a single off the album, "Straight".
Have something to add? Tell us!