American screamo/post-hardcore band The Saddest Landscape have announced their 2017 Asia tour, including five Southeast Asia dates in December.
The Boston foursome will kick off the tour in Tokyo before making a stop in the Philippines, Singapore and Malaysia. Check out details below.
See also: New Zealand hardcore act Xile announce Southeast Asia dates
December 3 – Quezon City, Mow's Bar (with Beast Jesus, HL/DV, The Beauty of the Doubt, Veils, Life Lost, Irrevocable, Conformist, Legarda, and Warrior is a Child)
Tickets: PHP400 at door
December 4 – Bulacan, Surf Burger Bar Malolos (with Palepaths, TNG, Undisturbed Fate, Equation Crisis and more)
Tickets: PHP100
December 5 – Batangas City, Hardcore Hope Hall (with Caudal Fin, Brain Prolapse, FriendsUCanKeep, Passerby, PAYFONG, Strength From Within, Typhoid Mary, Vagrant Batangas and Walk Me Home)
Tickets: PHP100
December 8 – Kuala Lumpur, Rumah Api (with Killeur Calculateur, Virginia On Duty, andn Memorial)
Tickets: RM35 / 50 (at door) via Tandang Records Store and Teenage Head Records
December 9 – Singapore, Anaki Records (with False Plaintiff, Paris in the Making, Istalah and Yumi)
Tickets: SGD22 (early bird) / 30 via TicketBox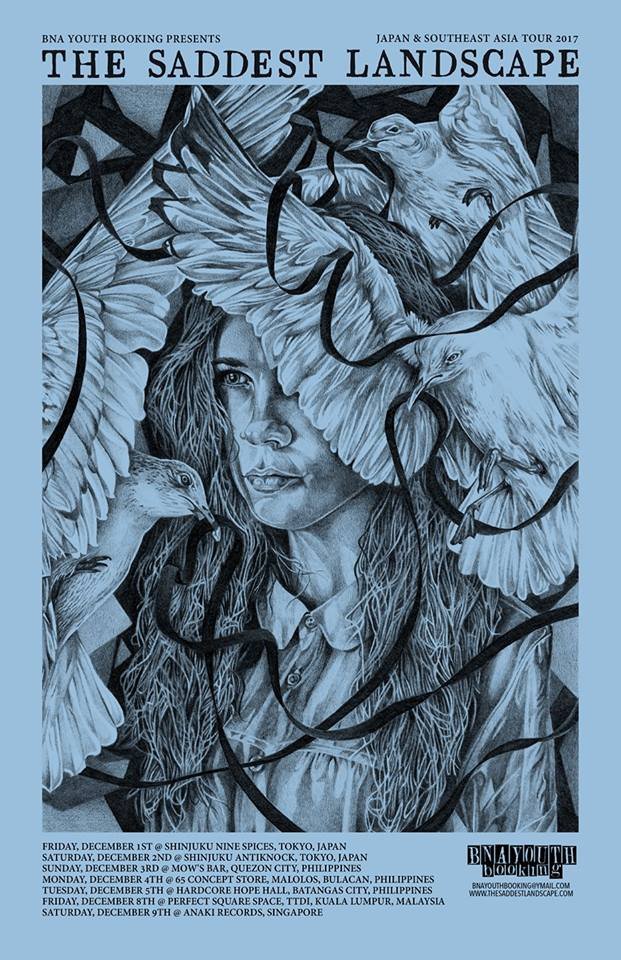 Brought to you by BNA Youth Booking, the shows are part of The Saddest Landscape's 15th year anniversary world trek.
Formed in 2002, The Saddest Landscape made a name for themselves in the screamo underground with multiple releases like 2003's The Sound of the Spectacle and 2005's A Promis Was Made EP, as well as splits with greats like The Pine and Funeral Diner. After a hiatus between 2006-2007, the band reconvened to play a few European shows in 2008, which would eventually lead to their official reemergence.
See also: Indie pop band STRFKR plot Bangkok and Singapore shows
The Saddest Landscape have released five studio albums to date. Their current lineup consists of Andy Maddox on vocals and guitars, Eric Mauro on guitar, Mike van Buren on bass and Aaron Neigher on drums.
Have something to add? Tell us!