Following their groovy first edition in July, Ko Tao's Back 2 The Groove festival returns with their second iteration on the pristine island this weekend (Friday, Oct. 23 – Sunday, Oct. 25).
A second wave of musical paradise awaits on Thailand's island of Ko Tao this weekend with Back 2 The Groove (B2TG) Festival Episode #2.
The first event, which was held back in July, featured over 20 hours of music by 11 artists from Thailand's underground music scene. The next edition, taking place at Koh Tao Resort once again, aims to double the fun and features an eclectic selection of local DJs from all over the world over the course of two days.
Also read: A weekend of reawakening at Koh Tao's Back 2 the Groove Festival
Latitudes is the proud partner of this unique festival!

Posted by Magazine Latitudes on Wednesday, October 14, 2020
The first day, beginning at 2pm, will feature a live set by headliners Paradise BKK. They will be joined by Hidemasa Mitsui, Myrïnga, Puntue, Transport, and Rocco Universal. A B2B set with Skinny Mark and Mowgli Vogue will wrap up day one's festivities.
Day two features an oxygen boat party from 2pm-7.30pm where DJs Jazzie C, NK Chan, and Alex Imix will be on board to provide music while attendees are cruising around the vast ocean. On the island, there will be music from Wong Echo, Juice Willis, Mae Happyair, DOTT and Dave Vega.
There will also be a two-hour live set from New Zealand's Isaac Aesili. Touted as "one of the most exciting soul talents to emerge from the South Pacific" by BBC1, the Māori musician is the creative force behind projects Funkommunity, Sorceress and Karlmarx.
Closing out the event is veteran DJ Superstar Panda with a two-hour set that lasts until Sunday morning. An influential beatmaker in the scene, Superstar Panda's past highlights have included playing gigs at some of Berlin's famous festivals such as Berlin Beat and Boat and East Port Festival as well as the chilly Rave on Snow in Austria.
He is also one of the organizers and collaborators behind the popular yearly Thaibreak Festival and Fly to the Moon New Year's Eve parties on the island of Koh Mak.
Due to Thailand's recent gloomy weather, it is also advisable to bring raincoats or ponchos in the event it rains. Nobody needs to feel sick after getting lost in the sounds of music during this two-day outing!
In addition to hours of dance music on the picturesque island, B2TG Vol. 2 will also include new surprises including an art exhibition, street art performance and water activities for those with children in attendance. Activities include paddle boarding, scuba diving, pétanque. and a children's workshop with Thai graffiti artist Bonus TMC.
If you're feeling hungry and need the energy to rave all night, the event has got you covered. The party features an extensive selection of food on the island including Thai, French, western cuisines. There are also vegetarian and vegan-friendly options too.
A breakfast menu will also be available at Koh Tao's French Market.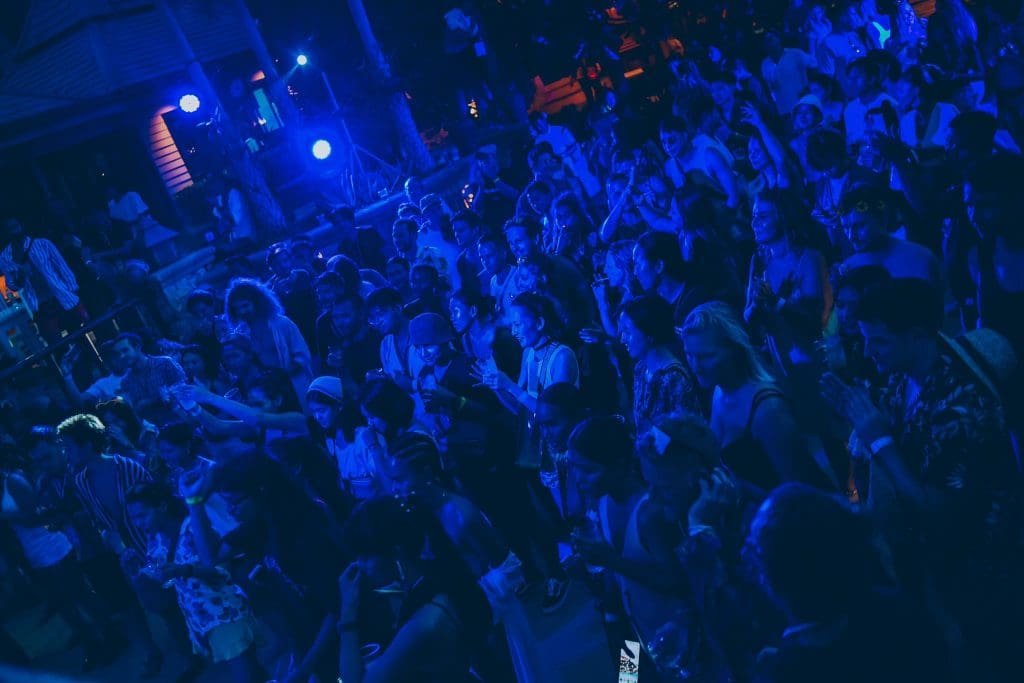 For those who have yet to book their place of stay (what are you waiting for?), the festival has partnered up with the best resorts and hotels on the island to provide exclusive accommodation at special prices.
Due to the current situation in keeping with social distancing guidelines, there will also be limited tickets for sale at the door on first come, first serve basis.
For more information, attendees can contact the following below:
Bangkok – ICONIC STUDIO, Sukhumvit 53 (Tel. 02-662-8174, please contact Janos, 12PM-6PM)
Koh Tao – THE FRENCH MARKET (Tel. 077-457-119, 2PM-10PM)
The first episode of B2TG featured special guest Rasmee Isan Soul, a singer from North-East Thailand whose music style blends traditional mor lam with western and African music.
The festival also signaled the return of music festivals within Thailand after the country went under lockdown due to the ongoing COVID-19 pandemic.
Tickets are available here. Full pass includes access to the boat party, whereas standard passes do not include access to boat part.
Get ready for another island getaway adventure with B2TG Episode #2.
ONLINE TICKETS
– 1,800 THB – 2 Day Full Pass (incl. Boat Party)
– 1,100 THB – 2 Day Standard Pass (NO Boat Party)
AT THE DOOR
– 600 THB – 1 Day Pass (Ko Tao Resort) at the Door
– 800 THB – Boat Party only (first come first serve)
ACCOMMODATION
Please contact them directly for booking:
* KO TAO RESORT (If you want to stay on the festival site)
+66(0)77-456-133
Room rates 980B > 3,200B per night
* PAHILI POOL VILLAS
+66(0)97-357-2513)
Room rates 2,500B > 3,000B per night
* JAMAHKIRI HOTEL
+66(0)80-077-5353
[email protected]
(Say B2TG to the reservation)
Room rates 2,500B > 6,500B per night
* NAROUA VILLA
+66(0)81-564-1899
[email protected]
Room rates 4,000B > 9,500B per night
1 bedroom up to 3 bedrooms private pool villa
* CAPES SHARK VILLAS
+66(0)77-457-121 // +66(0)92-663-5645
[email protected])
Room rates 3,500B > 10,750B per night
* CHABALAY BEACH RESORT
+66(0)92-359-5695
Room rate 700B per night
* BLUE TAO HOTEL
+66(0)77-456-477 // +66(0)92-678-9925
[email protected]
Room rates 1,800B > 2,700B per night
* KOH TAO MONTRA RESORT
+66(0)86-314-4797
[email protected]
Room rates 1,400B > 6,000B per night
* VILLAS DEL SOL
+66(0)87-881-0796
[email protected]
Room rates 3,800B > 5,800B
* THE PLACE Luxury Boutique Villas
[email protected]
Room rate 12,000B for the 3 nights includes a bottle of Prosecco on arrival
* KOH TAO CABANA RESORT
[email protected]
+66 81-814-2269
Room rates 2,800B > 3,900B per night
* DD HUT KOH TAO RESORT
+66(0)87-091-1190 // +66(0)77-456-077
[email protected]
Room rates 1,000B > 4,000B per night
* CAFE DEL SOL HOTEL
+66(0)77-456-578
[email protected]
Room rates 690B per night
For more information, check out the event page on Facebook.
B2TG photos courtesy of Pavel V. Khon
Have something to add? Tell us!