(5 / 5)
We were blessed by music that took our souls on a cathartic journey and left us speechless at the beauty of its sounds.
Performing at the Star Theatre in Singapore on a Friday night, American indie folk band Bon Iver brought with them an experience that was phenomenally good as it was insane.
For close to two hours, the band consisting of Justin Vernon, Sean Carey, Matt McCaughan, Michael Lewis, Andy Fitzpatrick and Jenn Wasner played over 20 songs from all their four albums, and almost all their songs from their recent album "i, i".
What made the gig even more special was its nuances of colours, as the band laid out track after track sounding from indie folk to indie, to indie rock. In between these layers, flowed even more layers that came in the form of jazz-like colours, and an ambient sound that brought to mine the minimalism aura of Philip Glass or Steve Reich. Even a touch of what seemed like math rock could be heard!
It was a concert that gravitated towards being an experience, that needed to be experienced live to believe.
Many have said that Bon Iver, as a band, sound good on record, but even better live. I stand by this statement 200%.
The packed crowd across all three levels of the theatre hall could be seen utterly mesmerised by their entire performance.
Myself included.
For me, what enraptured my attention as much as their music was the band's phenomenal lighting design which was done by production creative Michael Brown. It was not merely succinct, it was literally art. The lighting did not just fit with the band's dynamics and music style, accentuating their every presence, it felt like watching lighting used in a theatre production or ballet. It did not just sync, but created a story and picture, where every line, angle and gel mattered, not just to synchronise with the beat, but to create a photograph in the audience's mind.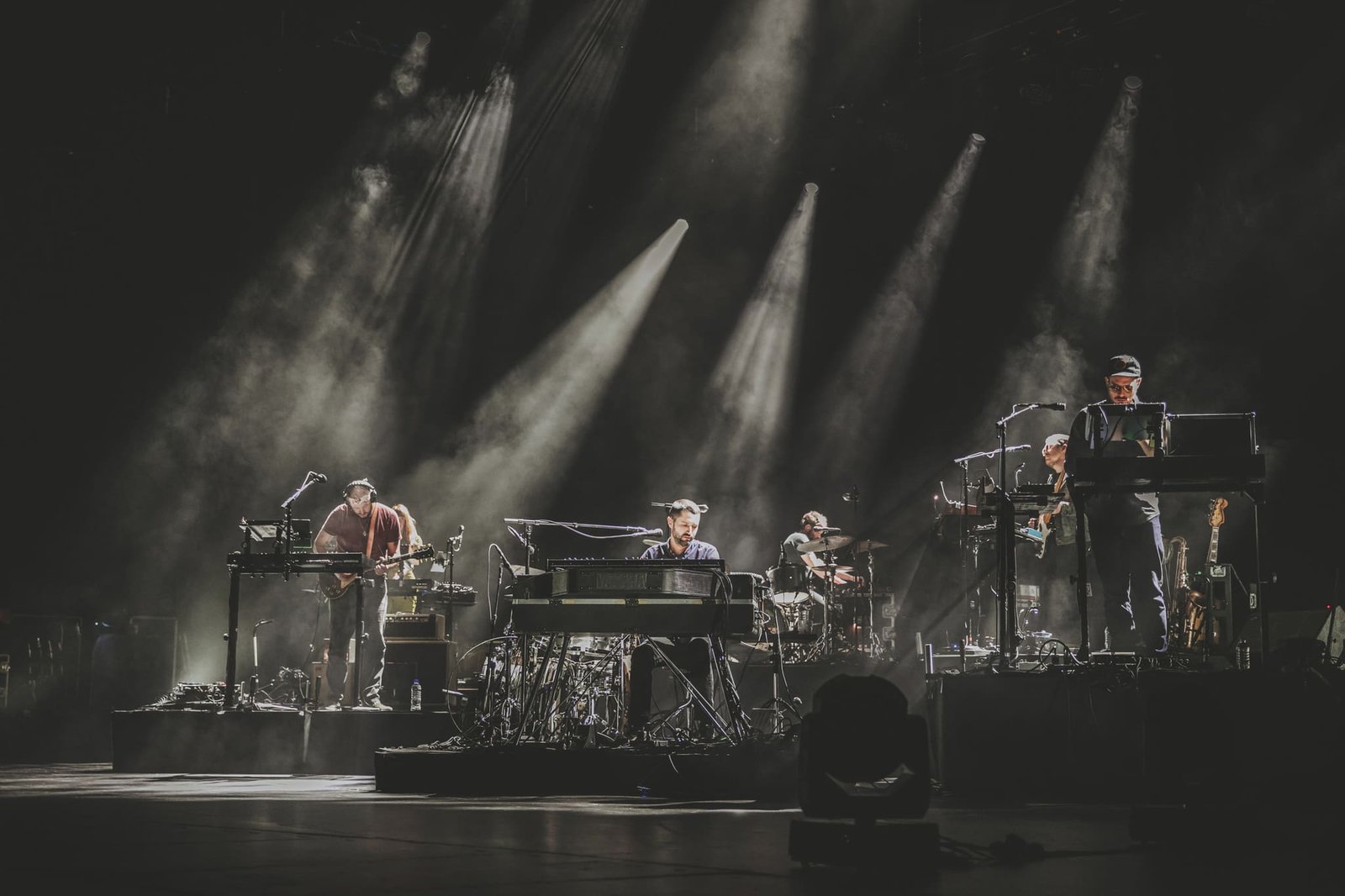 Bon Iver's lighting was a masterpiece! There was even depth of field shown, almost like a visual art piece. So clever!
Plotting and focusing those parcans and fresnels must have taken some time!
Musically, every sound, every layer was so delicately crafted and presented, feeling almost like a visual performance art that one might catch at the Barbican or Tate Modern. Songs like '666 ʇ' and '715 – CR∑∑KS' for instance blushed a colour that would chill your bones with its films of sounds.
Others like 'iMi', '8 (circle)' and crowd favourite 'Hey Ma' provided a silhouette of iridescence.
In fact, a blanket of hushed silence filled the air throughout most of their performance as everyone remained transfixed by Bon Iver's sublime spectacle.
There was minimal lighting focused on the audience, and the only light came from the brilliance that was on stage.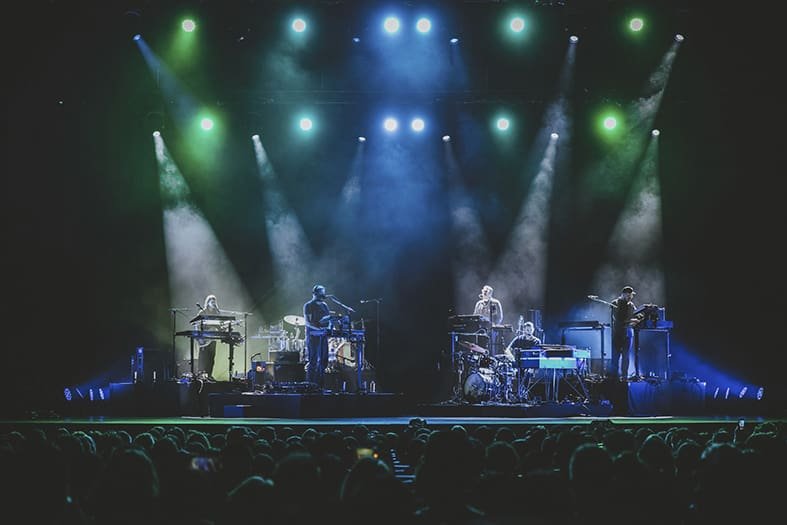 We were in the dark throughout…
Even lead singer Justin Vernon joked, as he spoke to us in between songs.
"All I see is a bunch of exit signs," he laughed after which the house lights came on for a moment for him to see, as he calls it, our beautiful faces.
"Ahh…there you are…" he said and smiled.
There were also moments, perhaps 4-5 times where Vernon also made us chuckled, when he growled or "barked".
"Raffraffraffraffraffraffraffraff", he went, probably meaning it as a tease. After all, it is always a tad hard for artistes to make out the audience when they decide to randomly scream out words of adoration to them.
It probably sounds as hard to comprehend as raffraffraffraffraffraffraffraff…
As fans and music lovers listened intently, at times with tears in their eyes, at times with muffled whispers of "Oh my god, that's my favourite song", and at times merely speechless at the band's music, it was as though we were experiencing a moment in life that we would never forget.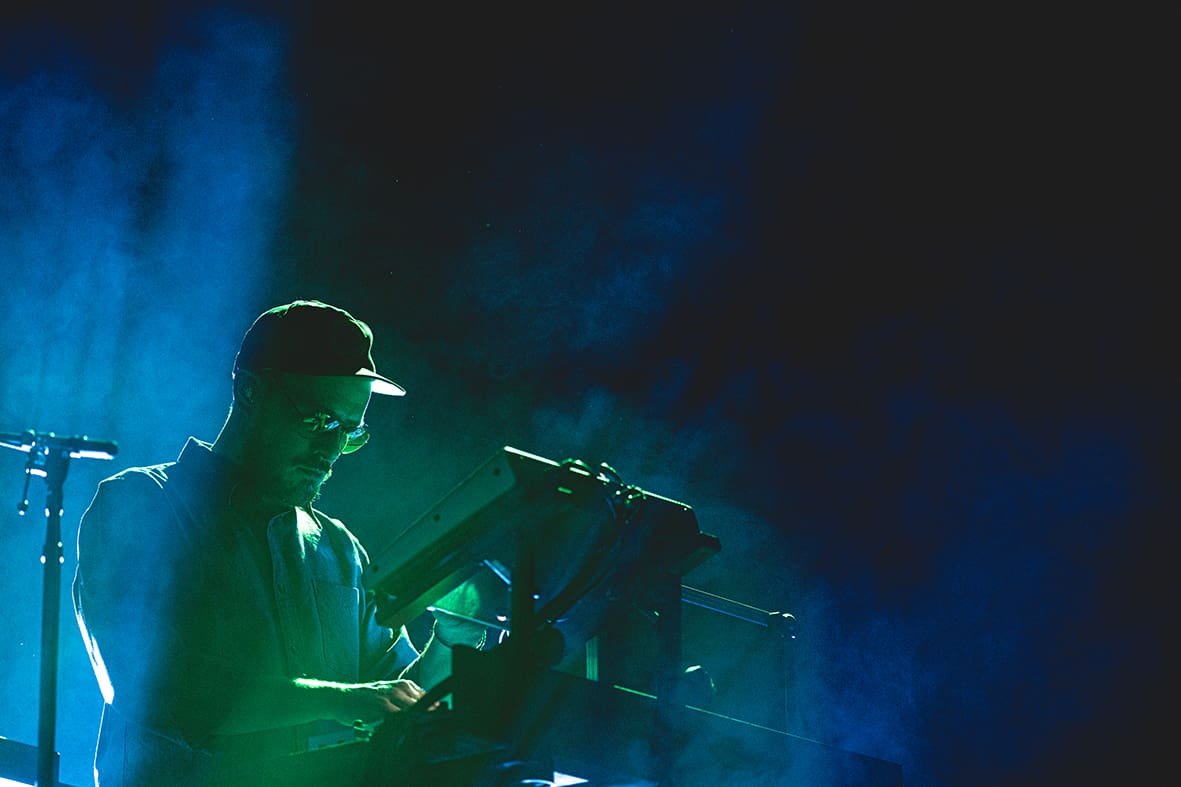 We cried at the magnificence of 'Holocene', went omg at 'Creature Fear' and remained speechless at songs like 'Naeem'…
Could he have heard us crying…
For me, what also stuck with me was the band's partnership with the different organisations in Asia. It was an initiative to shine a light on gender equity by opening auctions to support organisations providing services for survivors and advocate for a future without domestic violence.
According to Vernon:
"One of the biggest problems with domestic abuse is that people don't talk about it. It's insidious, stigmatized and hushed."
For their Singapore stop, Bon Iver had partnered with Aware Singapore.
Vernon said something during his concert that will forever stick with me. As he mentioned Aware, he also noted how that the feeling of happiness and safety that we felt at their concert, may also be a luxury to others.
The truth of those words were poignant as it was important.
Indeed, there was no pretence at Bon Iver's gig.
None of those waving your mobile flashlights in the air either. We didn't need any of that…
What were felt and what was experienced, was at its core, all raw and true.
"Maybe there's absolutely nothing after we die…"
But at least we got to experience something tonight…
Thank you Bon Iver…
Click

here

to see Bangkok's show review.
Setlist:
1) Yi
2) iMi
3) We
4) Holyfields
5) Lump Sum
6) 666 ʇ
7) 715 – CREEKS
8) U (Man Like)
9) Jelmore
10) 8 (circle)
11) ____45_____
12) 33 "GOD"
13) Perth
14) Minnesota, WI
15) Marion
16) Salem
17) Hey, Ma
18) Holocene
19) Creature Fear
20) Sh'Diah
21) Naeem
Encore:
22) Blood Bank
23) RABi
Have something to add? Tell us!