Produced by the team behind the annual All That Matters conference, and supported by the Singapore Tourism Board (STB) and Canadian rock band Simple Plan, the six-episode series will be livestreamed weekly on Music Matters Live Facebook and YouTube channels and Visit Singapore's Facebook page from June 3.
Launched by Branded Ltd and the STB, the new season of the Music Matters Live from Home series will feature leading Singaporean artists – RRILEY, Sezairi, iNCH, Aisyah Aziz, Narelle and more – performing from their homes along with other artists from the region and beyond.
See also: A list of current and upcoming livestreams to tune in during lockdown
The first episode will have Simple Plan collaborating on their smash hit 'Summer Paradise' alongside artists from Singapore, Australia, Indonesia, Philippines and Malaysia, as well as interacting with their fans online. The band will be donating their artist fee back to artists who are taking part in this collaboration.
In subsequent episodes, a new Singaporean artist will perform from home with an international act who participated in the first episode.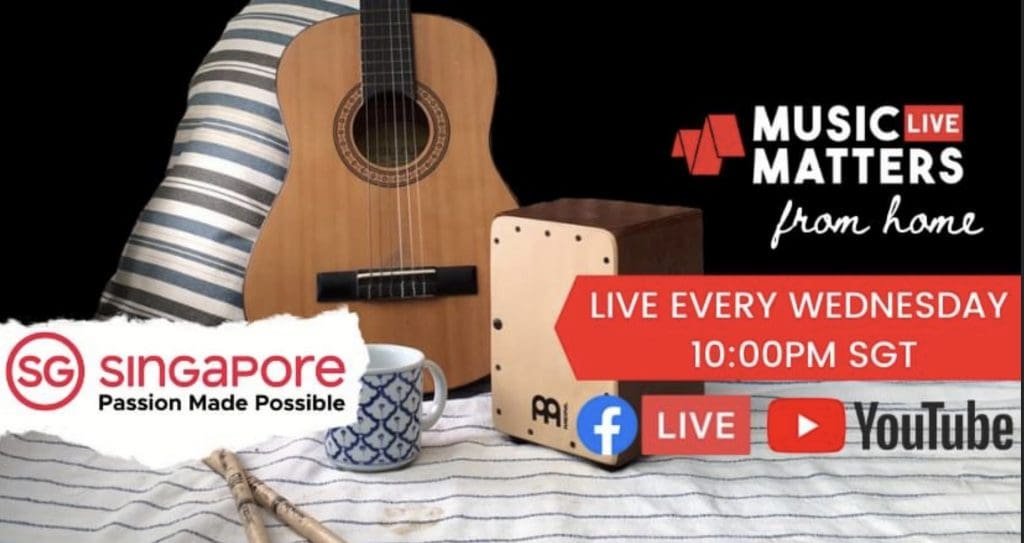 Galvanised by COVID-19 quarantines around the world, Music Matters Live from Home is an online space for artists to connect, share music and interact with each other and their fans. 
With the first season already broadcast, artists have shared tips on staying creative whilst encouraging the next wave of emerging artists to just keep going. These episodes are available to watch on-demand on the Music Matters Live ​Instagram and ​Facebook pages​.
The new season focuses on artists from Singapore and the Asia Pacific region.
Hung out with a few friends today….#MusicMatters Music Matters 🤔😉🤘 Sheppard Sandra Riley Tang Teddy Adhitya Lil J Quest

Posted by Simple Plan on Tuesday, May 26, 2020
Said Canadian rock band Simple Plan: 
"South-East Asia has always been a very special place for us and we have loved touring there since the first time we got to visit the region back in 2002. We have incredible memories of amazing shows and hanging out with our fans who have welcomed us with open arms and embraced the band since day one. That's why when Music Matters approached us to be a part of a project to help young South-East Asian artists at this very challenging time in their musical career, we jumped at the opportunity. We have been very lucky in our career that a lot of bands we looked up to helped us along the way and we're honored and humbled to be in a position where we can return the favor and bring some attention to these incredibly talented up-and-coming artists.
The project will also help these musicians financially in this difficult time where they can't perform live and do what they love the most and this also has been a key reason why we wanted to get involved. We can't wait to see the shows and hear this new take on our song."
Appearing in the first episode, Singaporean artist RRILEY also said:
"It's definitely an interesting time for musicians but you have to make the best out of it, which is why I'm excited to be part of Music Matters Live From Home! The opportunity to connect with other musicians is something you can't really put a price on."
Branded Ltd Founder and CEO Jasper Donat said:
"For 15 years Music Matters has brought artists together from all over the world to perform live on stage and attend our conferences and academies in Singapore. By taking it online, Music Matters Live From Home allows us to create some amazing international musical collaborations which may never have been possible before. We are thrilled to be able to provide this platform to the artists and are extremely grateful to the incredible Simple Plan for their generosity and for turning a small concept into a very big idea. We also want to thank YouTube Music and Facebook Music for bringing it to life and of course our friends at the Singapore Tourism Board for making it all possible."
The final videos will be hosted on Music Matters Live social platforms, and amplified by the Singapore Tourism Board cross-promoting these artists globally.
Music Matters Live From Home will feature artists in pre-recorded performances and having live chats with fans.
Schedule below:
Episode 1 – June 3
Episode 2 – June 10
Episode 3 – June 17
Episode 4 – June 24
Episode 5 – July 1
Episode 6 – July 8
The lineup for the first episode on June 3 are as follows:
Simple Plan (CA)
Sheppard (AU)
QUEST (PH)
Lil J (MY)
Teddy Aditya (ID)
RRILEY (SG)
Visit Music Matters on Facebook for more info. 
Have something to add? Tell us!