Madonna (née Madonna Louise Ciccone)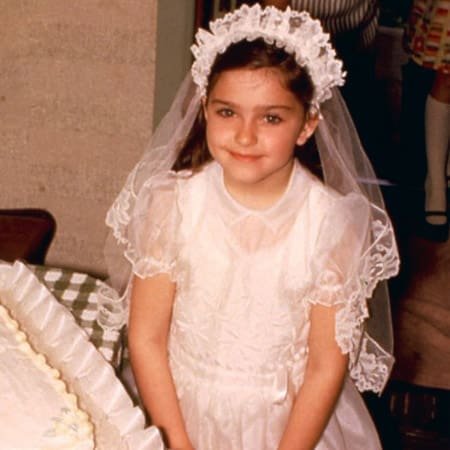 Born: August 16, 1958 in Bay City, Michigan
Records sold: 300 million+
Discography:
Madonna (1983)
Like a Virgin (1984)
True Blue (1986)
Who's That Girl (1987) — soundtrack album
Like a Prayer (1989)
I'm Breathless (1990) — soundtrack album
Erotica (1992)
Bedtime Stories (1994)
Evita (1996) — soundtrack album
Ray of Light (1998)
Music (2000)
American Life (2003)
Confessions on a Dance Floor (2005)
Hard Candy (2008)
MDNA (2012)
Rebel Heart (2015)
Tours:
The Virgin Tour (1985)
Who's That Girl World Tour (1987)
Blond Ambition World Tour (1990)
The Girlie Show World Tour (1993)
Drowned World Tour (2001)
Re-Invention World Tour (2004)
Confessions Tour (2006)
Sticky & Sweet Tour (2008–09)
The MDNA Tour (2012)
Rebel Heart Tour (2015–16)
Notable accolades:
BRIT Awards (1999, 2001)
Billboard Music Awards (1985-89, 1995, 1996, 1998, 2000-4, 2006, 2006, 2013)
Grammy Awards (1992, 1999, 2000, 2007, 2008)
Golden Globe Awards (1997, 2012)
Rock and Roll Hall of Fame (2008)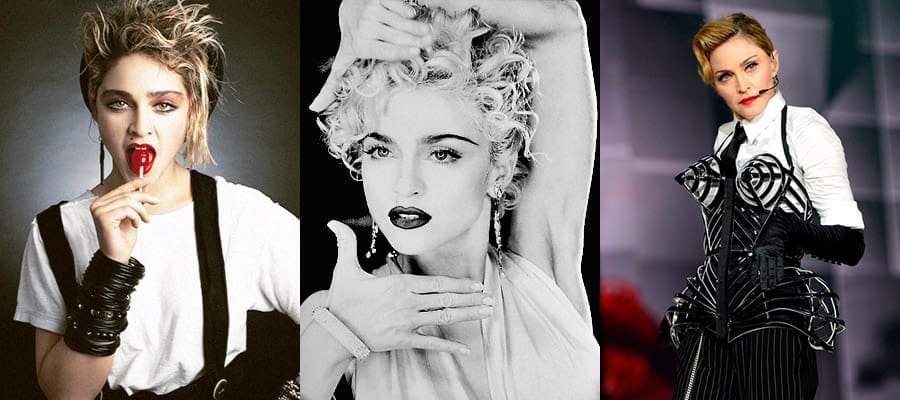 What You Need To Know:
Madonna was a straight-A student throughout high school. She went on to study at the University of Michigan, but decided to drop out and moved to New York to become a dancer in 1978.
Before signing with Sire Records in 1982 and releasing Madonna in the following year, Madonna spent the 70's playing drums in New York-based band Breakfast Club. She eventually left and formed a new band, Emmy and the Emmys.

Madonna has made and broken a considerable number of Guinness World Records, including  best-selling female recording artist of all time, fourth best-selling act of all time, behind The Beatles, Michael Jackson and Elvis Presley, and largest TV audience Super Bowl in history.

Madonna is also the top touring female artist of all time, according to Billboard, grossing over a billion dollars from her concerts.

She's won every Billboard Music Awards she's ever been nominated for between 1985 and 2013.
On top of her Queen of Pop title, she's one heck of an actress. In 1996's critically acclaimed film Evita, Madonna played Eva Perón, the lead role that was originally offered to Meryl Streep and read for by Barbra Streisand, Glenn Close and Michelle Pfeiffer.

In 1990, Madonna was offered to have her own star on the Hollywood Walk of Fame but she turned down the nominators. She simply wasn't interested. And after all these years her answer still stands.

One of her greatest hits "Vogue" was almost made a B-side track of "Keep It Together". Luckily, the label executives heard the defining song of 1990 before that could happen and made it a single off I'm Breathless instead.

AL365 Staff's track picks:
"Like A Virgin"
"American Life"
Have something to add? Tell us!