As JYP Entertainment is sending their first boy group Day6 to invade the with their Youth. The band will swing by Bangkok, Jakarta and Manila along other cities.
See also: "Maho Rasop" to debut as Bangkok first's real international music festival
With two albums under their belt, South Korean band Day6 will be taking their first ever world tour Youth to Southeast Asia, starting with Thailand. The band are slated to perform in Bangkok on Saturday, September 15 at MCC Hall.
Adds to the schedule on Saturday, October 6 is Manila show. The performance is a collaborative effort of MyMusicTaste and the band. Day6 will be filling KIA Theatre with bittersweet to intense sounds. Tickets will be on-sale on Wednesday July 25 at 12pm onwards through TicketNet. Meanwhile, the band will finish off SEA visit at Jakarta on Saturday, December 8.
However, the further information on venue and tickets prices are yet to be announced. We'll keep you updated once there's any update.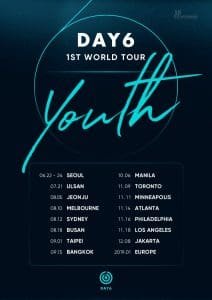 Formed in 2015, Day6 are the first boy group under the management of JYP Entertainment. The 5-piece are known for its alternative rock sounds and strenuous live performances. Currently, the band are about to start their first world tour 'Youth' to promote their first two albums Sunrise and Moonrise dropped in 2017.
See also: Hallyu Pop Fest 2018: Here's everything you need to know about it
Before invading the world as 5-piece rock heads, the band were originally comprised of six members. Unfortunately, the vocalist Junhyeok decided to terminate his contract a month before the band dropping their second EP Daydream. Despite the change, Day6 continues with a nationwide tour and albums releases.
Have something to add? Tell us!