An updated bible to the life the lupus fighter and multi-platinum selling and chart topping singer Selena Gomez from her debut album to the nowadays effort.
Don't miss: Search taylor Taylor Swift is bringing Reputation Stadium Tour to Asia
It's undeniable that Disney's starlet (who still well behaves) Selena Gomez is one of the most influential woman on the planet. Inspite of all her career success, her personal love life always steals the spotlight with her on and off ex Justin Bieber even though he's now engaged to Hailey Baldwin.
Here's an update on the life of Selena Gomez from the day of Jelena to the day of an independent and influential lady Gomez alone.
Year 2018: The return of Jelena, The breakup and Justin Bieber's getting married.
In February, Jelena was reportedly a thing again and so head over heals in earlier of the month. Anyhow, things between them couldn't go fas as E! and TMZ finally reported their split in the first week of March. The singers' friends and families claimed that they were not meant to be anymore.
Anyhow, on last Monday (Jul 9), Gomez's ex-boyfriend Justin Bieber broke the tabloid and internet with his engagement. The engagement happened after their reunion in June. Of course, the situation leads the media to seek for Gomez's reaction.
According to media sources, Selena Gomez turns down on some sensitive and personal questions with silence and emotionless reaction. "Congratulations to both but I prefer staying out of this" must be the voice from her mind though.
Until now, Selena Gomez still plays it cool and enjoys her new success with chart topping single "Back To Me". Therefore, we'd like to inform you that all social media posts that claimed to be Selena Gomez's are indeed the fake ones.
Year 2017: The 13 Reasons Why, The Weeknd and singles releases.
In 2017, Gomez has started her new romantic chapter with American singer-songwriter The Weeknd. Unfortunately, after having been dating for 10 months, they both decided to call it off in October.
See also: Mariah Carey adds Bangkok to her "#1's" Asia Tour 2018
Aside from her love life, our pop star sweetheart has spared her time and attention investing in an American fiction-based series 13 Reasons Why as well as overcoming Lupus.
For the series-making, Gomez sat on the throne of executive producer of Netflix's series that earned the popularity worldwide.
You can catch the full previous timeline, here: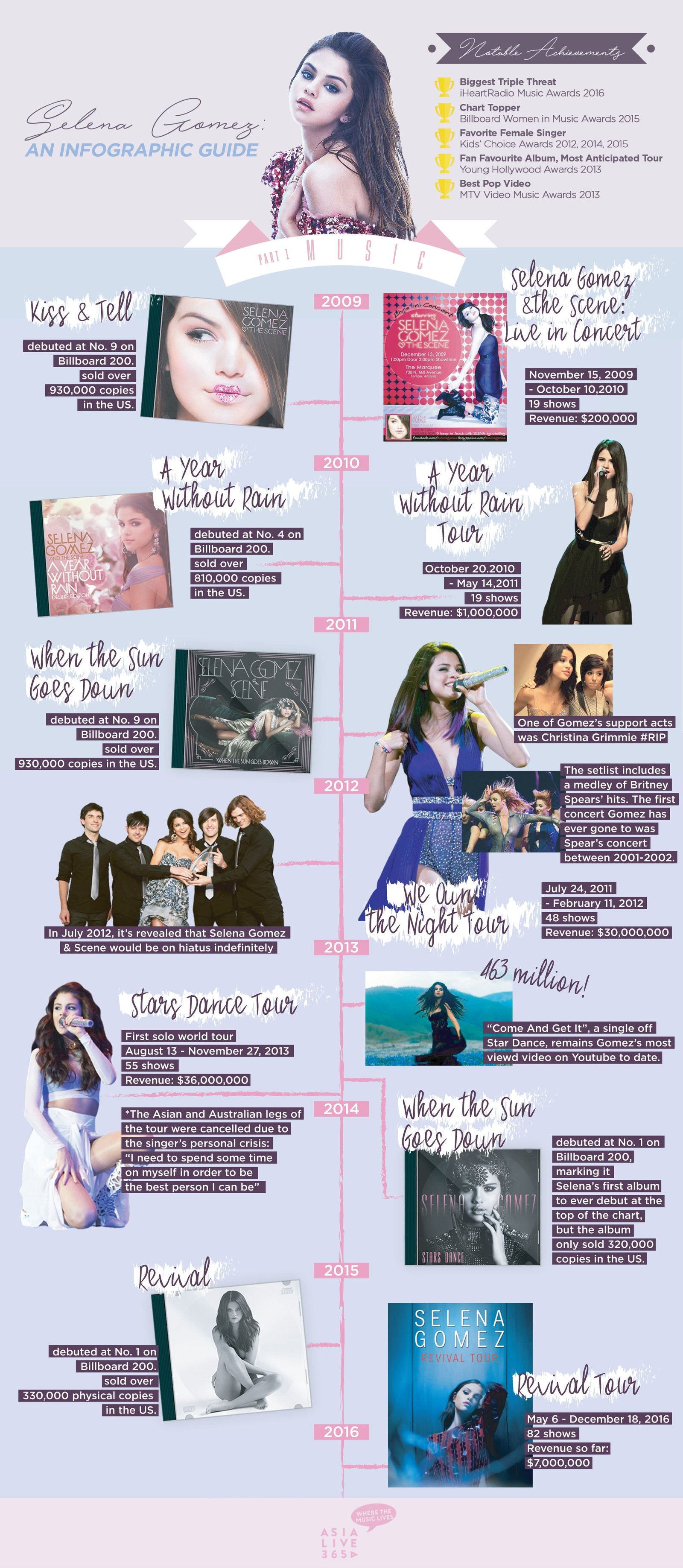 Have something to add? Tell us!