Local Thai DJ collective Däydang are generating good vibes this Saturday with a daytime rooftop party in the heart of Bangkok's old town area.
Däydang (pronounced dai-dang), a group of local Thai DJs and producers, are bringing their first daytime party right in the center of Bangkok's vibrant Chinatown area.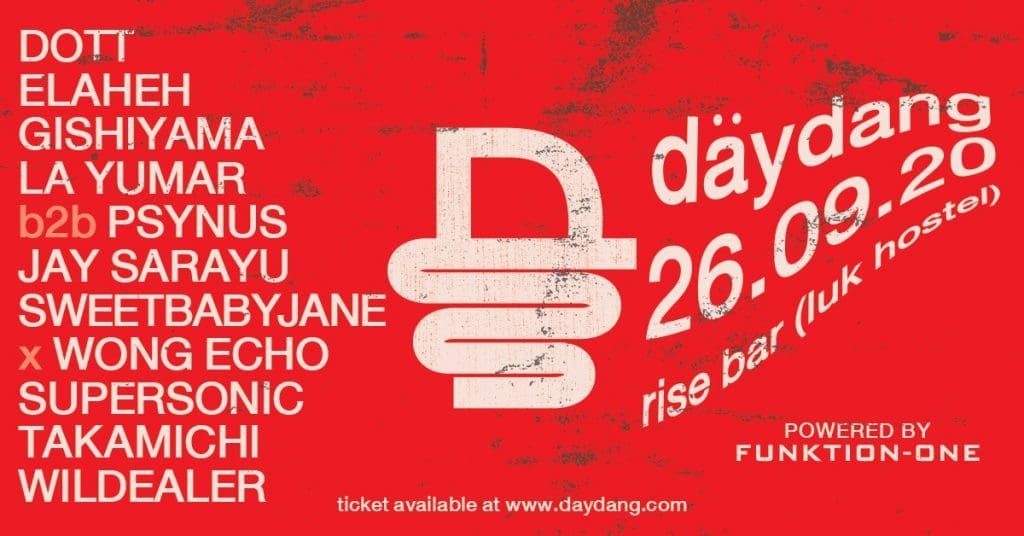 The event, named after the titular group, will be held at Luk Hostel's cozy Rise Bar rooftop space this Saturday, September 26, 2020. Expect a scenic view throughout the afternoon until late where you can dance to the sounds of underground house music.
The party has a limited capacity of 150 people. Tickets can be purchased from the collective's website here. Tickets are currently selling for 450 baht, and will be 550 baht at the front door.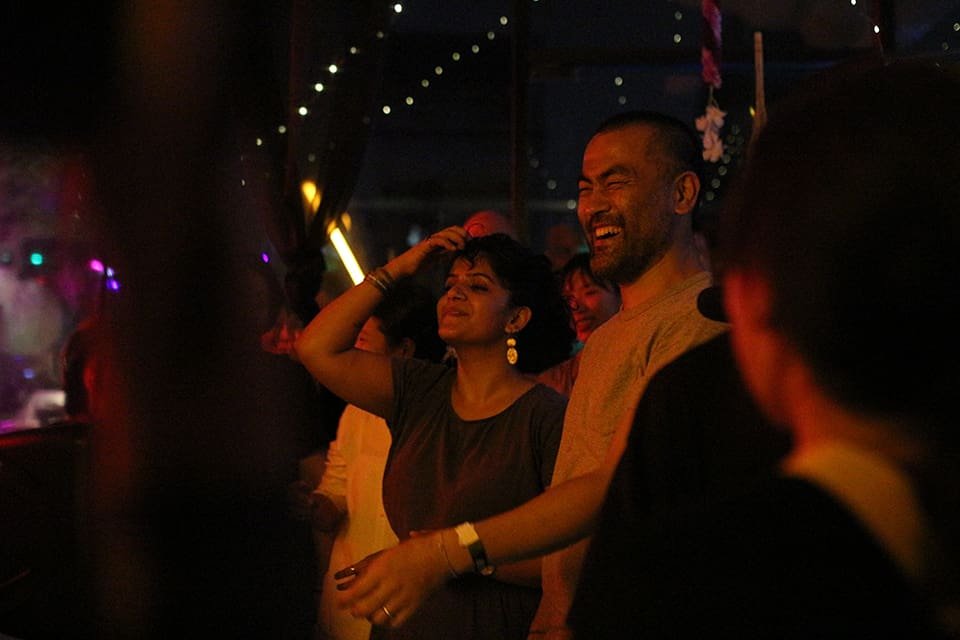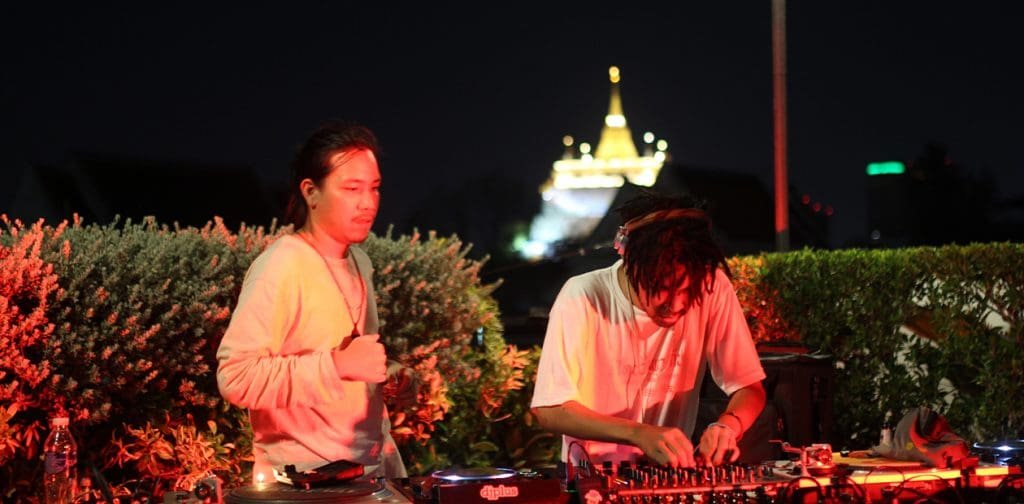 Däydang, named after a local herb found in many of Thailand's historic rituals, was formed with the purpose of representing each DJ's eclectic styles of music (a combination of Thai and Western influences) and showcasing the country's burgeoning local talent.
Event Info
Date: Saturday, September 26, 2020
Time: 2PM till late
Venue: Rise Bar, Luk Hostel, Chinatown
Line up:
DOTT
ELAHEH
GISHIYAMA
LA YUMAR b2b PSYNUS
SARAYU
SWEETBABYJANE x WONG ECHO
SUPERSONIC
TAKAMICHI
WILDEALER
Get to know some of the DJs playing at the party below:
DOTT
A key figure in Bangkok's ever-expanding underground house and techno scene, DOTT's reputation has spread overseas in recent years, becoming featured within the South East Asian dance music scene.
He has headlined some of the region's biggest festivals including Epizode, Quest Festival, Wonderfruit, Jai Thep, Karma Kastle, Thaibreak Festival and Fly to the Moon.
DOTT is also one of three founders of Asia-based label 'More Rice' as well as Collect/Save, a project in which music producers share their knowledge via workshops and masterclasses at no cost.
Elaheh
Elaheh, regarded as one of Thailand's most forward-thinking DJs and a staple of the Bangkok underground scene, is known for her versatility in music selections – from minimal and dub to acid and techno.
Bangkok-born with Persian roots, she's involved in many projects within the scene including Bangkok artist collective Unst, holding a residency at event platform Soundistan, and being a part of Collect/Save.
Wong Echo
As one half of Slum Disco Soundsystem and Jam on Toast, Wong Echo weaves through genres across the dance music spectrum whether it'd be house, techno, electro, acid, bass, funk, disco, and many more.
His ability to balance between music styles has earned him appearances across the world including Studio Lam in Bangkok, Savage in Hanoi and Le Mellotron in Paris.
He is also the founder behind the label Forever 24 Records.
Supersonic
Supersonic is the mastermind behind Offline Disco Club, Bangkok's disco party project that focuses on all things disco –  from the sound of late-70's Disco, Boogie Funk, Italo Disco to house music.
Inspired by the New York disco and Chicago house scenes, the veteran beatmaker is a key figure behind the indie dance music scene in Asia, having taken DJ duties since 2007.
Takamichi
Based in Bangkok since 2017, Takamichi hails from the snowy city of Sapporo in Hokaido, Japan, a city known for being a hub of the country's house music scene.
Through Takamichi's experience playing there, his groovy selections and passionate playstyle from disco and funk to Chicago house and Detroit techno will definitely keep listeners new and old dancing throughout the night.
Wildealer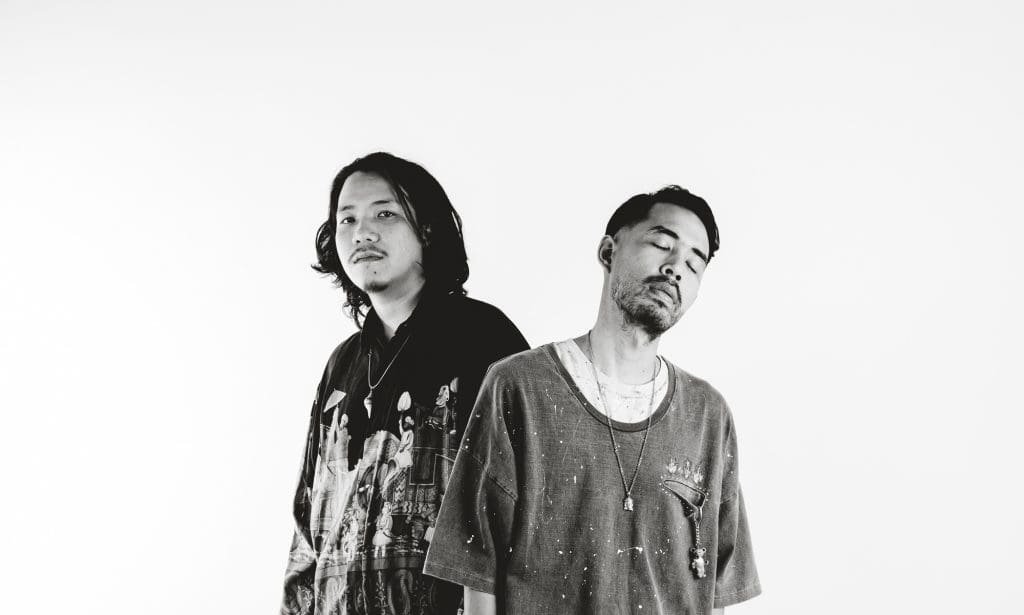 Consisting of two guys from the city of Chonburi, the so-called Miami of Thailand, Wildealer was born from the members' mutual interest in electronic music.
From their humble beginnings of hosting their parties in their hometown of Bangsaen, members Tatpornsit and Ronnarit have made their mark within the scene in Bangkok in recent years. Their wild experimentation of sounds and stage presence has lead them to being featured in international gigs, with listeners eagerly awaiting to hear the "real, wild deal".
For more information, follow Däydang on Facebook or head on over to their event page.
Have something to add? Tell us!