Hanoi is about to host another electrifying event: Equation Festival is launching a first edition this April, following the footsteps of predecessor Quest Festival as it takes over Son Thin Camp, Dong Mo Lake.
The three-day house and techno "paradise" is happening on April 14-16, with international guests lined up to perform, from New York's Alex From Tokyo, Melbourne electronic spearhead Andy Hart, the eclectic Borrowed Identity, to curveball-throwing Berlin-based Telephones.
See also: Uncover the mystic ways: Mystic Valley Festival team talk big 2017 debut
Primed to be the region's underground music hub, Equation will also showcase its "culmination" of parties and artists across Asia. A small team that formed five years ago in a Hong Kong basement now has an extensive network of clubs, promoters, DJs and dancers. No doubt we'll see Seoul's Mystik, Taipei's Smoke Machine and Bangkok's Safe Room bring something to the table (or booth, rather), too.
To host its 30 plus billers, Equation will feature two stages equipped with Funktion One sound systems. A third stage, Universe Stage, will be for cultural and essential wellness activities like reading, film screenings and yoga.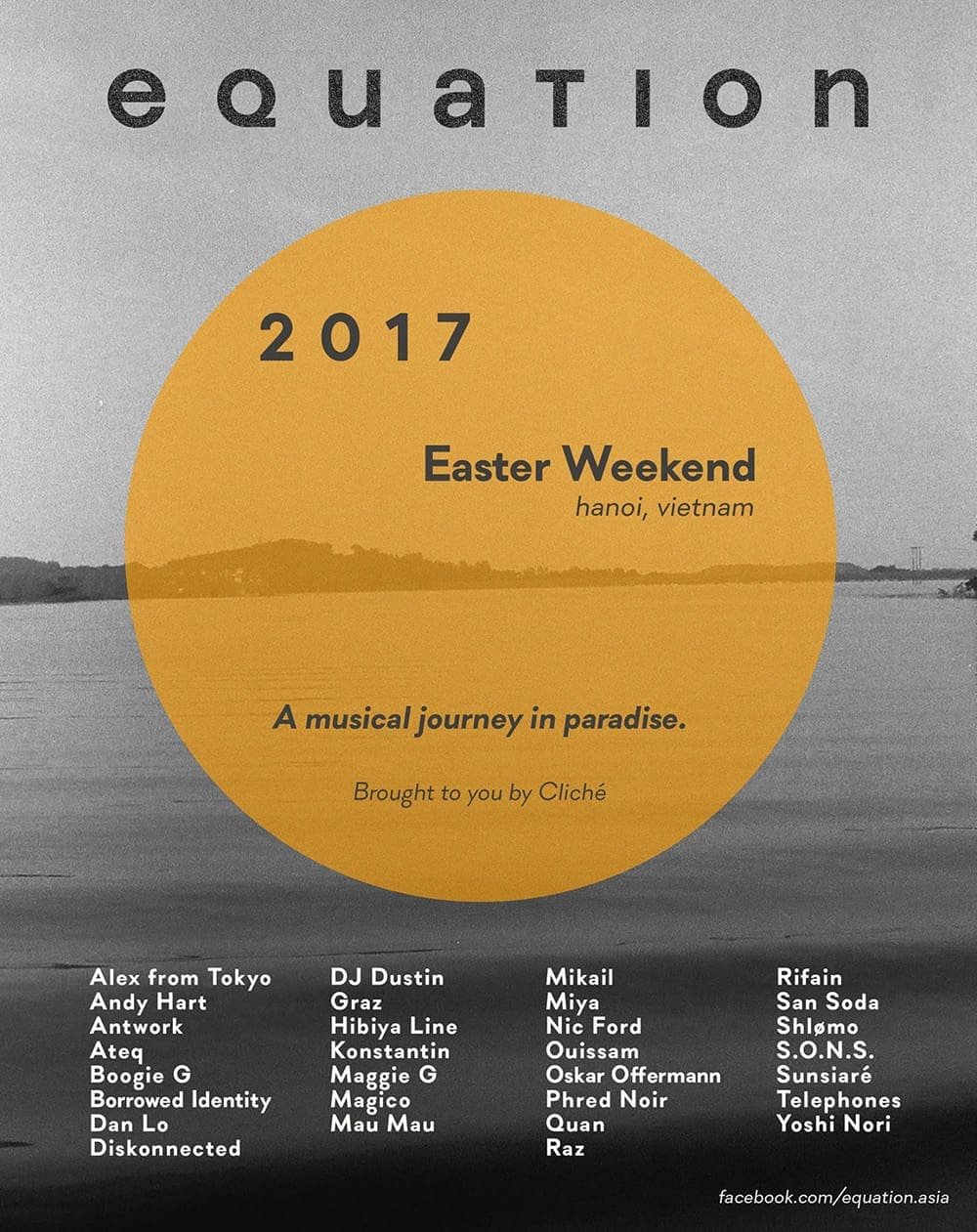 Fun will be fuelled by an array of Hanoi's best food and drink purveyors set up to quench your hunger at all hours of the day. Expect to see a dedicated Tea Tent, and cocktail maestro Fabien Marcault deliver award-winning concoctions at the Sunset Bar by Savage.
See also: Wonderfruit finalises 2017 jam-packed music lineup
Phase 1 tickets are now on sale, starting from USD89. Single day ticket and various accommodation packages are also available here.
Scroll down for Equation Music Festival's complete lineup (A-Z).
International guests
Alex From Tokyo, Tokyo Black Star (New York)
Andy Hart, Voyage Recordings (Australia)
ATEQ, Giegling (Germany)
Bézier, Honey Soundsystem (San Francisco)
Borrowed Identity, Homesick (Germany)
Dj Dustin, Giegling (Germany)
Konstantin, Giegling (Germany)
Oskar Offermann Official, WHITE (Germany)
Phred Noir, La dame Noir records (France)
San Soda, MTMU (Belgium)
Shlømo, CONCRETE (France)
SONS, S.O.N.S (South Korea)
Telephones, Running Back (Norway)
Asian Takeover
Hanoi, Savage
Agata
Graz
Maggie G
Ouissam
Quan
Slowz
TrungD
Ho Chi Minh, The Observatory
Nic Ford
Hibiya Line
Dan Lo
Hong Kong, FGHB and oma
Miya.
Rifain
Sunsiare
Taku
Shanghai, Elevator
Raz
Mau Mau
Seoul – Mystik
Antwork
Magico
Bangkok – Safe Room and Giant Swing
Boogie G
NK Chan
Taipei – Smoke Machine and Bass Kitchen Taipei (Official)
Diskonnected
Yoshi Nori
Manilla – XX XX
Mikhail
Have something to add? Tell us!