It's been exactly one month since UK electronic soul act HONNE served up their debut performance in Bangkok. While promoter HAVE YOU HEARD? have another hot-ticket gig (yep, we're calling it) with similarly sensual Cigarettes After Sex lined up, fans are by no means over the millennial romantics from East London. To take the edge off the PHD (Post-HONNE Depression), here's an interview we did with the duo and an exclusive look behind their show. And maybe, just maybe, we can finally enter the stage of Acceptance.
We have to address this: your concert in Bangkok sold out in an hour. Jakarta's 7th Music Gallery festival also sold out with you as headliner. How do you feel about such a warm response from this corner of the world?
Andy: It's surprising. And very strange because obviously we're not from here. It's hard to gauge how things are going in other places around the world. But I guess that's one good way of finding out.
James: Yeah, you really don't know until you get to the show or get tweets and messages from people. Or until you see all the tickets go, you don't really have any ideas.
Andy: But it's incredible. We're so happy to be here with everyone.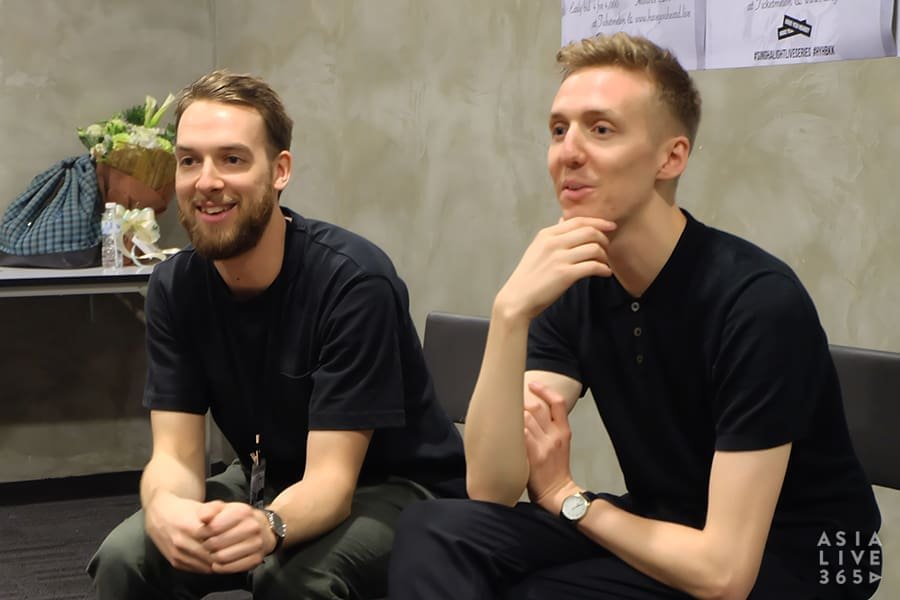 Is this your first time in Thailand? Have you tried the food yet?
Andy: Yes and yes! Every meal we have a selection and a bit of everything. We've had the soup with the prawn or shrimp in it, that everyone has. I had a cocktail with that same flavour. It's really good. Really spicy.
James: Thai green curry, too.
Andy: That's a bit western, though, isn't it?
James: No, but it's a thing here, right? A proper thing. Not like a western take on it.
(Yes!)
Andy: What else did we have? We had a little bit Pad Thai, too. And spare ribs with sticky honey sauce on it. I don't know, is that a big thing?
You put on a secret gig, too. How was it?
Andy: We didn't mean to do it! It was at this place called Sky Bar. Really cool. It's like jazz bar, I guess, with very good food. We had dinner there and it's kind of like an open mic night so people would just get up to play. We plucked up the courage to do a few songs.
Did people know who you were?
Andy: I think some people did it but there were others who were like, "who are these guys?"
James: "They sound terrible!"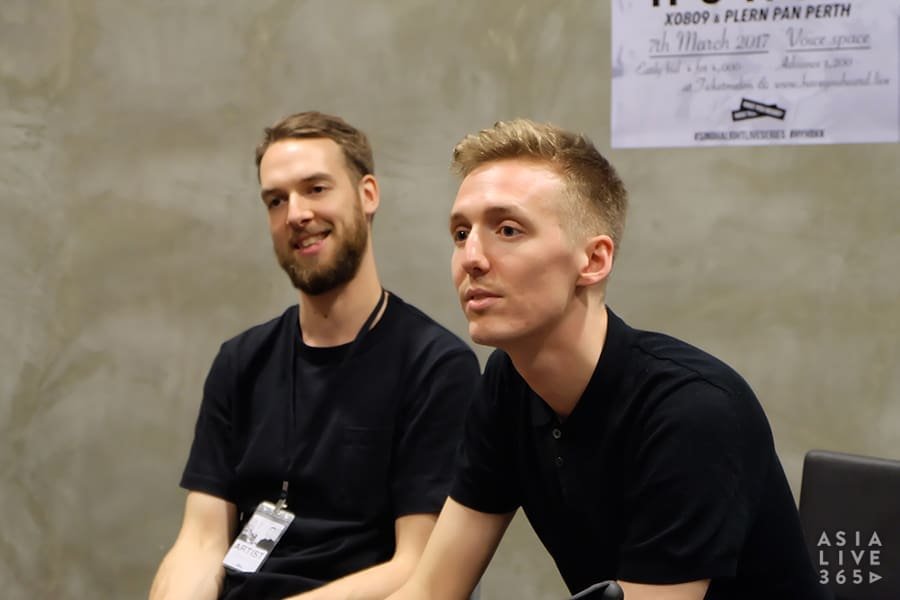 Your love for Japan is obviously undeniable. How has its culture or music influenced your writing?
Andy: Japan is an amazing place and it inspires us lyrically and visually. I think, for me, it's not necessarily the music, but the culture definitely influenced me lyrically. I wrote some of the lyrics whilst I was there in Tokyo, where I was staying for a bit, and obviously I think it's an amazing place but it's where I wrote "No Place Like Home". For that song in particular, I imagined if you've been living there for quite a while you can feel a little bit lonely, especially coming from the UK or the western world.
If you could pick one song from your album to introduce HONNE to new listeners, what would it be?
James: I think "Warm On A Cold Night" kind of sums it up. That's why we wanted to have it as the album title as well. It's one of the first songs we've ever written and maybe the first one we wrote that we thought, "This is our blueprint. This is what we sound like." Every else just kind of carried on from there.
Andy: I would choose the same. It's a good starting point to find out what we're about and then go from there, before you delve deep into HONNE.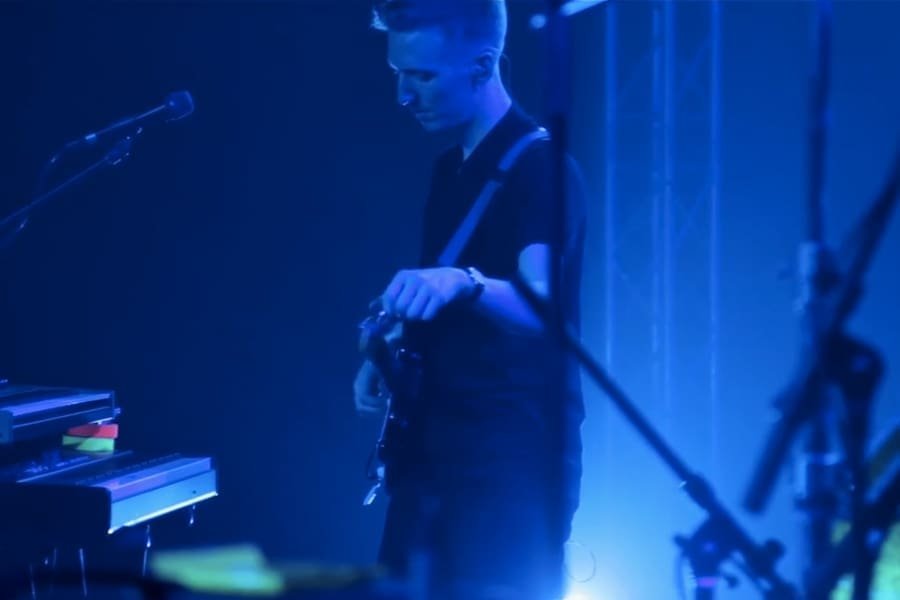 Most of your songs are about romance and a significant other. Was it all from your own experience?
Andy: All the songs that we write are based on the truth and they're either about me or James, or sometimes about friends who've experienced something and tell us. Maybe it's a bit cheeky of me to do but I'd write songs about it.
James: Then we have to go to them afterwards and say before we play the song, "By the way, sorry, but this song is about you!"
Andy: There's people in our lives who are important to us so we write about them. It's all based on real experiences.
James: Like our song "Woman" was written in the period between Valentine's Day and International Women's Day two years ago. We're interested in this kind of thing and wanted to write a song about how much we appreciate the women in our lives.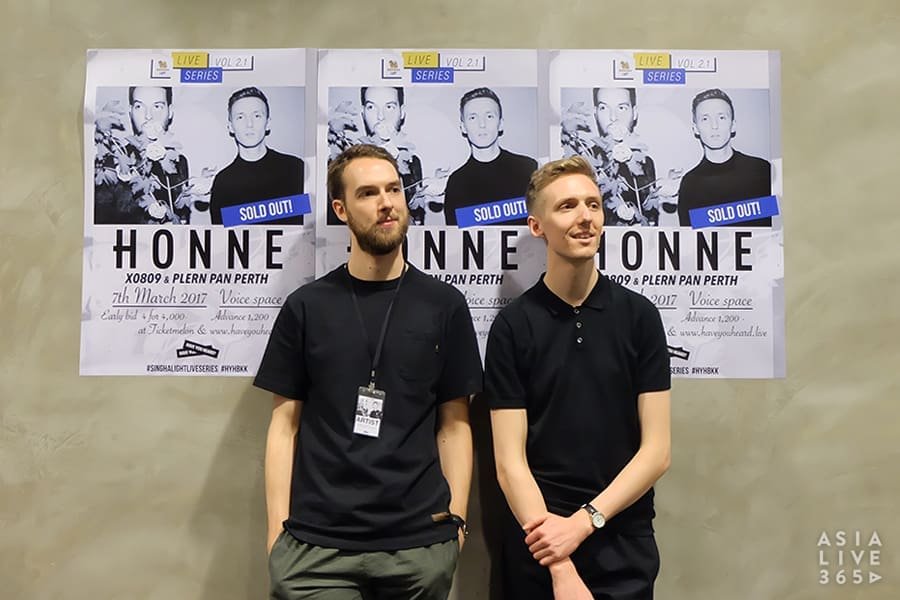 Your music is ambience-making music for your fans but what is your personal go-to record for setting the mood?
Andy: We love Frank Ocean and Chance the Rapper. Chance's a new album, or mixtape as he calls it, is amazing. It's so, so good! Even though he makes rap music, for us, lyrically it's very impressive. It tells a real story. It's so brilliant musically, too. It's just a good go-to album for any occasion. When we listen to it, we think, "Wow, we need to up our game." It's a challenge for us to try and come up with something as good as that. We want to and we're going to!
James: Most of what we listen to inspires us and makes us go, "We wish we'd done that!" It's a good thing. We're gonna make a record as good as that and our songs as interesting.
Instead of creating a mood the music is a mood board in itself. A followup question: sometimes people don't put on your music for just any vibe-making but also "baby-making". Thoughts?
Andy: I know it for a fact now because when we played in Manila (Mar 4) and a girl came up to us at this meet and greet and she said, "I had the best sex ever to your songs! And that's all I wanted to say. See you later!"
James: People have been saying that to us more and more. The first time it happened, though, was kind of reluctant, like, "You know, I had sex to one of your songs…"
Andy: Yeah, it's kinda weird.
James: But I like it.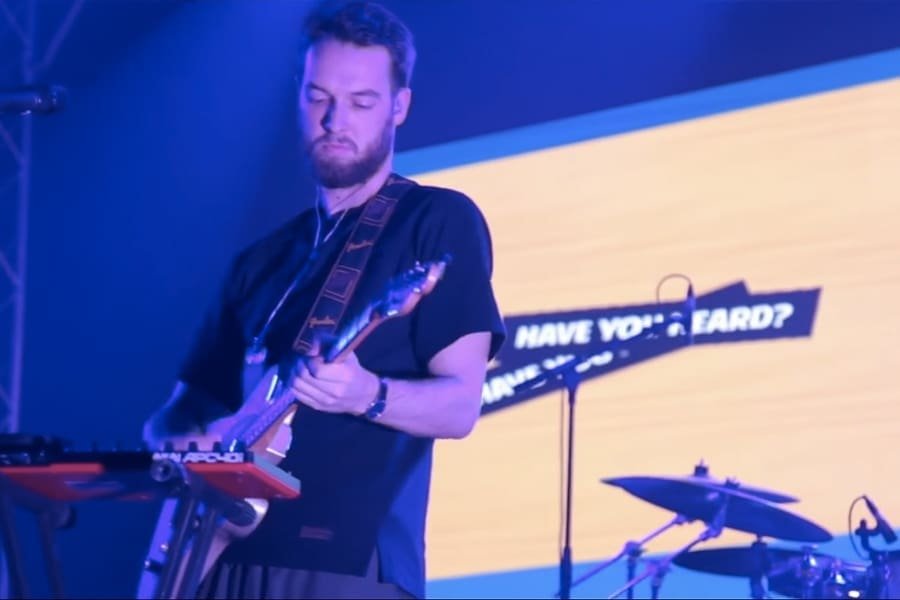 After this tour wraps up can we expect your return soon?
Andy: I hope so! We'll see how it goes.
James: I've changed the flight. We're not gonna leave! We have such a great time here. Absolutely love Bangkok.
Andy: Yeah, we've been round to the Grand Palace. Got sunburned and had Thai massage. It's amazing, we're ticking everything off!
James: We'll come back for sure. Maybe the beginning of next year or the end of this year. I'm just guessing now, I really don't know (laughs) but I hope so.
Ditto, James. Ditto.
Check out more behind-the-scenes moments below.
Have something to add? Tell us!