So you're probably wondering why Oscar-winning actor and frontman of Thirty Seconds to Mars Jared Leto apologised to Taylor Swift on Twitter…
The truth is I think @taylorswift13 is amazing + an incredible example of what's possible. If I hurt her or her fans my sincerest apologies.

— JARED LETO (@JaredLeto) December 7, 2015
Well, first off, it is a truth universally acknowledged that not everyone is a fan of Taylor Swift. The "Wildest Dreams" singer has been much critiqued this year regarding copyright and streaming service controversies and #GirlSquad backlash. She pussyfooted into our conversation again when Ryan Adams's "deeper" and "better" cover album of her songs was released in late October. Despite her albums sales, sold out tours and 7 Grammy nominations, people have said and still say some not positive things about T.S.'s 1989. And one of those people is Jared Leto. To be more specific, his not so positive thing is "F—k her. I don't give a f—k about her."
This comes with context, of course. In a video TMZ obtained, Leto is with his bandmates in an LA studio, looking for ideas for new music, taking inspiration from this year's big records. We only get glimpses of what is likely to be a sit-through session, but interesting glimpses nonetheless. Let's take a look at what Leto and co. have to say about Ms. Swift's first few tracks.
On "Welcome To New York"
Leto: "Oh, I don't like this at all. Next."
On "Blank Space"
Leto: "Ah, Sia beat. ["Chandelier"'s] one-two-three, one-two-three-drink."
"I like this verse, actually." He's referring to "Nice to meet you, where you've been? / I could show you incredible things / Magic, madness, heaven, sin".

"Starbucks lovers?" Yeah, the world kinda had a problem hearing that.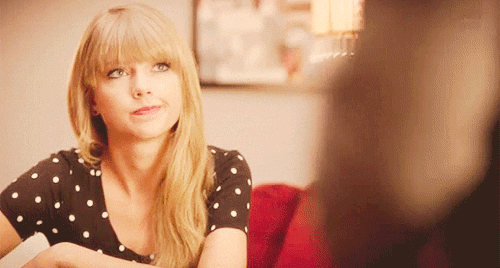 "Charlie XX?" We think he means Charlie XCX. Now that you've mention, Jared, that "you love the game" line does sound like something Charli would pull.
Shannon:  "[Taylor] just, like, stole it from her and crushed it.
Leto: "Yeah, it sounds—it is good. I wanna steal that."
On "Style"
Leto: "Interesting little pop song" *scratches head*.
The video ends with Leto's concluding there's nothing for them in Taylor's massive stylised tunes, despite joking about stealing earlier. And that's where "F—k her. I don't five a f—k about her" comes in. Leto goes on to suggest that whatever they're looking for, it must be "whatever works best for [them]."
And good for them, we say. Since this video was shot a few months back, we think they might've already gone on to find their new muse in Adele or Florence + the Machine. Who knows?
Have something to add? Tell us!