(4 / 5)
It really has been eight years. Eight dry years since Simple Plan last visited Bangkok. Things felt more assuring back then; punk was alive and well on the radio, choices were abundant, and, speaking of dry, who could have forgotten bassist David Desrosiers' signature spitting, Merlion-style?
If Simple Plan had appealed to generations of fans when they played the Impact Arena with unlikely co-biller Travis (the drill was to Shut Up first then Sing), imagine how much bigger their audience would be now. Last Thursday's Moonstar Studio crowd consisted of the OG's (CV includes No Pads promo tour and the 2005 MTV Asia Aid), those whose parents accompanied them to the '08 show, today's younglings who were about to see the band for the first time, and the seasoned lovers of rock who were just up for a good time.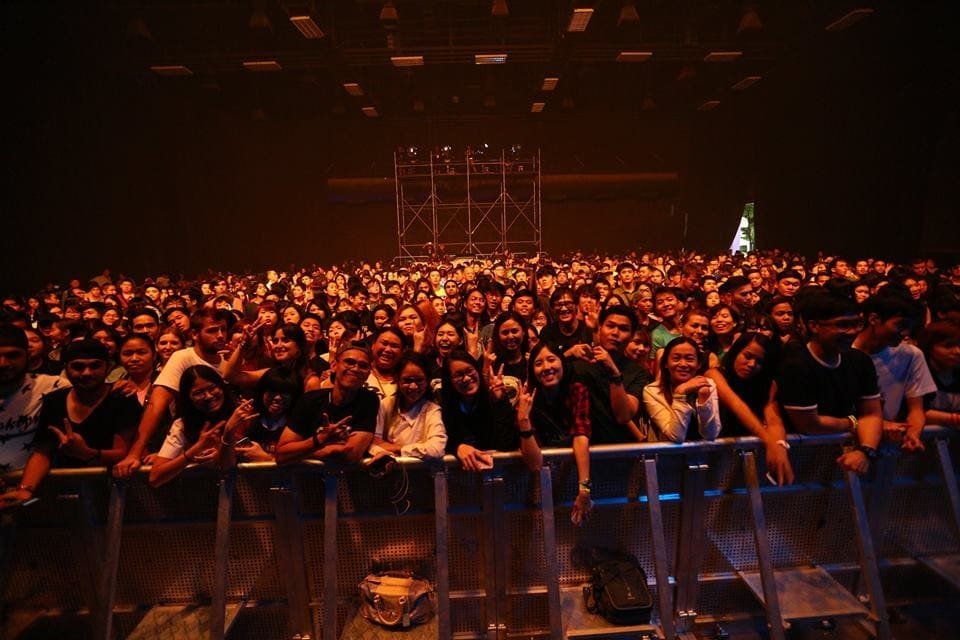 From the moment their fifth LP Taking One For The Team was released, with a sports-themed cover suggesting all kinds of locker room shenanigans, we knew for a fact that Simple Plan weren't transitioning from catchy rebellious anthems and juvenile woah-oh-oh's any time soon.
And why should they? "Grown-up" punk is what we have Green Day for. ("Who'd want to sing about marriage and having kids?" drummer Chuck Comeau made a point back stage, although I'm sure the man couldn't get enough of his one-year-old back home.)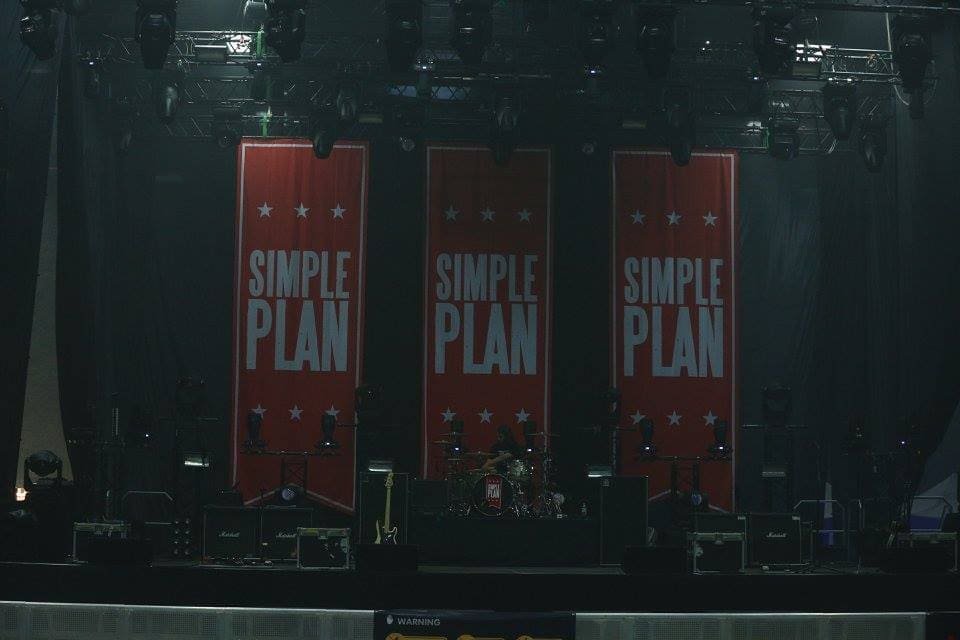 Not that they haven't been keeping up with the times or their own pursuits. While some fans feel strongly about the band's keeping their Still Not Getting Any…-era sound intact, Simple Plan enjoy experimenting and defying expectations. N.B. "I Don't Want To Go To Bed".
Warming up the Bangkok crowd with a DJ is perhaps another example. It's 2016, we get it. But without an opening band, putting twenty one pilots on a loop would have done.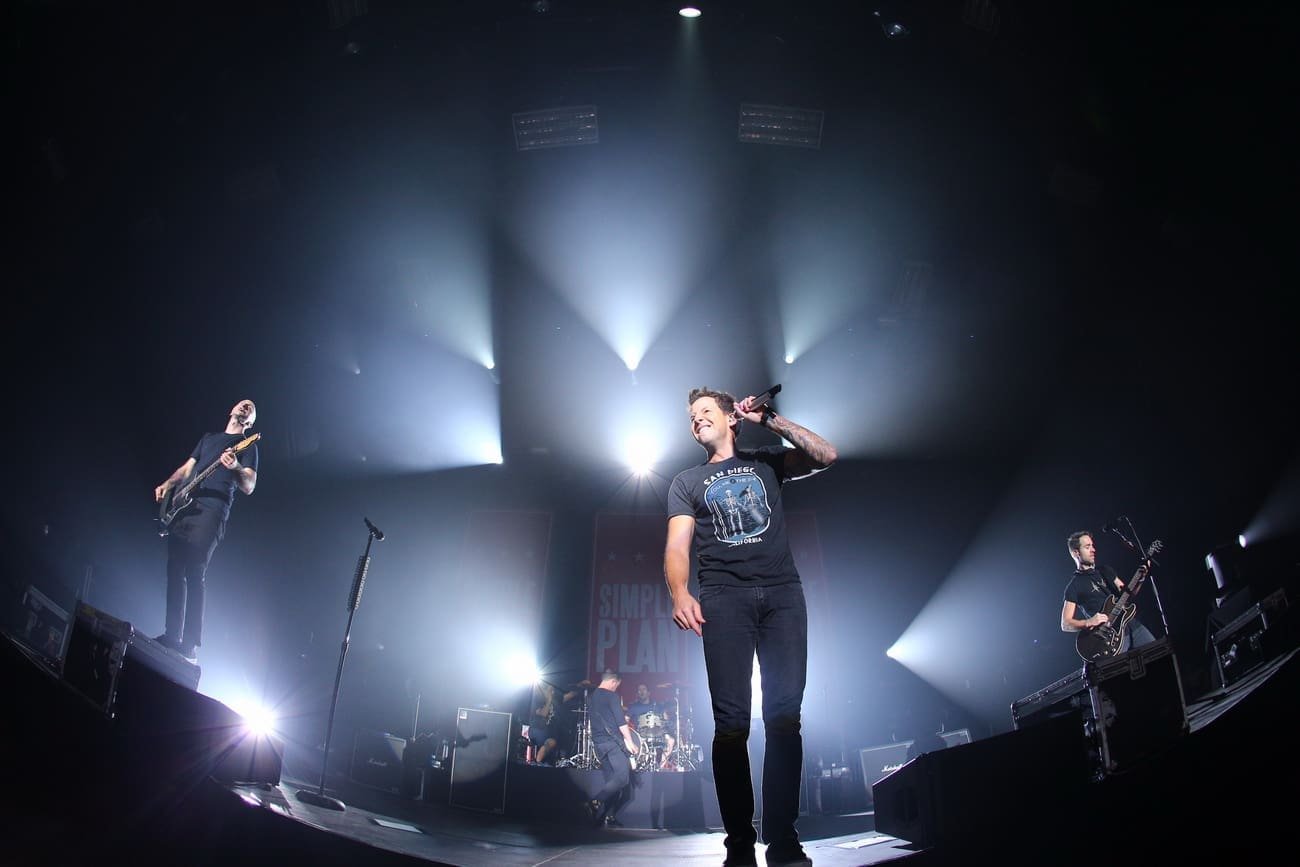 Handpicking from 17 years' worth of back catalogue, the Quebecois five-piece made sure the setlist represents the best of Simple Plan's career. They set up the energy meter so high early in the night with "Opinion Overload", "Jet Lag", "Jump" and "I'd Do Anything".
The band's zest by no means dropped after that. With all that jumping and head-banging, they insisted on having the best party, knocking the spots off most twenty-somethings present. There was no way we could keep on full-body pogoing. Thank goodness for the reggae-inspired riffs in "Singing In The Rain" and "Summer Paradise".
One thing was acutely noticeable for those who've seen the band before: there were fewer cheeky banters. Then I realised these guys singing "I'm Just A Kid" before the encore aren't kids anymore. While they're playful with their art, the live shows are about gratitude and giving back to the fans. Countless khob khun khrap's were uttered to those who were there and who'd stuck around. It felt different, alright, but it's just as sweet.
Although deep cuts like "Untitled" and "Save You" were missing, the set didn't feel at all amiss. Simple Plan got enough to keep the crowd satisfied the entire night: funky cover mash-ups ("I Gotta Feeling, "Uptown Funk"/"Can't Feel My Face"), giant beach balls, sweat-drenched towels (if you're into that kind of thing), pick-throwing spree, and an extra song off the setlist, "Take My Hand", that made us feel, in lead singer Pierre Bouvier's own words, very sexy.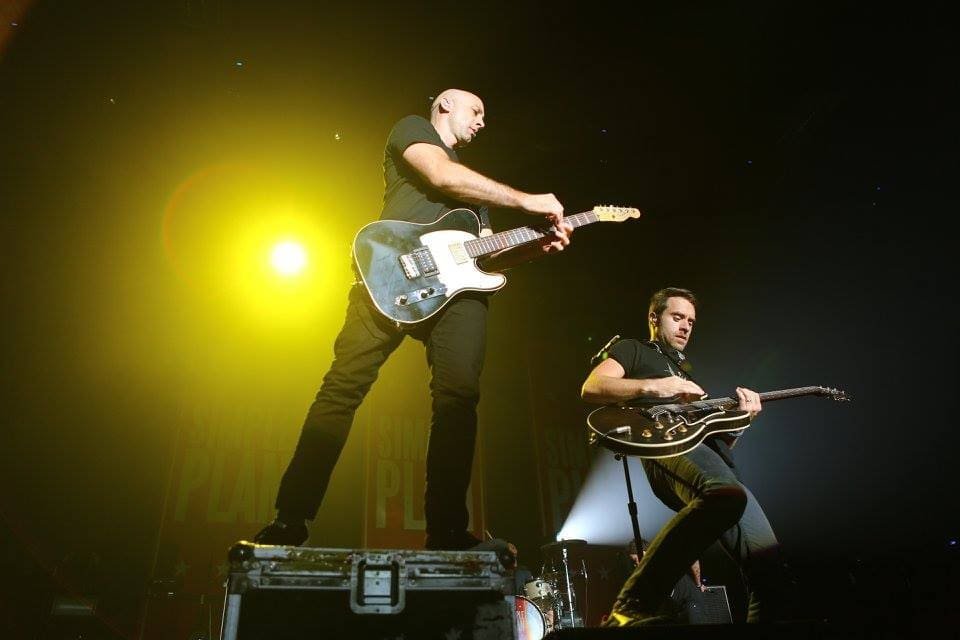 If anyone hadn't been feeling feels, the final song "Perfect" would do the trick. The elephant in the room was nostalgia. Everyone indulged in it. But nostalgia only runs so far back. It gave way to another factor in the pit here. For those growing up in the 00's, there has never been a time Simple Plan's lyrics resonate more. We went along with them then but we live them now. Someone important Gone Too Soon? Check. Burning your bridges with toxic friends? Check. "Tell me what's wrong with society?" Hah. Have you got all day?
I would, without hesitation, go back to tell my 12-year-old self to pull herself together. You don't know what it's like to feel lost and to be left out in the dark. Patience, kiddo. All the hurt and frustration, the crazy and uncertainty are coming.
But I would also tell her this: don't ever stop abusing those Simple Plan CDs. Because, you'll see, in between the crappy days, when you clock out of the daily mundane, there'll be great shows such as this one in some further corner of the city. The setlist will feel like the comfort of your Walkman headphones and you'll know every word by heart. You'll know that all the waiting has led up to this moment.
But you'll also refuse to suffer another eight years.
Special thanks to Warner Music Thailand
For more reviews from AsiaLive365, click here.
Have something to add? Tell us!