Reincarnating this November, Neon Lights have just announced more headliners of its 2018 edition. The names include Peking Dug, Daphni, Silent Disco Asia and more.
See also: Laneway Singapore 2019 to face an indefinite postponement
As we are counting down to Singapore's premier music and arts festival 'Neon Lights Festival' that will be happening throughout Friday-Sunday, November 9-11 at Fort Gate, Fort Canning Park, today, we've learnt more news. And it'll surely escalate your excitement…Especially, for Sunday stage!
An announcement made by Neon Lights, Aussie electro duo Peking Duk and Dan Snaith's dance music project Daphni are to be the highlights of Sunday live showcases.
(Listen to Peking Duk's "Reprisal" below)

As we've already known from the first lineup announcement that the Canadian artist will be performing as Caribou, today, we've learnt that Snaith will also be taking the stage with his alternative dance music project Daphni. And Sunday crowd, the guy will get you to dance till sunset for sure.
Meanwhile, during the weekend (Nov 10-11), besides the art performances and activities from the country's very own talents, the festival also promises the crowd some special music set from an American genre-hopping spinner DJ Gonzo. He'll be delivering his selections ranging from rock & roll to some drum 'n' bass.
Moreover, what you should never miss is the eye-opening performance from this slinky dancer extraordinaire— Manic Jango.
Last but not least, the newly-added highlight Silent Disco Asia crew will be there spinning their aesthetic selections throughout 3 days. And of course, the crew's signature noise-cancelling, LED-equipped headphones will stand-by for the revellers.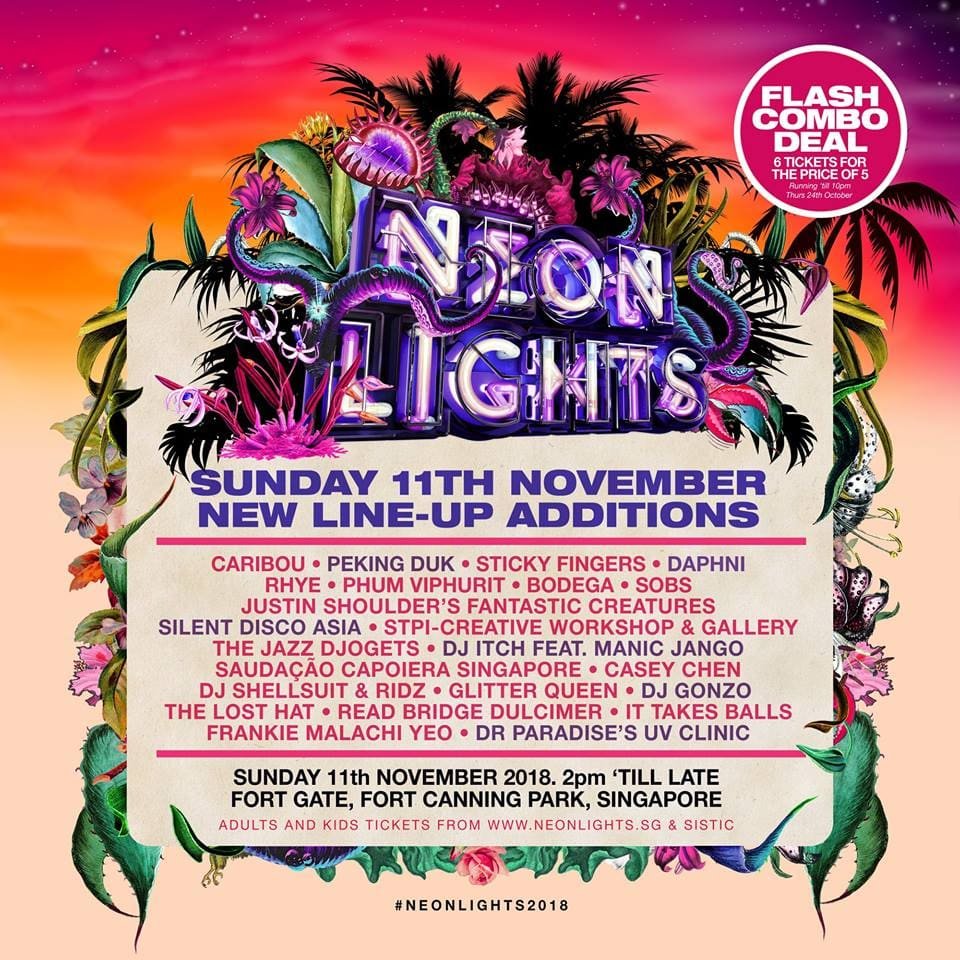 Tickets are going on sale via Ticketflap and SISTIC, available in three types— 1-day pass, 2-day pass and 3-day pass.
Limited 1-Day early birds are still available only for Friday and Sunday at SGD99 and 120, respectively. For Saturday pass, available as Tier 2, the price has risen to SGD140.
Meanwhile, the price of Tier 2 of the 2-day pass (Saturday-Sunday only) are going on sale at SGD225. Whereas, for the 3-day pass, Tier 2 prices are SGD280.
See also: Interpol, Alvvays, Wolf Alice, David Byrne, Khalid and more are billed to Clockenflap
For children, they can get the tickets at SGD25 for the daily pass and SGD45 for 3-day pass.
And before leaving, here's the taste of Dan Snaith's Daphni at Boiler Room. Enjoy!
Have something to add? Tell us!