As a1, the British-Norwegian boyband that stole our hearts twenty years ago with hits like "Everytime", "Like A Rose" and "Same Old Brand New You", are back in Asia with a brand new Reunion Tour, AsiaLive365 had a chance (*internally screaming*) to sit down with them and hear them out on a1's upcoming works,  unexpected stories during touring, Muse, tour plans and more.
Consisting of Ben Adams, Mark Read, Christian Ingebrigtsen and Paul Marazzi, a1 are the  British-Norwegian boyband that rose to the prominent during the 90's. And after facing the group's transition and changes without Marazzi during 2002-2016, finally, last year, Marazzi rejoined his bandmates. Recently, the charming quartet also released their new single on Spotify entitled "Armour". (Listen below).
Together, the four-piece pop group will be embarking on an Asia Tour from 19-25 October 2018. Performing in Indonesia, Singapore and the Philippines, this marks the band's first concert in the region with all four members, since 2001.
Lucky for us! We had the opportunity to ask the band some questions about this exciting new single, the band's musical direction and future as well as a shoutout to all their fans.
Are you ready to hear our 90's crush speak?! Here, we go…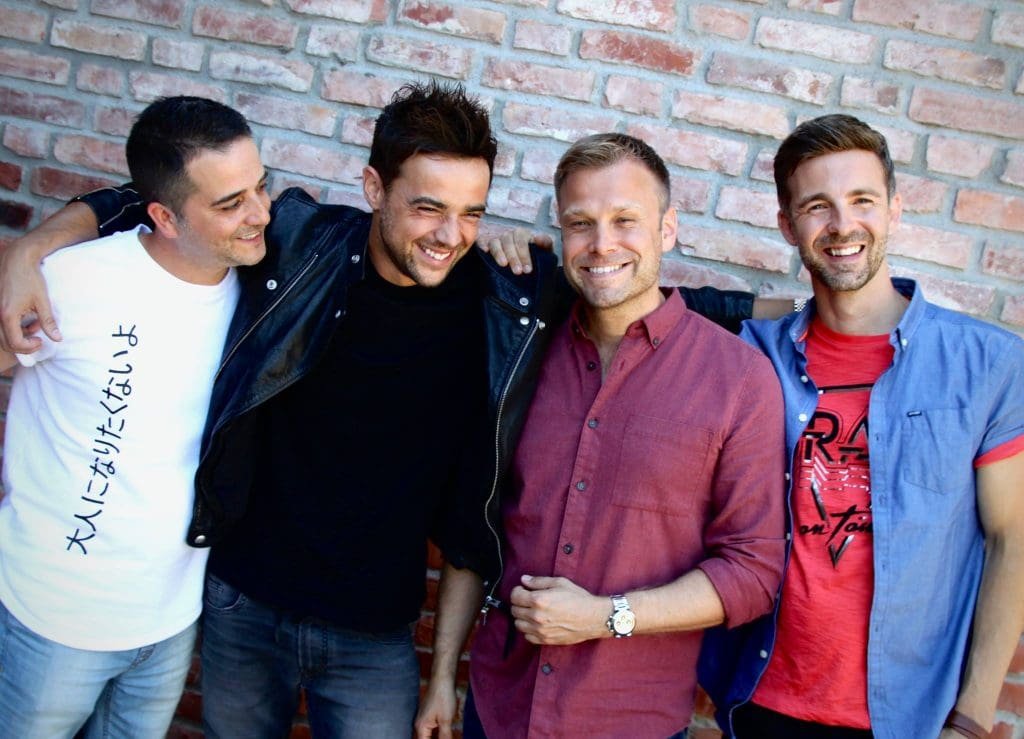 Hi guys! Vanessa Mostafa here representing AsiaLive365. First and foremost, welcome back to Asia! It's really good to have you guys back! And congrats on the release of the new single, Armour. It sounds absolutely fantastic! Do tell us more about this new song? What was the songwriting process like and how was it inspired?
a1: We were in Oslo and had a rare day off together before a gig so we put it to good use! We just wanted to write what we felt. We weren't particularly bothered with the current music scene, just wanted to write a great solid song that we loved – and that's what we did! So we were just jamming around the piano and came up with the piano riff for the verse and it just went from there. The song came quite quickly which is usually a good sign. I think the best songs are written quickly. We had the theme of "Armour" and worked on the lyrics and finished it in about an hour and a half.
With the release of this new single, can fans expect a sixth album out soon?
Ben: We will certainly be releasing new music. As for a full album I'm not sure there is a need for that these days where streaming etc. is so popular. But I imagine by the end of our first comeback period there will be enough material to call an album!

What would you say would be the musical direction of this new album? For instance, "Here We Come" had more of a bubblegum pop feel to it, "The A List" was very pop, "Make It Good" had some really nice soft rock elements to it, while "Waiting For Daylight" and "Rediscovered" felt like very modern albums with a plethora of interesting musical styles to their songs. Can we expect to hear more layers and styles to this new album?
Ben: What we will focus on this time are great songs that stand the test of time. Caught in the Middle is a track that doesn't age. You could release it today and nobody would be able to put a stamp on 'era'. So that's what we'll be aiming for.
Mark: I think a new a1 album would probably have more layers and depth than ever before based on having Paul back in the band and us all having grown a lot as songwriters and performers.
Paul: I don't think that we feel any pressure to fit into a pigeonhole on the song front. So that can only mean some really exciting material to come.
Your last album had the song "Blackout" which reminds me of Muse's "Uprising" as for the rhythm/vibe, I mean. I found this style very intriguing. I personally love it. Any similar surprise in a1's future songs?
Ben: Who knows! Watch this space— we are always experimenting.
Mark: Glad you liked "Blackout", I'm a fan of Muse and love that album. So they were more than likely a bit of an inspiration for that song.
(Listen to "Blackout" below)

It's been twenty years. Blimey! We've all gotten older, haven't we?! Could you tell us what has or hasn't changed in the dynamics of the group?
a1: To be honest as soon as we are back together as a four we revert back to how we did then – still just as kid-like and we have a lot of fun. What hasn't changed is our ability to just naturally harmonise. Our voices have always blended really well together. I think that the dynamics are pretty similar on a personal level. A big difference is that we can now create and produce our own music which is really amazing. What has changed is probably our patience and appreciation for each other as we've all grown up a lot.
How has it been on preparing for the Asia tour? I heard that Ben almost took the wrong luggage on the way here and that you guys missed the connecting flight (to Asia). Crikey, what happened there? Any interesting tour anecdotes that you guys like to share?
Ben: Well I would have been dressed in a lot of fluffy pink jumpers for the concert if I had not sorted that out. Paul and our manager had to take a later plane and Mark and I only made our plane by the skin of our teeth so it's been quite an experience getting here!
Paul: Well I also had a wander around and fell asleep… I missed my flight completely.
Mark: We've had a few small dramas already and that was only day one, so maybe we haven't grown up that much. *winks* It should be a very unpredictable, exciting and fun tour.
You guys have been to Asia lots of times. How does it feel like to be back here again? Any must eat or must see thing on your itinerary this time?
Ben: We always love traditional food so we'll be eating plenty of that. As for what we'll see, our tour schedule is very tight so I imagine it will be a dressing room, a stage, and airport…but we'll see our amazing fans smiling faces along the way so it's all good.
Mark: It feels so great to be back again, I wish we had more time to fit in some sight seeing but it's pretty much a non-stop tour. But we'll make sure we eat well whilst we're over here.
What can fans look forward to at one of your shows? Does everyone still remember those fancy boy band dance moves? Any new ones that we can expect?
a1: Well you'll just have to come to find out. We will. Dance. We will sing. We will play all of our hits. We'll do the new song. It'll be amazing! It's been fun reminding ourselves of all the old moves. It's lucky there are so many videos on YouTube we could watch to re-learn them and we'll throw in a few new moves as well. The fans can expect a little bit of everything a1 has produced through the years.
Can fans also look forward to a tour beyond Asia soon? Perhaps in the UK or even Europe? I'm sure many of your fans back home would love to see you guys in a gig.
Ben: That's the plan. Although we are all crazy busy after this tour so it will most likely be middle of next year.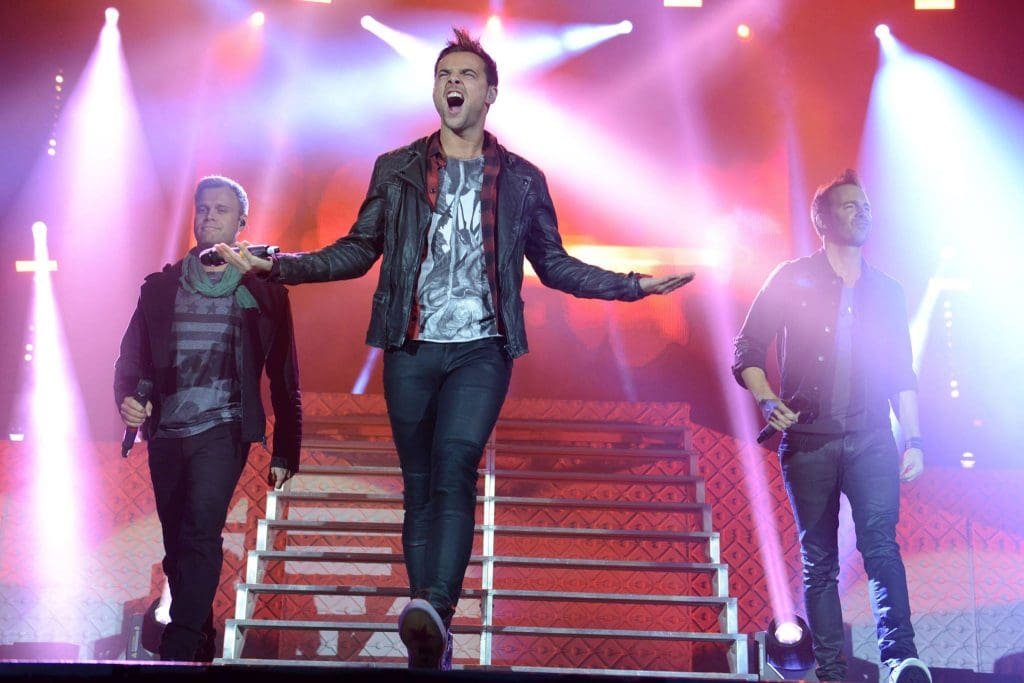 And lastly, if you could say something to your fans right now, what would it be?
a1: Can't wait to see you! It's been a while…….It would always be thank you for continuing to support us so much after all these years and thanks for coming to see the shows on our Reunion Tour. We will always strive to make you proud of us XX
A1 will perform at Jakarta on 19 October, Singapore on 20 October, Manila on 21 and 22 October, Davao on 23 October and Cebu on 25 October 2018. Tickets details, click here.
Have something to add? Tell us!