Indonesia's "biggest indie movement" Stellar Fest has unveiled a complete lineup, with Danish alternative trio Mew and American punk rockers MxPx at the helm.
Billed as an event that answers all your music, art, street and lifestyle needs, the new Jakarta festival is taking place from Wednesday-Sunday, May 9-13 at Istora Gelora Bung Karno Sports Palace.
See also: Counterparts and Stray From The Path announce Southeast Asia co-headlining tour
Beside the alt-rock and punk giants, the festival also recruits Japanese groups: punkers Dustbox, melodic hardcore and skater band Totalfat, and the Nippon Columbia-signed I Don't Like Mondays.
The international acts will be supported by a packed roster of Indonesian rock and punk talent such as Naif, Seringai, Ran, NTRL, Rocket Rockers, OM PMR, Burgerkill, The S.I.G.I.T, Andra and the Backbone, and Deadsquad, to name but a few. Check out a complete rundown for yourself below.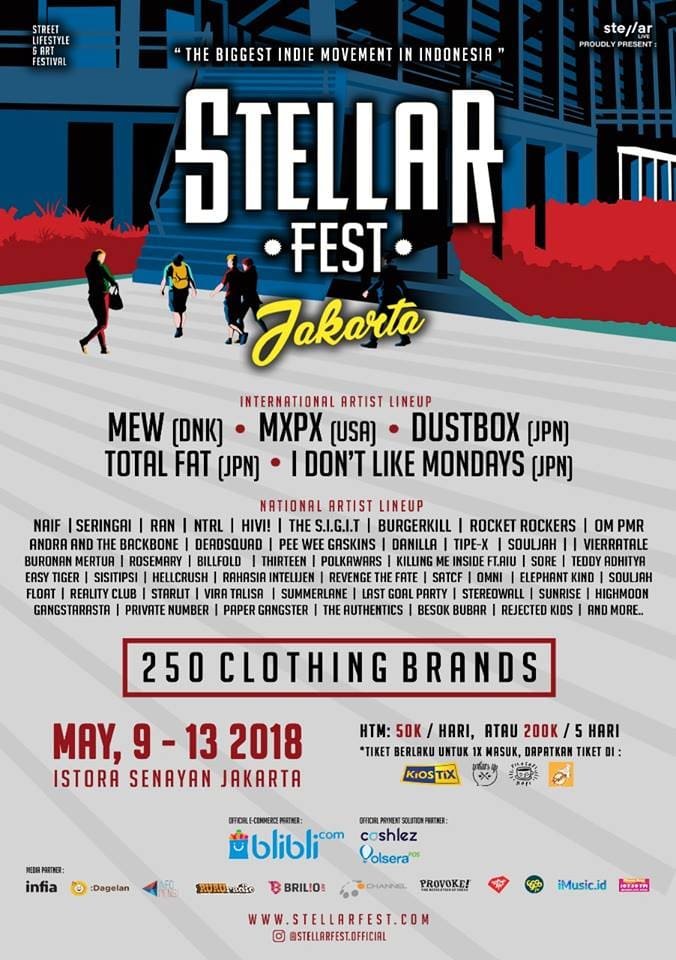 Many are sure to splurge if they're not careful, as 250 curated street clothing brands are expected to be lining up their pop-up stores at the festival. Those revealed so far include MUZCA, SPNCH STORE and Urbain.
See also: We The Fest bills Lorde, alt-J, James Bay, Odesza and more for 2018 edition
Early bird price is IDR35,000 for daily access. Head to KiOSTiX before the price goes up to IDR50,000. Five-day passes are also available for IDR200,000. Service fees will be applied.
Have something to add? Tell us!