Counterparts and Stray From The Path today announced a co-headlining tour which will bring them to Southeast Asia for the first time.
With the help of BNA Youth Bookings, the Ontario hardcore punkers and the New York melodic hardcore band will be playing Manila, Jakarta and Singapore in April. Find details below.
See also: Welsh pop punk act Neck Deep gear up for Asia – Manila, Bangkok, Singapore and more
April 10 – Manila, GT Toyota Asian Center Auditorium
Tickets: PHP900, reserve your tickets here
April 11 – Jakarta, Toba Dream
Tickets: IDR200,000 via Geoff Max
April 12 – Singapore, Decline (with Modern Guns and Exhibitors)
Tickets: SGD65 / 126 (Twinnie Bundle) via Ticketbox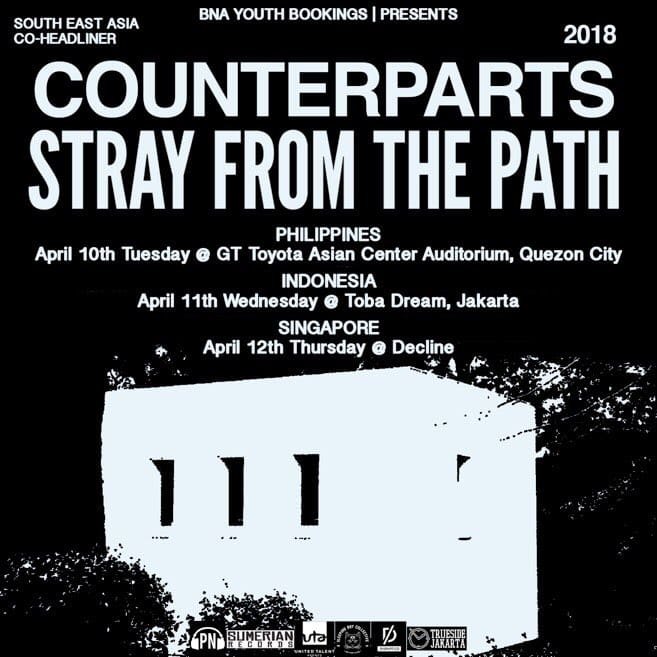 Founded in 2007, Counterparts consist of Brendan Murphy, Adrian Lee, Blake Hardman, Tyler Williams and Kyle Brownlee. Best known for tracks like "Bouquet", "Ghost" and "Outlier", they're considered one of the most prolific acts within their sub-genre. Their latest album, You're Not You Anymore, was released last September.
See also: Incubus confirm Singapore and Manila dates for 8 Tour
Stray From The Path, formed in 2001, are Thomas Williams, Anthony Altamura, Andre Dijorio and Craig Reynolds. They're known for their rapcore sound and candid political lyrics. They're currently promoting eight and latest album Only Death Is Real, which has generated a lot of heated discussion thanks to the track "Goodnight Alt-Right".
Have something to add? Tell us!