(5 / 5)
The band played timeless and new melodies from their 25 years, giving us sounds, textures and colours that can never be forgotten.
When I heard this band's music for the very first time many years back, I never thought that I would get to see them in a gig, much less here in Singapore, a few thousand miles away from the UK.
This changed on Saturday night (14 September 2019) when Welsh rock band Feeder played their inaugural gig in Singapore at The Pavilion at Far East Square.
Speaking to the Frontman Grant Nicholas earlier that day, the charismatic musician described Feeder as being an indie rock band with music that has been built on being on very song-based, and which has a lot of dynamics and colours in them.
He certainly was not wrong.
The space of colours and textures that came forth that night was both reverberating as it was beautiful. There were songs that we could rock out to, and yet there were some that inundated our music souls with "memories", giving us that very timeless feel.
Opening track 'Feeling A Moment' for instance, from their 'Pushing Their Senses' album was a nostalgic and beautiful piece.
Throughout the 90-minute gig, the level of energy from both the band and the crowd was likened to an effervescent of vibes and versatile dynamism.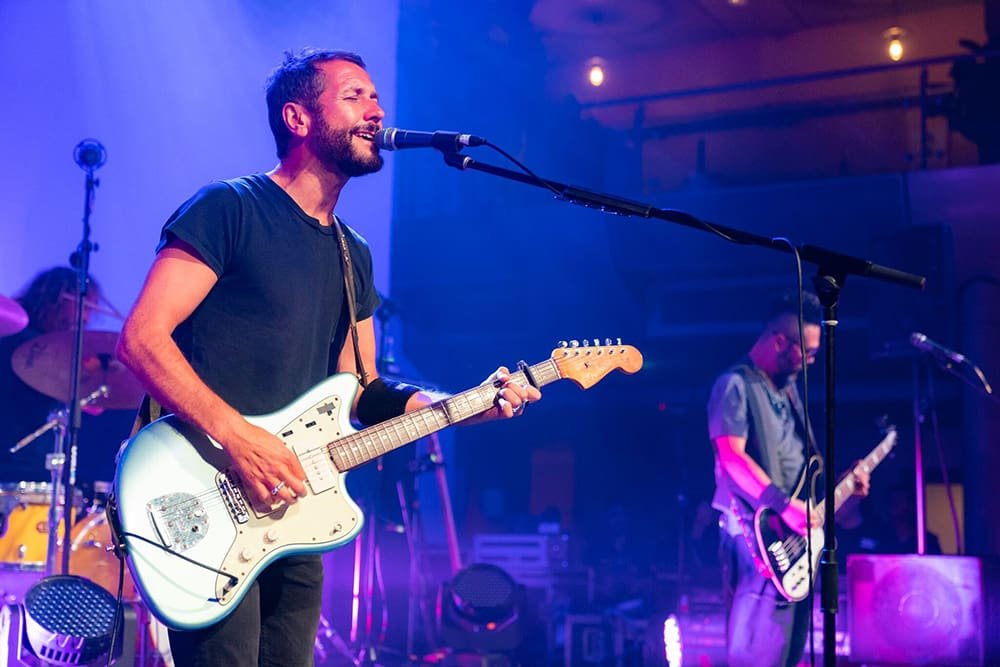 There were even moments of crowd participation where Nicholas even encouraged the crowd to partake in the "sing-along" of 'Fear Of Flying'.
Said the Frontman midway through the gig, "We're going to do another song from our new album 'Tallulah'. This was the first unofficial single in the UK. It's called 'Fear of Flying'. It'd be great to get you all involved in this one. All you gotta sing is… Oh ho! Oh ho!
Obediently, a chorus of "oh ho, oh hos" soon filled the room in somewhat odd undulating waves.
Noticing this as well, Nicholas said cheekily, "So much better in the UK though."
"That's what you gotta do. Just get involved," he added.
Acoustically, Feeder certainly had some real dynamics to their sound. To put it in a typical British term – it was an absolutely stonking gig! There was the indie rock feel, there was some punk rock feel and there was also the classic rock feel to the entire night.
For instance, 'Daily Habit's punk-like feel reminded me a tad of Fountains of Wayne's 'Stacy's Mom'.
'Come Back Around' and 'Eskimo' gave the feeling of being at a rock gig from ten to twenty years ago.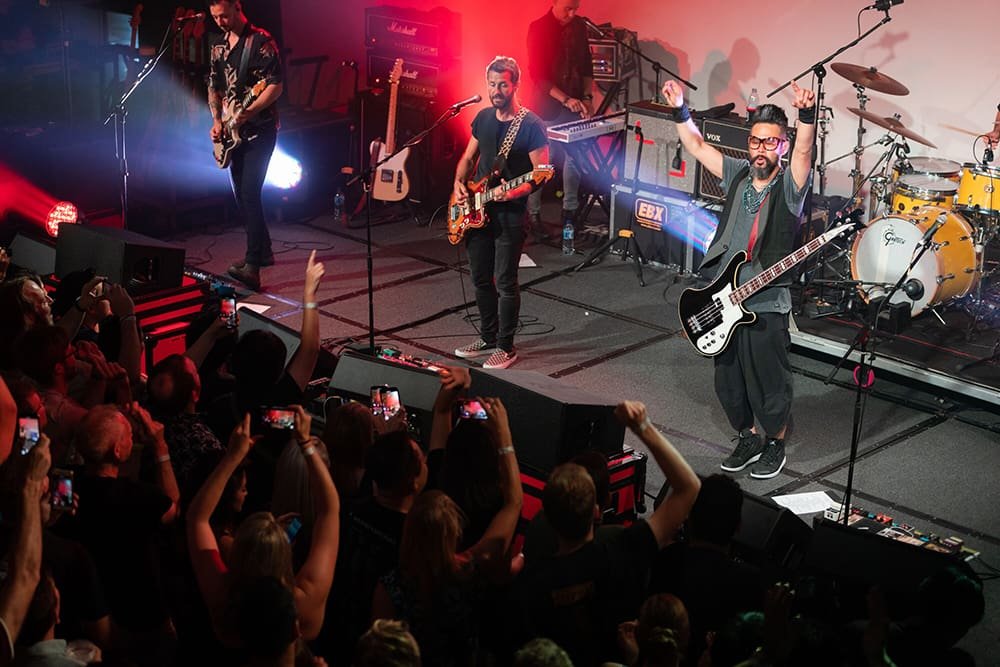 But the classic headbanger rock piece that night that certainly became one of my favourites of the night was one from their new album 'Tallulah'. That song was none other than Kyoto.
It may have been the band's first time playing that song live, and they were quite afraid of messing it up. But I reckon that it sounded great! Judging from all the head-banging folks around me, everyone thought so as well!
Indeed, the strength in the pure rock-ness of this band is invigorating. They hold the kind of tunes and sounds that draw you in like magnetism, sometimes enveloping you in their rock colours and nostalgic rock vibes. Yet, their textures also delve to the more ambient or anthemic kind.
Title track 'Tallulah' was certainly one of them. The colours of this piece was coruscating, the ambient textures absolutely beautiful, the instruments on point, and the vocals…just…
There was one moment in the song when the instruments became quieter, with just keyboards in the background, and then all that was left was…Nicholas' voice as he sang out the vocals…and it was… Beautiful…
The iridescence of this piece and hearing it live was just pure indie rock bliss. To me at least.
Another track 'Blue Sky Blue', also from their new album, brought out similar opalescent vibes, reminding so much of the UK actually.
Throughout the gig, Feeder definitely gave their fans all that they wanted. And then some more!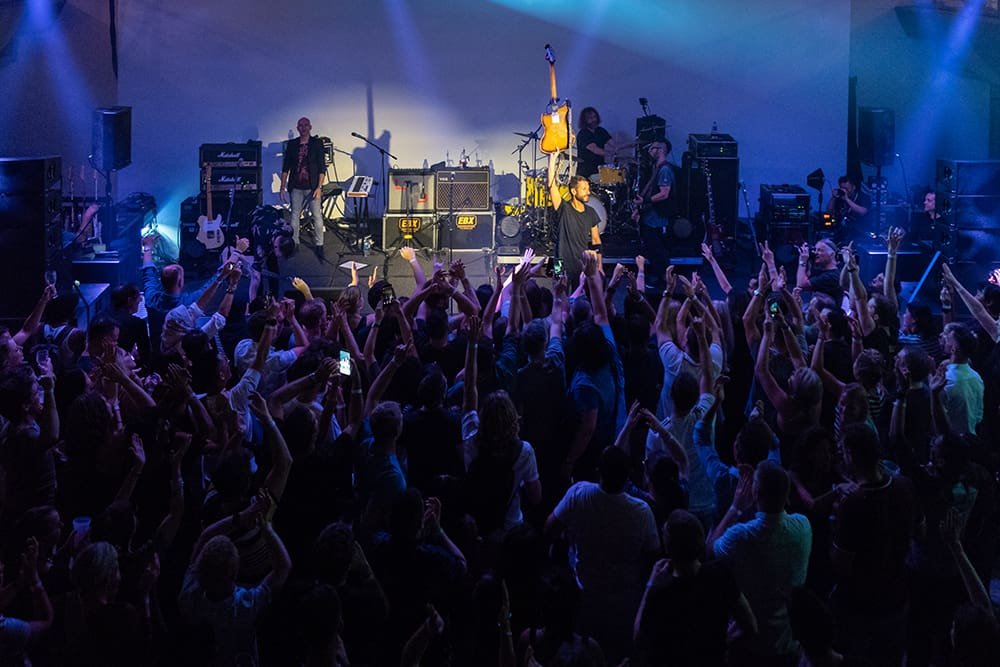 Percussion and rhythm was good, riffs and colours, dynamics and vocals especially – everything was tight.
As fans continued to rock out to each Feeder song, the last one (before the encores) being popular hit 'Buck Rogers', I look upon this dynamic and versatile band, who have been around for a quarter of a century, with fresh eyes and a new hope. It seems comforting to know that while the music industry can sometimes be filled with a deluge of too "pop" or modern sounds that can sometimes appear quite contrived, there still remains the group of musicians who make songs that stay with you, giving you a bit of something throughout the years.
Because after all… while I do love a good popular hit to dance and sing out loud to, there can sometimes be too many of them out there. They're good in that moment, but they can become forgettable.. I want something timeless…that I can still rock out to or embrace when I'm still 60 perhaps. And I reckon some of Feeder' songs are.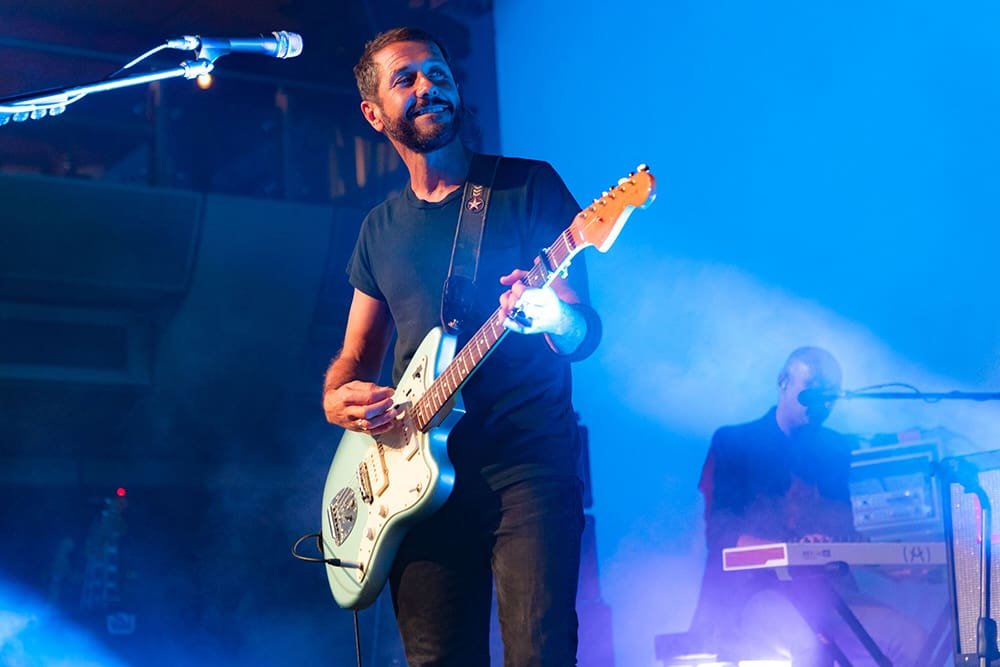 Like 'High' from their first album back in 1997 which the band noted how they spent pretty much the best part of that year touring America, on the back of the song.
"We played at 42 states," said Nicholas.
'High' was released when I was just 12, and I am almost as close to that age as I am to being 60. I reckon that it would still be relevant in 20 odd years from now.
Thank you Feeder for a great gig, and for the sounds and colours that I will always remember…
Have something to add? Tell us!